Restoration project: FGK Morris Restoration Part 8
---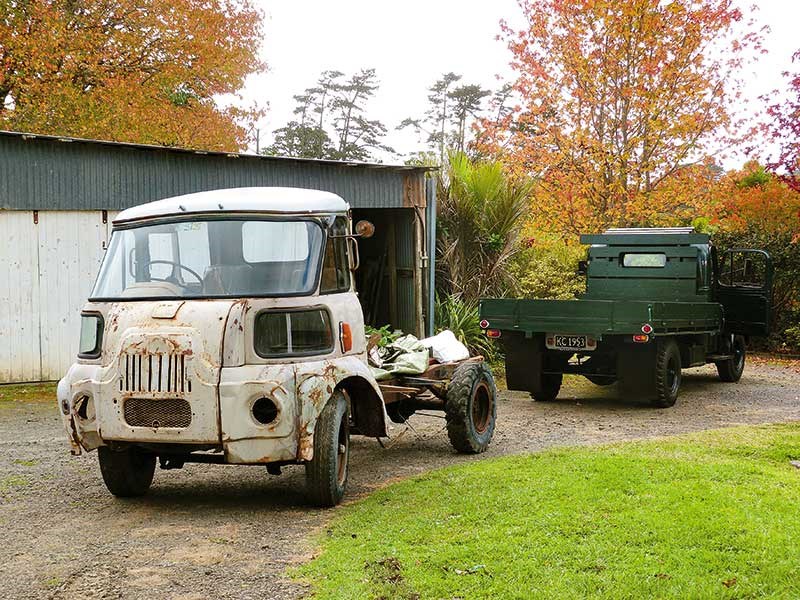 The Morris, prior to being dismantled, with my old K Beddy in the background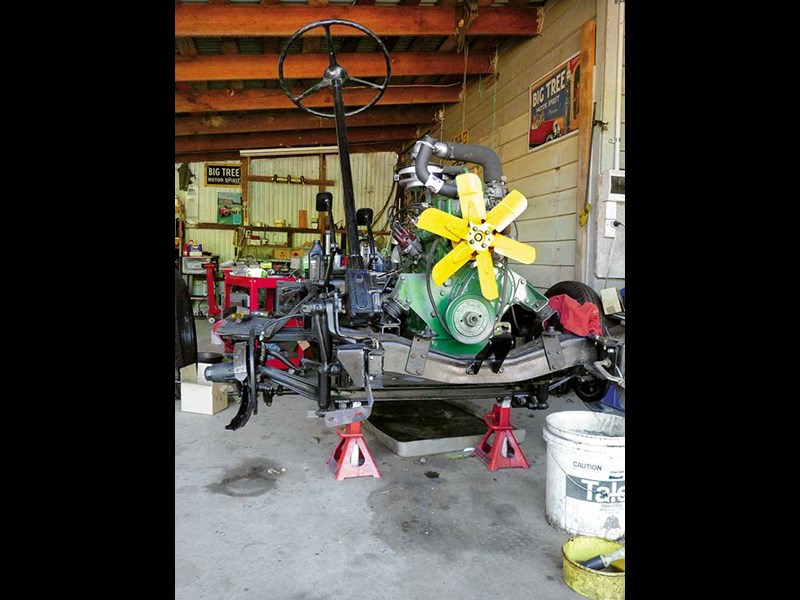 Work was going on with the chassis in tandem with the cab work

With the rolling chassis almost completed, the attention is turned to the much dreaded rusted cab
The next part of the job at hand was to get the grinder out and fit the first cutting disc and prepare myself to help my abrasives supplier gather the money for the deposit on his next new double-cab ute.
Although nowhere nearly as expensive as radiator cores and front and rear spring shackles, I have to say that I seem to be spending an awful lot of money on cutting and grinding discs these days.
Now I know I'm probably overstating the obvious when I say that I'm not the sharpest tool in the shed and that I'm a little slow on the uptake, but one day, when I'd cut out a particularly gnarly piece of rusted frame from the position it had occupied for more than half a century and I was preparing to weld a new piece of steel in place, it suddenly dawned on me that at some point in time, an engineer was going to have to come and take a look at the job before the cab could ever go back on the chassis.
I think that's what's known as a 'light-bulb moment', and it was one I was wishing I'd never had in the first place.
The entire event was kind of like unravelling a ball of string, as when I kept 'unravelling' each time, I cut a bit of rusted bodywork out and found some more rust underneath. Until eventually, there was almost no cab left at all. At least that's how it appeared at the time anyway.
Uncovering the old truck's past life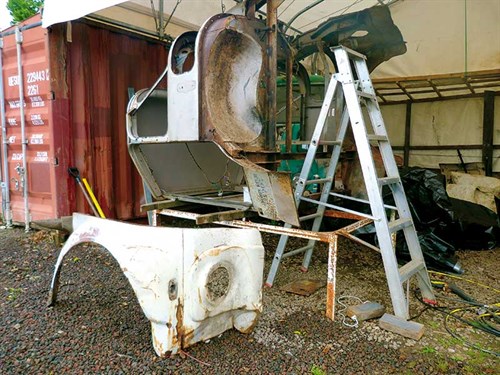 Meanwhile...Away from the workshop there was a lot of action taking place other than the job at hand, as readers who had found some interest in the story were answering my call from a couple of issues ago when I'd asked if anyone had any information on the old truck's past life.
Allow me to introduce the people who responded in the order that the events unfolded. Firstly, I had a call from Peter Berryman, who now owns a farm in Edgcumbe but who used to live in the South Island.
Although it was a long time ago for Peter—back in the 1960s—the photos we'd produced in previous issues of DOW sparked his memory banks, leading him to recall working on a farm called Kurunui and the few times he'd driven what looked to be the same old Morris to deliver milk from the farm to a dairy factory a few miles away.
He recalled that the truck had been replaced with a J1 Bedford. However, Peter said that he'd put me in touch with Alister Gray whose father had purchased the truck when it was new and who'd be able to give me more detailed information.
When I finally got to speak to Alister, he told me that the truck was purchased from Dominion Motors in Timaru in 1966 or 1967.
I later found out from the Morris Commercial Club in England that the truck's serial number confirms that it was definitely manufactured in 1966.
The next phone call I received was from Shane Stockdill, who lives in Methven. He asked me if I'd had any response to my call for any information on the FGK's past.
As it turns out, Alister Gray is his father-in-law. I felt like I'd struck gold!
Furthermore, on talking to Shane, I mentioned that the K Bedford that was the subject of my 14-part restoration series previously featured in DOW was originally owned by an Ernest Mangin of Methven.
Shane said that he knew a David Mangin and that he'd make some enquiries on my behalf. It appeared that once again I'd made a gold-strike when David put me in touch with his dad, Graeme, who remembered going with his father to Ashburton to collect the truck in 1953 when he was about 15 years old.
There's a phenomenon known as the law of unintended consequences and it had certainly come into play here when I asked some questions about the origins of a Morris truck I've only owned for a couple of years.
I also found out about the previous life of my beloved Bedford that I've owned for the better part of 40 years. Not a bad result!
I also had a call from a guy whom I'm most envious of. He has come by a well-preserved FGK Morris. His name is Andy Armstrong, but his story will have to wait until next month, as we have to crack on with the restoration story.
Back to the rusty cab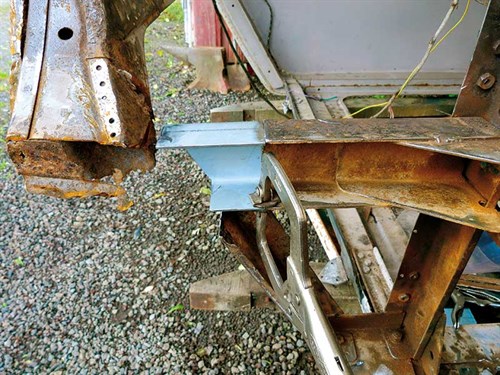 Things were progressing rather nicely as more and more rust was being cut out of the cab's subframe and new pieces were going back in their place.
The concerns I'd voiced earlier in the story regarding having an engineer take a look at proceedings were allayed when I was put in touch with the most helpful engineer who came to take a look at what I'd done so far.
It's fair to say that there were some things he thought were okay, while the floor panels I'd replaced didn't pass muster and had to be redone.
Bob, the certifying engineer, explained that the panels needed to be plug-welded at 50mm centres and were required to be welded through 8mm holes.
While it was a bit of a pain to have to remove the panels from my previous effort, recut the rather awkward shapes in the new panel steel before rewelding it all back in place, I had to admit that the finished product looked a whole lot better.
An added bonus to all of this is that I have two new toys to play with—a stretching/shrinking machine and a plasma cutter, both of which have proved to be invaluable.
There was that law of unintended consequences rearing its head again, as both, my restoration buddy, Murray, and I were given some valuable welding lessons from Bob, who has been in the vehicle repair business for many years and was happy to share his knowledge and expertise with people who are keen to improve their skills.
Thank you, Bob! Next, it was off with the mudguards, which were in need of repair beyond my capabilities, prompting me to sit down and figure out the next move.
Tip of the month:
Keep an eye out for that law of unintended consequences. It's a beauty!
Keep up to date in the industry by signing up to Deals on Wheels' free newsletter or liking us on Facebook.