Cover story: Ashton Crane Hire
---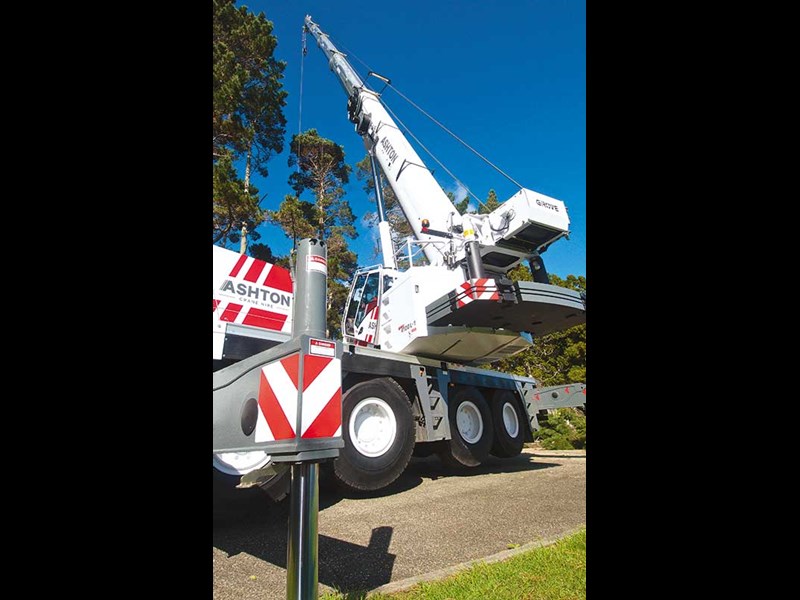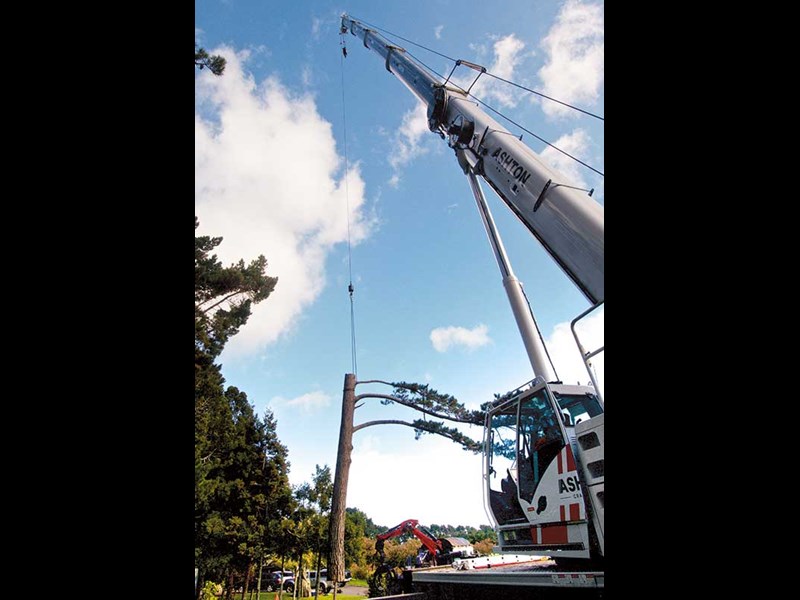 The boom gives a maximum vertical reach of 60m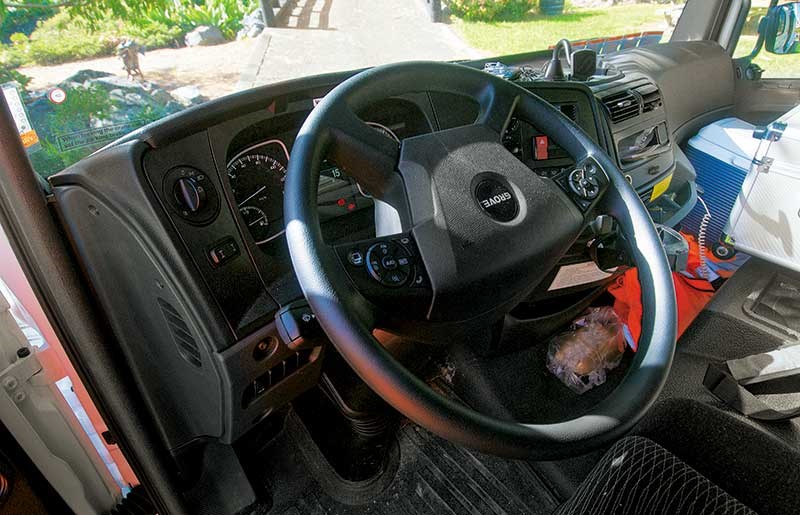 The all-wheel steering system gives the GMK4100L-1 an ability to jiggle itself into places other cranes wouldn't even look at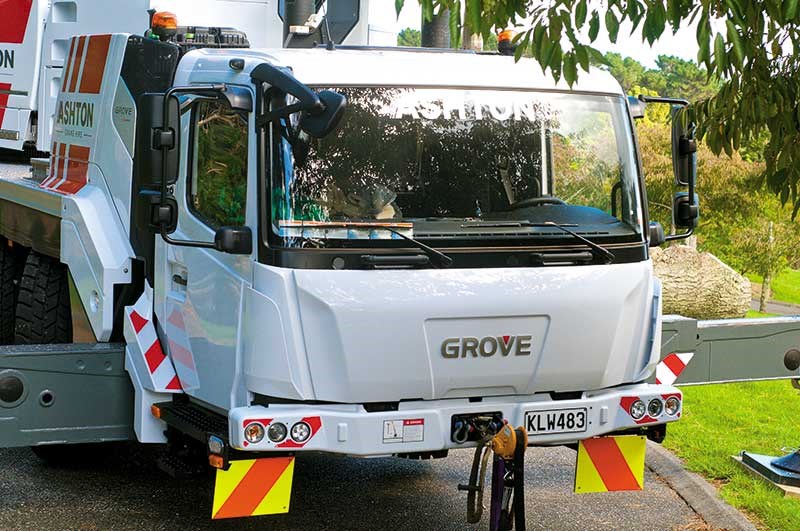 The GMK4100L-1 is an impressive 52-tonne piece of kit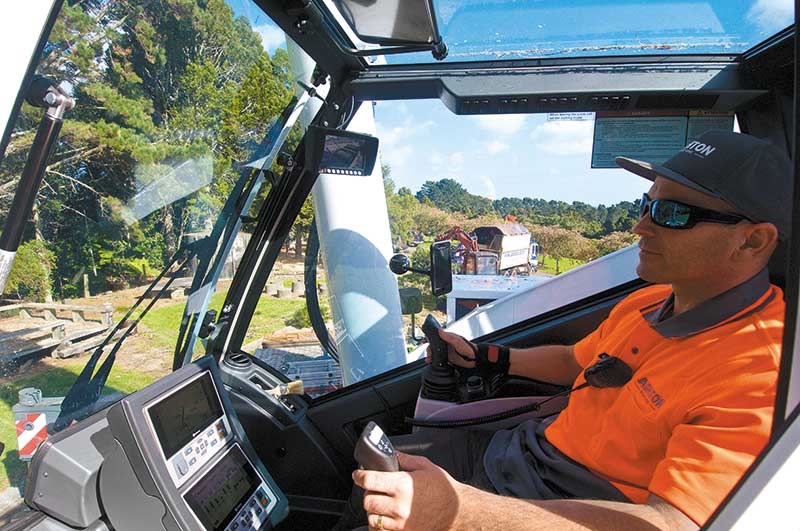 Marty Ashton

Deals on Wheels visit Ashton Crane hire to check out the GMK4100L-1, a new Grove crane, which is the first model in New Zealand
It's at the top of a hill east of Auckland where we catch up with owner-operator Martin (Marty) Ashton of Ashton Crane Hire. We've made the trip to take a look at his latest acquisition—a Grove GMK4100L-1. The first of this model in New Zealand, the 52-tonne impressive piece of kit is only in its fourth week of work, so the paint is gleaming and there's a hint of satisfaction on the owner's face.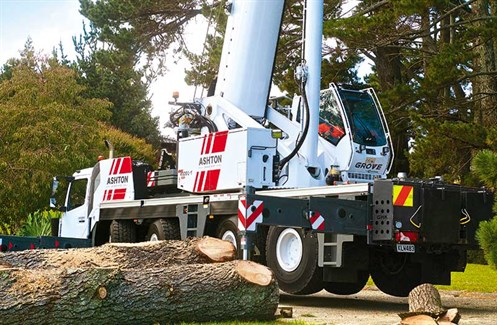 The GMK4100 L-1 crane
With a maximum lifting capacity of 100 tonnes, the all-wheel steer eight-wheeler Grove GMK4100 L-1 was purchased by Marty to help capture some of the bustling commercial market in New Zealand's largest city and neighbouring provincial areas.
"As an owner-operator, I was finding my existing 50-tonne Kato was not quite big enough for some of the work I was being asked to undertake," he says. "I wanted something that could do at least 100 [tonnes] and had a small footprint."
Access
Tight access is something virtually anyone working in an urban environment has to contend with these days, so the all-wheel steering system (which includes a crab-steer function) gives the GMK4100L-1 an ability to jiggle itself into places other cranes wouldn't even look at.
Marty says the all-wheel steer function allowed him to get the crane up the narrow and winding driveway to access the current site, so the feature is also beneficial for getting onto those difficult rural properties.
The GMK4100L-1 boom
The boom on the GMK4100L-1 consists of seven sections, giving a maximum vertical reach of 60m with a 17.6m telescopic swingaway jib with hydraulic offset (0– 45°). It also has more than seven tonnes of line pull and an auxiliary hook, which can be used with two parts of line providing some 14 tonnes of pull, so it's ideal for tilting and placing precast concrete slabs.
"The whole crane has computerised safety systems so it doesn't allow us to do anything outside its operating parameters," Marty says.
The engine
Keeping the whole unit operating is a 320kw (430hp) Mercedes-Benz OM470LA six-cylinder diesel, producing maximum torque of 2100Nm at 1300rpm. It is coupled to a Mercedes G280 gearbox, which gives the crane 16 forward and two reverse gears.
The GMK4100L-1 cab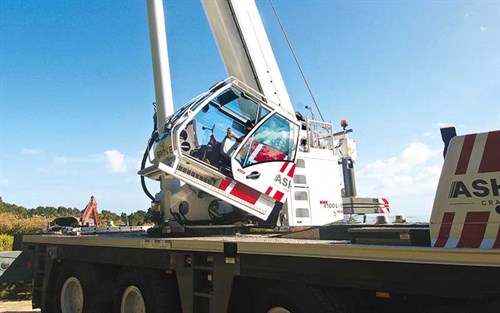 One of the features of the Grove GMK 4100 L-1 is the hydraulically adjustable cab that tilts up 20 degrees. As is evident when seeing it in action, neck strain is significantly reduced and helps provide a clearer view for the operator. Also as expected, air-con comes standard and numerous functions are accessed by a control panel and twin monitor system positioned in front of the operator. Sadly lacking, however, among all this gadgetry is a smartphone holder, but Marty has improvised by suction-cupping one to a side window. Go figure.
Kiwi-ising
Fitting the GMK4100L-1 out for New Zealand requirements meant larger wheels were fitted to the 52-tonne unit, so it could legally operate on local roads. Marty's version also comes with two winches, allowing for the auxiliary hook that was mentioned earlier.
"I also added a bed option when the crane was specc'ed," Marty says with a smile, and is something that will reduce operator fatigue on those super slow jobs.
Solid reasons
Marty says there was a nine-month wait from the time he first placed the order for the GMK4100L-1until it arrived and was certified for use, which, with a unit such as this, would not be unexpected.
"I'm still learning some of the functions, but I'm happy now that it is finally here," he says.
"My main reasoning behind purchasing the Grove was because I have operated this brand for more than 15 years."
However, it appears Marty isn't all that blinded by brand loyalty. He has recently ordered a 13-tonne Kato All-Terrain Crane. Dubbed City Cranes, these units are not much bigger than a large SUV and are ideal for those smaller jobs such as fitting air-conditioning units and lifting spa pools into position.
When the new machine is commissioned, one would say Marty has all bases covered. One would also say that he probably won't be using the term 'owner-operator' for too much
longer either.
More information on the Grove GMK4100L-1
Contact person: Marty Ashton
Mobile number: 021 928 488
E-mail id: marty@ashtoncranes.co.nz.
Keep up to date in the industry by signing up to Deals on Wheels' free newsletter or liking us on Facebook.