Big dog: Mack 685hp Super-Liner
---
In this detailed report, Steve Brooks camps out in the new bunk behind a Mack 685hp Super-Liner hauling roadtrain doubles in western Queensland.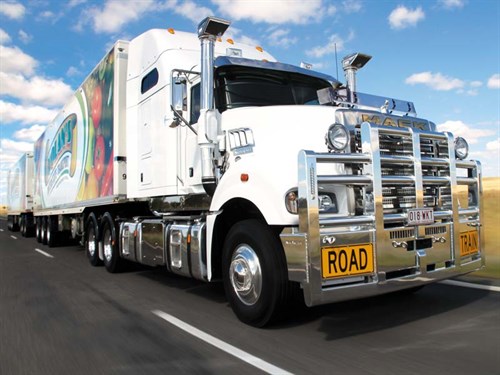 Late in 2011, an invitation arrived to travel to Port Augusta to drive a couple of Macks up a stretch of the Stuart Highway. One was a Super-Liner pulling roadtrain doubles, the other a Titan towing triples.
It took a little while to soak into the brain box, but it was soon clear that this was no ordinary test drive, and definitely a big deal for Mack; this event marking the creation of an entirely new chapter for the bulldog breed.
In the decade and more before the Port Augusta exercise, the Super-Liner had virtually fallen into oblivion, with nothing other than the view of a dog's bum in common with the big square-jawed V8 legends of the past.
From here on, though, everything – including a large part of Mack's viability – rested on the big lump of in-line iron known as the MP10, and the automated mDrive 12-speed transmission attached to it.
Just as Mack's 13-litre MP8 draws its existence from the D13 engine of corporate parent Volvo, it was no secret that Mack's big six was a derivative of the Swedes' gutsy D16 engine. Likewise, mDrive is derived from Volvo's super-smooth I-shift stirrer and together they would form the platform for a bold new breed of dog.
Even so, there would come those bemoaning the birth of a Mack fed on herrings rather than hot dogs. The thing is, though, without Volvo's input in both funds and technology, the dog would've died years earlier, leaving the restored relics of trucks like the original big-beaked Super-Liner to become nothing more than headstones for a once proud and powerful brand.
As for those who suggest the modern Mack is just a Volvo conventional with a dog on the snout, nothing confounds Dean Bestwick more. The head of Mack Trucks in Australia and a bulldog disciple to the bone, he insists it's a suggestion that simply doesn't stack up.
"I hear people say that, but really, I don't get their point," Dean told me some time back. "I mean, seriously, tapping into Volvo Group product has been excellent for the Mack brand, and people buy Mack because they like the performance, they like mDrive, they like the package."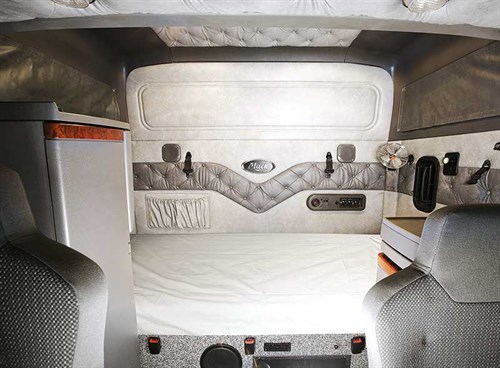 "Where's the problem?"
MP10 is, of course, available at ratings of 600hp and 685hp (441kW and 515kW) with thumping torque peaks of 2065ft-lb and 2300ft-lb (2800Nm and 3150Nm) respectively.
Back in Port Augusta, both the Super-Liner and Titan were equipped with the brawling 685 version. It initially seemed a better option would've been to run the 600 rating in front of the roadtrain double and the 685 in the triple, thereby providing at least some comparison.
But, Mack had reason for running both trucks with the 685, and that was to highlight the remarkable synergy of engine and mDrive transmission in high power roadtrain applications.
While the 600hp MP10 has from the outset offered the choice of manual 18-speed and automated 12-speed shifters, the 685 comes with mDrive only. Why? Well, there's a big heap of torque coming out of the 685, and the automated shifter provides a higher, more consistent degree of driveline protection than a stick shift, particularly if the stick's in heavy hands and the clutch pedal sits under an insensitive left foot.
Anyway, with the Super-Liner grossing around 80 tonnes and the Titan triple at a modest 110 tonnes or thereabouts, the performance of both trucks was nothing less than outstanding. As for mDrive… well, stunning was the only word to describe the synergy and intuitive relationship between engine and transmission. There was no doubt about it, Mack was back in the big time. In every sense!
Since then, I've driven a number of Super-Liners but the Port Augusta exercise was the last time at the helm of a Super-Liner in roadtrain configuration… until now!
Fast forward
There's no question that even at first glance, Mack's new 60-inch sleeper is quick to impress. Sure, you still have the issue of no standing room between the seats, but with this bunk, it's only one stooped step from the driver's pew to a place where even big blokes have the space to stand bolt upright, stretch out and generally unwind after hours in the chair.
It's bigger and better appointed than any bulldog bunk ever offered in this country, and it's no great surprise to learn that it's actually derived from a premium Mack line-haul sleeper in the US.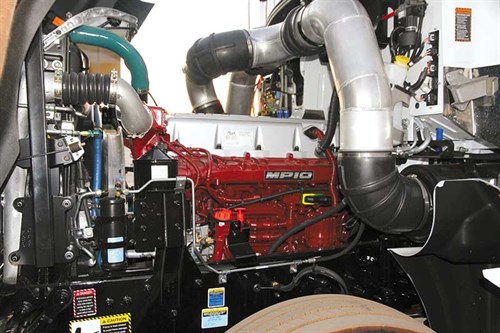 Mack's local team, however, was not about to take any chances with durability and build quality; getting subjected to two years of real world work and engineering evaluation before Mack ticked the 'go' box.
We'll get to the details later, but right now, with breakfast on board and the sun cracking the horizon, it was time to head 600km west to Charleville to overnight in the new 'kennel' before driving back again.
Standing on a 5.8m wheelbase, and with a specification limiting gross weight to just 90 tonnes, the Super-Liner was on its maiden voyage, and with two trailers in tow, performance and fuel consumption obviously weren't expected to be at their best. Or so it seemed.
From the outset, however, the 685 made a mockery of two trailers and a gross weight estimated between 75 and 80 tonnes. Sure, it's fair to suggest that's exactly what a big bore engine dispensing 685hp and 2300ft-lb of torque should do. Yet even so, with mDrive's tall 0.78 overdrive ratio feeding into a reasonably quick 3.73:1 rear axle – notching 100km/h at a touch over 1450rpm – the Mack's tenacity and willingness to hold onto top gear was nothing short of awesome.
In fact, there were numerous times when the truck's traits could be quite astonishing. Even disconcerting. For instance, under light throttle at lift-off, it was not uncommon for mDrive to skip two or three gears in succession and haul away from as low as 900rpm and even 800rpm, well into the top half of the 'box. Still, the outfit's ability to simply grunt 'n' go at such low engine speeds was extraordinary and with the knowledge that the combination is programmed to perform in just such a manner, initial concerns soon dissolved.
Another plus is what Mack calls 'Grade Gripper'. It's dog talk for a hill start function and, standard on mDrive, it makes uphill lift-offs immeasurably easier than using the trailer brake handpiece.
It wasn't long before it simply became a pleasure to sit back, steer, let the electronic wizardry do its thing, and be impressed.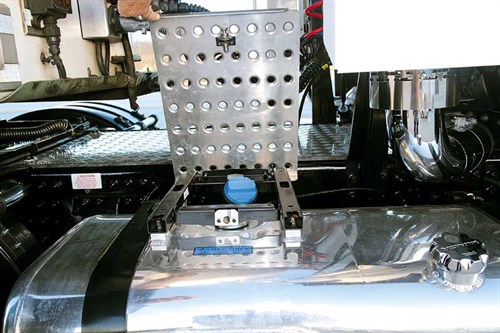 Mack has, over the past four years or so, done a lot of development work to make the model suitable for 26m B-double duties and it has certainly paid off. In fact, around 65 per cent of all Super-Liners are now sold into line-haul work.
But, as Dean Bestwick added, it's not uncommon to see Super-Liners running with a single trailer: "When they're running a 100 per cent loaded and up on their weights, the MP10 comes into its own."
Again though, Super-Liner's success is not attributable to the engine alone. Nowadays, it's all about the package and the key is unquestionably mDrive. So accepted has the automated transmission become that around 90 per cent of all Mack Granite, Trident, Super-Liner and Titan models are fitted with the super-slick shifter.
As for the suggestion from some quarters that the 685 rating should also offer a manual option, it's now totally out of the question. For starters, word has it that neither Eaton nor Mack have an 18-speed manual able to cope with the prodigious 2300ft-lb torque output of the 685. More significantly, however, is the recent release by Volvo of an extremely low geared crawler function for its I-shift transmission.
Right now, Mack isn't saying when or even if the crawler option will become available on mDrive but with the Mack shifter based almost entirely on I-shift hardware, it's easy to speculate that before too much longer, the dog will be digging deeper than ever before. Put simply, Mack would be crazy not to.
Cruise 'n' snooze
There was still an hour or so of daylight left by the time the Mack strolled into Charleville and, according to the on-board trip computer, hadn't drunk much either, with a consumption rate of 1.7km/litre, or 4.8mpg.
The day had reached into the 30s and the evening was still warm, so half an hour of 'Icepack' action seemed like a good idea to bring the cab and bunk down to a comfortable temperature and, in the process, take stock of the sleeper's features.
For starters, the mattress is 890mm wide and certainly comfortable enough for this body to enjoy a good night. Again, the only distraction was a hard head bang on the rear edge of the cab roof when I didn't duck low enough during the 'wee' hours of the morning.
The Mack cab is, in fact, starting to show its age with the complete absence of a stand-up option to complement the several tall sleepers already offered by the brand. Meanwhile, with air intake pipes impeding cab door opening angle, entry and exit are well short of ideal.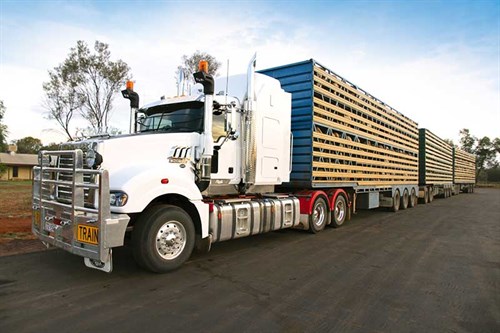 However, relief is on the way. Word is slowly seeping out that an entirely new Mack cab, which will tackle all current issues is now under development in the US. It won't arrive this year and maybe not next, but it is coming. On that, we're certain.
Back in the big bunk, there's plenty to like with a tall wardrobe cabinet between the bed and the back of the driver's seat, while on the other side there's a 44-litre upright fridge with a slide-out work tray and drawer on the top. A TV was fixed to the wall above the fridge.
There are swing-out vents on each side, and higher up on each side are sliding windows with mosquito-proof mesh and sliding curtains for privacy or just keeping the sun out. Full length curtains separate the bunk from the cab.
A single large hatch is on the driver's side and personally, I think it'd be a good idea if this also had a mesh screen door for those balmy nights when it's just nice to have a heap of fresh air, but without the bugs.
Another worthwhile inclusion would be a rack for a wet towel. It's the little things that count. Storage is plentiful with a large area under the bed, accessible from the inside by lifting the bunk and from the outside through wide locker doors on each side.
And while we're on the outside, it's worth mentioning the AdBlue tank. Adapted from a locally developed Volvo design, it's a 200-litre moulded container that sits inside the chassis rails and curves over the prop shaft with the fill nozzle tucked neatly under a swing-up access grate on top of the driver's side rear fuel tank. Whether it's on Mack or Volvo, it is without doubt the smartest and most efficient AdBlue tank design in the business, leaving chassis space free to house emissions hardware and maximise fuel capacity.
That's about it. All up, the 685hp Super-Liner in this exercise was an absolute delight, delivering a superbly smooth mix of manners and muscle.
The verdict
Yes, the cab's showing its age with some aspects that aren't up to scratch when compared with other premium brands. Time and an entirely new cab will fix that in due course but when it comes to performance and technological harmony, the Super-Liner sits at the top of the conventional tree.
As for the 60-inch bunk, its sheer size obviously precludes it from length-sensitive configurations such as B-doubles. But then, it's not meant for B-doubles, and is unashamedly aimed at the biggest, heaviest end of the business. For those roles it adds an entirely new and welcome dimension to Mack. Literally and physically.
Keep up to date in the industry by signing up to Deals on Wheels' free newsletter or liking us on Facebook.