Road trip: picking up vintage trucks in Canterbury (part 3)
---
Late last year, an impulse internet purchase of two 1960s Austin/Morris trucks had sent me on a 2700 kilometre round-trip to Albury in the South Island. We take up the story on day four of the adventure in Blenheim on the homeward leg.
Recap
Despite receiving some bum advice on which route to take, courtesy of my old mate Ian Hambly, which saw me driving through a monstrous storm that had strewn the road with all manner of debris and holed the fuel tank, the first few days had panned out quite well.
But on arrival in Blenheim on day four, I discovered that the leak in the tank had become a whole lot worse…
Day 4
A local I got talking to suggested I should get Transmar Services to look at fixing my problem and by the time I arrived in their yard, the leak had become a flood almost of biblical proportions.
It was about 3pm when manager, Mark Sweeting had master mechanic Pete Maunsell take a look at the damage. He promptly informed me that I wouldn't be going anywhere until the following day – at the very least.
"Bloody fantastic," I thought to myself. I needed to be aboard an 8am Cook Strait sailing the next day if I was going to stick to my schedule.
Anyhow much to my delight, Sweeting was quickly on the phone to Bluebridge rescheduling my 8am crossing to 2pm the following day.
I have to add that this rescheduling of my timetable was all in the hope that the tank would be repaired by midday of the following day (Friday 15 August) as I needed to be able to make the half-hour or so trip to Picton before sailing at 2pm.
Maunsell assured me he'd do everything in his power to have me on the road the next day. Something in Maunsell's confidence in their work, made me believe everything would turn out fine.
I'd promised the Ed that I do a bit of a story on Riverlands Roadhouse Truck Stop while I was in the Blenheim area and I saw an immediate way of taking advantage of my misfortune, so I booked myself in for the night.
Riverlands Roadhouse had been well-placed in the Deals on Wheels Best Eatery on the Road competition early in 2014, so I was keen to find out first-hand how good it was and now because of my imposed time off the road I was about to get the inside running on the accommodation as well.
The Roadhouse is owned and operated by Chris Wagner who saw to it that I'd have a place to sleep for the night.
On arrival I ordered a meal of steak, eggs and chips, the proportions of which were too big for a little fellow with my modest appetite (the food was delicious by the way) before being informed that all the standard units were full, they would have to put me up in one of the "containers".
Well I must admit I really didn't know what to think about being stuck in a container for the night. However any thoughts of spending a cold winter's night in a container were allayed, as the "container" was very well appointed. I took a hot shower before climbing into an exceptionally comfortable bed and dropped off to sleep almost immediately.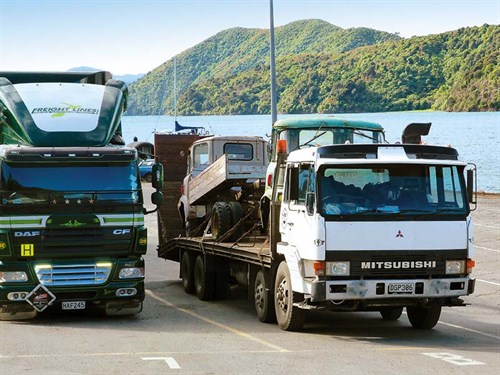 Day 5
I was awake sharp at 6am, as I was anxious to get around to Transmar Services' yard by about 8am to find out if I really was going to be on that Cook Strait ferry later that afternoon.
By the time I'd had breakfast at the Roadhouse and had driven the couple of kilometres to Transmar's yard to find what fate awaited me it was a little after 8am.
On arrival at the truck, I could see that the tank had already been refitted. It turned out that the mechanics had started work at some ungodly hour in order to get the job done on time.
Being grateful to the team at Transmar Services for making sure I'd be on the ferry on time, my thoughts soon turned to the predicted storm that was blowing up the South Island and threatening cancellation of my Cook Strait crossing.
I started wondering why the hell I'd taken on this challenge in the first place.
After thanking the guys and gals at Transmar in the most appropriate way I could (aside from paying their very modest bill) I set off for Picton, still not knowing if I was going to make it back to the North Island in time to make my new deadline which was already six hours later than my original planned time of arrival.
In the final event, despite threats of cancellation we made it across the Strait, although at times I kind of wished it had been cancelled, as I spent several hours wondering if I really was going to be sick.
But the fear of being seasick paled into insignificance compared to the concern I had about my cargo a couple of decks below.
Once again my hyperactive imagination was in overdrive and it had me thinking that perhaps I hadn't chained those trucks on well enough for a crossing as rough as this.
The storm had died down by the time we docked in Wellington and as you've probably already guessed, my load was intact and I was soon making my way north to Palmerston North.
Although the weather still wasn't particularly great, the trip up the first leg of the North Island went without any problems.
I got into Palmy at 8pm and found a place for the night called the Pioneer Motel, where I was told by the proprietor that I could park my truck "around the back" and I have to say that I couldn't have found parking closer to my unit if I had been driving a Mini.
Day 6
I arose early on what I hoped was going to be the final day of my expedition, as I intended to do the story, which turned out was going to be closer to Hunterville than it was to Palmerston North and then make my way back up to Auckland.
Strangely, in spite of my breakdown and missing the early sailing I still made it to the article site on time.
The only thing that could ruin my plans of being back home today, was the fact that the Desert Road had been closed all day and may not be opening until further notice and I'd almost resigned myself to one more day on the road.
As fortune would have it, the road was opened for long enough for me to get through.
The rest of the trip north was a doddle and it seemed like no time at all before I was over the hill and on the motorway at Bombay, heading into Auckland.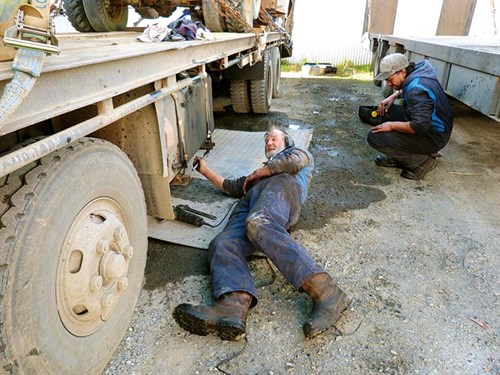 I'd only been 'invited' by the Law to stop at one point on my trip south at Ohakea when the truck was empty and so got waved through but I fully expected to get stopped by at least one curious traffic cop when I had a load on, even if it was just to find out if someone would really be stupid enough to want to own those ungainly trucks.
Once again my imagination was running wild and I could see in my mind's eye, being stopped one or two kilometres from home, but that wouldn't really happen would it?
I turned off onto the southeastern motorway, then in to the city limits at New Lynn, then Glen Eden – only three or four kilometress to go – oh dear, what are those red and blue flashing lights coming up from behind – he's surely not chasing me is he – or she?
Well I knew I wasn't doing anything wrong, I still had plenty of time on my log book, it's just that I'd had enough of travelling and all I wanted to do was to get home and into a nice warm bed.
I kept as far to the left as possible and the flashing lights shot by – probably just hurrying back to the station at the end of shift – and ten minutes later my shift ended as well.
What to do with these two lovely pieces of mechanical wizardry now that they're in my care? I guess we'll just have to wait and see.
Special thanks to...
I was really impressed by the staff at Transmar Services, as they ran me to and from the airport to collect a rental car I'd hired in order to get around while the truck was being repaired.
Transmar Services is owned and operated by Peter Kenyon and family – the name is derived from two words, transport and marine. The company has operated from its current location at 13 Liverpool Street, Riverlands Industrial Estate Blenheim for the past 11 years, servicing all major truck brands.
Bluebridge (Strait Shipping) were marvellous, as they changed my booking without complaint or any extra charge.
Riverlands Roadhouse Truck Stop is situated on SH1 6.5 kilometres south of Blenheim and provides plenty of parking for truck and trailer units as well as smaller vehicles. There is a Caltex diesel stop, a certified weighbridge, a truck wash and waste disposal station. They provide comfortable pet-friendly accommodation and a restaurant and bar.
Colin Dunn promised he'd loan me an eight-wheeler transporter from his Rainbow Haulage fleet and had followed through big time, by not only giving me the truck for a week, but paying for the fuel as well!
For the latest news, reviews and features, subscribe to Deals On Wheels magazine here.
Keep up to date in the industry by signing up to Deals on Wheels' free newsletter or liking us on Facebook.