Landfill maintenance: Quay Contracting
---
A complex landfill site is an environment that is constantly evolving. Contracted operators such as Quay Contracting, working the Puwera landfill near Whangarei, need to know the gear they're using onsite has the grunt and reliability to keep up.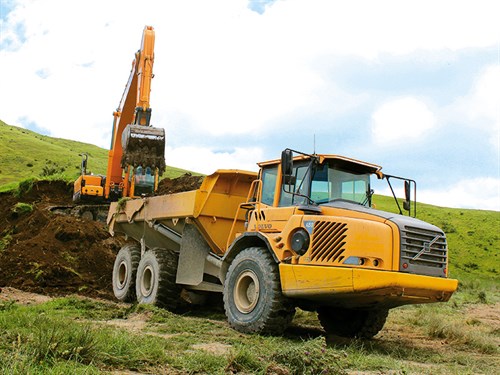 For anyone who has visited a landfill and really had a look at the processes at play there, the idea that maintaining such a facility is a simple process gets banished forever.
Landfill maintenance is an incredibly complex process, built across multiple phases of a long-term programme that, generally speaking, might run for decades as new land is zoned for landfill and older areas that previously received waste are rehabilitated.
That's the case at Puwera landfill, south of Whangarei. A joint venture between Northland Waste and the Whangarei District Council, the site encompasses over 80 hectares with a well-developed buffer right around its perimeter – travel up SH1 and you'd never know it was there. The landfill has the potential to be operating for well in excess of its 30 years it still has to run as a waste facility.
Of course, while the timeline stretches out at a leisurely pace, there's nothing slow about what's happening onsite, with a busy team receiving refuse constantly throughout the day on one side of the site. On the other, Quay Contracting holds the contract to continually develop the neighbouring hillside as further stretches of this large site come on-stream.
In order to do that, its excavator is working constantly. It's the only one onsite too, so it needs to perform its tasks reliably. That's why Quay Contracting's Mike Burr has specified Hyundai plant for the last few years.
"The new machine replaces an old Hyundai 'dash 7' excavator we used to run," he says, referring to the company's recently acquired 30-tonne R290LC-9, currently working a low promontory of land along the boundary with the operational section of the landfill.
"We've only had it here six or so weeks, but I consider it bedded-in already. It's essentially the updated version of the machine it replaces, so we're all familiar with it already. It's certainly a good step up from what we were running before.
"Our operator certainly likes it. It comes with all the mod-cons like a comfortable seating position and good visibility from the cab, as well as Bluetooth. That's good technology to have onboard because it's increasingly industry standard sort of stuff: hand-free communication is really ideal in machines like these."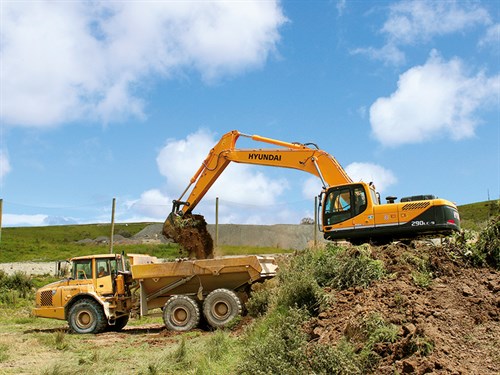 Even more convenient for Mike, the RC290LC-9 has arrived and commenced its earthmoving duties straight out of the box without any need for distributor Porter Equipment to specially prep the machine prior to arrival.
"There's no 'Quay Contracting spec' as such; it's pretty standard, which is good. We don't have any unusual attachments or anything to worry about. This machine is stock, so that's good when it comes to parts back-up too. There won't be any surprises."
Mike says he has been impressed with Porter Equipment's back-up for some time now, which was a big deciding factor in replacing the old Hyundai with a new one.
"Porters are very visible in this part of the world which local contractors like us really appreciate. With some suppliers you inevitably get patchy areas where simple logistics means their ability to cover clients in emergency situations might not be as good.
"You simply don't get that with Porters in my opinion. Not that we've really had to call on them outside of general service intervals, but I'm pretty confident their network could sort something out in a hurry if we needed a part onsite, for example."
"Those [Hyundai] diggers are great machines though and we certainly haven't had any majors. We haven't had this new one on location for long enough to really measure yet, but I'm expecting a good result with regard to fuel efficiency too."
The R290LC-9 is currently working a hillside at the Puwera site; a long slope which will eventually be reshaped as part of the landfill's next phase.
"The landfill has a long life and it will be a long while before we're looking to move on from there," concludes Mike.
"But in the meantime the place is constantly evolving. Right now that excavator is servicing two articulated dump trucks and the pace is pretty frantic. It has had a smooth start though and I'm confident it will be able to keep up regardless of what we need it to do."
For the latest news, reviews and features, subscribe to Deals On Wheels magazine here.
Keep up to date in the industry by signing up to Deals on Wheels' free newsletter or liking us on Facebook.