NZ SuperTrucks return to Pukekohe
---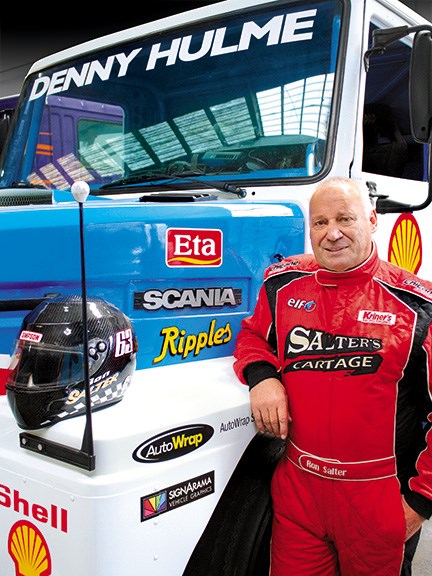 Ron Salter will drive Denny Hulmes Scania T142 at Pukekohe.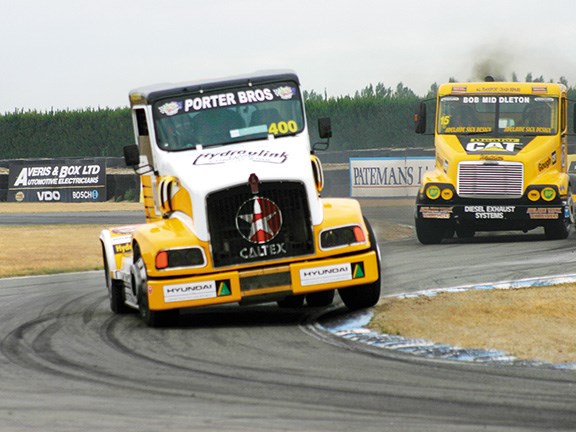 After a 10-year absence, truck racing returns to Pukekohe in November, including Andrew Porter.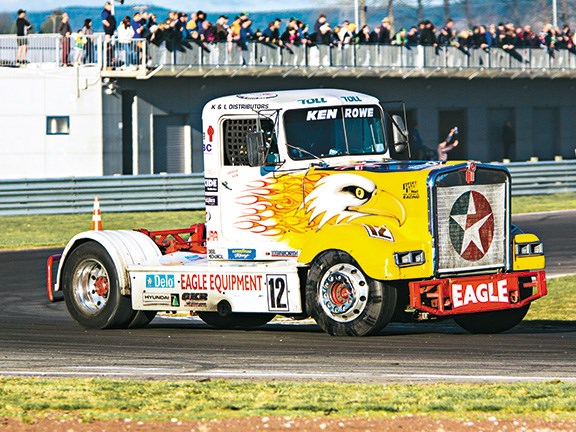 SuperTruck veteran Ken Rowe races in the Kenworth 924 'Eagle'.

After a 10-year absence, the 1500 horsepower, five-tonne monsters of the New Zealand SuperTruck Championship return to Pukekohe Park Raceway as a major support class to the BNT NZ SuperTourers Fuchs 500 event on 29-30 November 2014.
Among the front runners will be a couple of past champions returning to the sport, drawn by opportunity to race on the famous Pukekohe circuit once again. New Zealand SuperTruck racing legend, Ron Salter, will also return to the cab of a SuperTruck along with Andrew Porter.
NZ SuperTruck Racing champion, Malcolm Little, who won three NZ titles between 2009 and 2011, says the game has changed since Porter and Salter were in the sport.
"It's not going to be a walk in the park for those guys. Sure, they've done well in the past, but there are a few of us out there who have been racing pretty solidly for the last few years. They'll have some work to do to catch us."
Little races a 1650hp Freightliner and is pleased to see Porter return to the sport. "Andrew and I have had some great battles over the years, and it is great to see him come back for another go."
For Salter, who retired from truck racing in 2000, it will be an extra-special race weekend. The four-time New Zealand and one-time Australian champion will drive the Scania T142, previously owned by the late former Formula 1 world champion, Denny Hulme – an opportunity he just couldn't turn down.
"It's going to be a very special weekend out there for me, not only was Denny a great mentor when we were both racing trucks, but he was also a great friend. When Les Plenzler of Truck Smash Repairs, who now owns the Scania, asked me if I wanted to drive it that weekend I couldn't say no," says Salter.
It's been 10 years since NZ SuperTrucks raced on the Pukekohe circuit, and Salter believes a few other legends of the series might be coaxed out of retirement to race.
"Word is slowly getting around that I'm jumping back in, and I think a few others like me won't be able to help themselves. Hopefully we might see the two Porter trucks come out, and I would say we may potentially see 15 trucks line up on the grid for the weekend."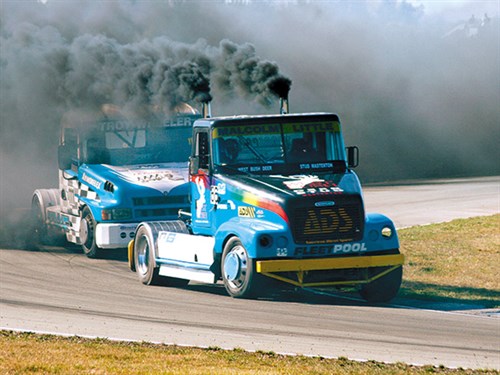 Having never driven the Scania before, he predicts it will take a little getting used to, but is confident he'll adapt quickly.
"I've never driven the Scania before, my whole career was driving right-hand drive trucks, the Scania is a left hander, so no doubt I'll fluff a few gear changes throughout the weekend."
Salter says the key to racing a SuperTruck around Pukekohe is the ability to be smooth and to carry speed, something Hulme was an expert at.
"I watched Denny drive this truck for many years, and I always admired how he controlled the weight through the corners, with very little movement, he was so smooth and it was a driving characteristic he had obviously brought with him through Formula 1 and sports car racing.
"The other thing about Denny was he was quite cunning and would never show all of his cards during practice. He would never do a complete practice lap. He would practice one corner at a time, so you would never really be able to see which lines he was taking or where he was braking.
"The key to racing at Pukekohe is to carry speed up over the hill and through turn one, lining up the esses, then getting good drive onto the back straight. After about three seconds on the straight, we'll hit our governed top speed of 160km/hr and then it's pretty much a procession down to the hairpin. Even if you don't have the most powerful truck in the field, as long as you can carry speed where it matters, be smooth and have good brakes, you can battle up the front."
Salter was one of the pioneers of the sport in New Zealand when it was established in 1989. He and the other founding members were just normal guys who decided that racing trucks sounded like a great idea after seeing racing from Europe and Australia.
They developed road-going trucks into racing machines, devised three different classes and from there the sport became wildly popular with Kiwi motorsport fans.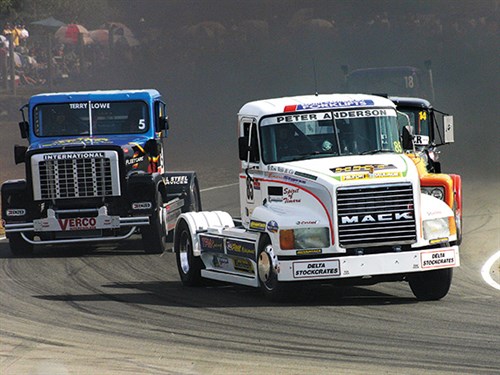 "Back in those days, we didn't really know what we were doing. There was no internet, so you couldn't really source much information out of Europe. The first time we went racing, we actually took one of my trucks out of my fleet, put a roll cage in it and went racing. Sunday night we were back at the shop, pulled the cage out, and on Monday that truck drove to Wellington on a delivery," says Salter.
However, the Scania T142 has never seen life on the public roads, with it being built as a factory race truck by Scania in Europe.
"Scania built this truck in the early nineties, and it did a season over there before Denny brought it here to NZ. In its day it was fairly cutting edge. We've given it bit of a birthday here, with a rebuilt engine and some new brakes that CablePrice, the Scania distributor, have given us. We should go alright."
Also lining up on the grid at Pukekohe will be Ken Rowe, one of the oldest competitors in the series, who has been involved with truck racing since the day this truck Eagle – a Kenworth 924 – was built in 1989.
Rowe pit-crewed for series legend and past champion Robin Porter when he first started racing. In 2005, after the Porter truck had been parked up for a few years, Rowe decided to bring the 'old girl' out of the shed and race her himself where he races it in the A Grade class.
Rowe and his small team have achieved a lot since he began racing. He has been in the New Zealand trans-Tasman team twice when the Aussies have come over to contest the series and he has had several second and third overall placings for meetings at Timaru, Taupo and Ruapuna. The team was awarded the Forest Freighters Mechanic of the Year trophy in 2011 and Ken placed second overall for the A Grade trucks the same year.
Like the rest of the field, Rowe is very excited to see truck racing return to the historic Pukekohe circuit.
"It's a great circuit for the series, and it's great for us to be back there. There have been a lot of rivalries there over the years, with a lot of races won, and a lot of races lost for some of the guys," says Rowe.
"It's also great to see so many of the great names of the sport return and come back for another go."
Over the weekend of November 29/30, the NZ SuperTrucks will also be joined by the BNT NZ SuperTourers, UDC NZ V8 Utes, NZV8 Touring Cars, Toyota Finance 86 Series, Honda Cup, and the SsangYong Actyon Racing Series.
Keep up to date in the industry by signing up to Deals on Wheels' free newsletter or liking us on Facebook.