Off-highway dumpers: Terex
---
With more than 60 years' experience in manufacturing off-highway dump trucks, Terex is firmly among the industry pioneers and leaders.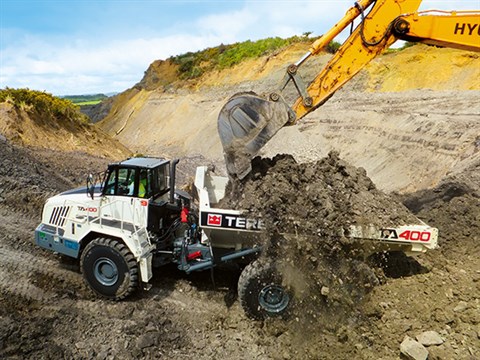 Engineered for the toughest applications in mining, quarrying, and construction, the latest Generation 9 range of Terex articulated trucks are powered by Scania® engines which are renowned for high uptime and reliability, says distributor AdvanceQuip. There are now more than a dozen of these Generation 9 trucks working around New Zealand, all consistently reporting excellent availability percentages, and even the TA400 40-tonne machines using an average of only 18 litres per hour of fuel, says the company.
With a 276kW (370hp) engine, the Gen 9 TA300 leads the way as one of the most powerful trucks in the 30-tonne class market, adds AdvanceQuip, and this power combined with a heaped capacity of 17.5 metres cubed means the Gen 9 TA300 is one of the most productive articulated trucks available today. The powerful TA400 has a payload of 38 tonnes and a heaped capacity of 23.3 metres cubed. It has a gross power of 331kW (444hp), and with six forward gears and one reverse, in addition to a two-speed dropbox, meaning the Gen 9 TA400 can travel up to 60kph.
All models in the new Gen 9 range benefit from oil-cooled multiple-disc brakes on each axle (front and rear) providing extended brake component life, reducing service intervals and operating costs, and improving overall braking performance compared to traditional dry-disc brake systems that are fitted as standard on other brands, says AdvanceQuip.
Another feature of the TA300 is the fully-independent front suspension, which is fitted as standard. This innovative design greatly reduces operator fatigue and increases machine stability, enabling these machines to excel in rough terrain environments, says the company.
The Terex cab is developed around the operator to improve comfort, efficiency, and productivity. Operating management and maintenance diagnostics have been simplified by the installation of a completely new electronics package with comprehensive on-screen displays.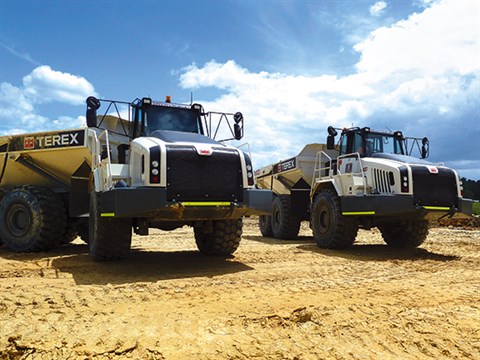 AdvanceQuip says Terex trucks are designed to keep operator productivity levels high, cost of ownership down, fuel consumption low, and cycle times short, resulting in the lowest cost per cubic metre of material moved.
The recent move by Volvo CE to purchase the Terex truck division from Terex Corporation will further cement the brand's position as an industry leader, says the distributor. Volvo will bring many cross brand advantages, huge resource, and fresh development and design improvements to keep the Terex brand right up there at the top. According to AdvanceQuip, right now, the Gen9 Terex ADT would have to be the best value investment for any operator looking to expand their off-highway fleet.
For the latest news, reviews and articles, subscribe to Deals On Wheels magazine here.
Keep up to date in the industry by signing up to Deals on Wheels' free newsletter or liking us on Facebook.