Yamaha Transporter
---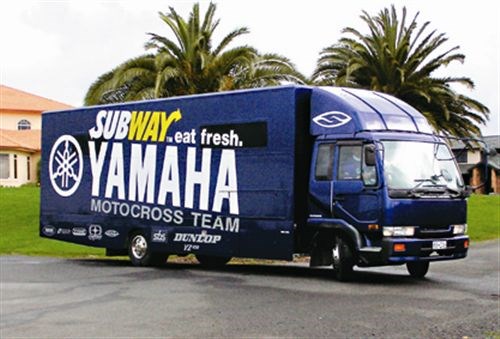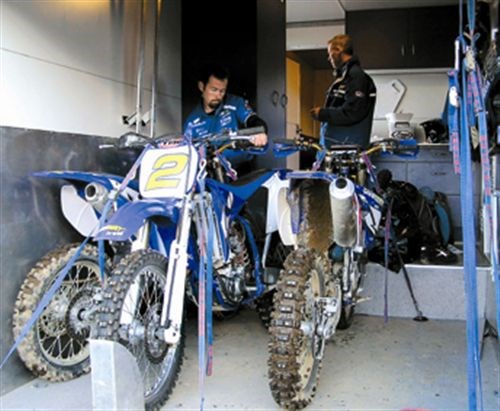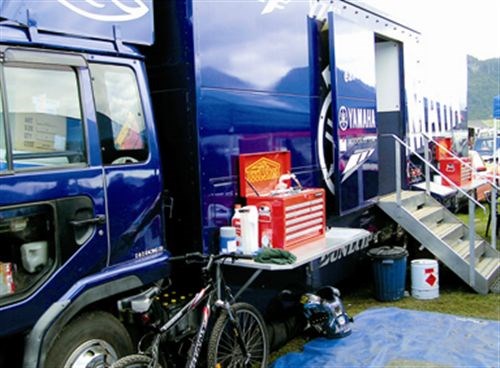 A NZ Motocross champ has turned to a truck to help him out on race day. Terry Stevenson goes along for a ride.
Few things can be more tedious and tiring than driving from one end of the country to the other, unpacking bikes and gear, thrashing your body with practice and racing, before packing up to drive home again.
Such is the regular life of one of New Zealand's most successful motocross riders, Darryll King. Throughout his 25-year career, King has been very determined to be at the front of the pack, "I don't settle for anything less than winning. Even to this day I am still as determined as I was when I was 20," King said. Twice runner-up in the World 500cc Motocross class, 25 times NZ champion, three times and current Australian Mr Motocross Pro Open champion, it's little wonder that King demands the best equipment for the job.
The 35-year-old retired from the world motocross scene at the end of 2000 to settle down with wife Darlene and raise their family of twin daughters in Hamilton. From 2001, racing professionally for both Yamaha New Zealand and Yamaha Australia at the same time brought different demands. To successfully defend his 2003 Australian title, King based himself from home again and flew over to each of the eight rounds across Australia. But it's a different story in New Zealand, where he also has to transport his team of three Subway Yamaha sponsored riders, mechanics, bikes, gear, spare wheels, tyres and tools to each national Supercross and Motocross event on the calendar. Something had to change.
King bought his Subway Yamaha transporter to create a "Team New Zealand" on the motocross scene.
"We needed a truck to carry the signage, equipment and bikes. The Toyota Hiace van we had before was too small, we couldn't create the image we want or the atmosphere at the track," he says.
The new transporter has many advantages, from providing extra indoor space on race day to creating a large billboard for sponsors. Importantly, it can also carry 1000 litres of water on board, so the team is able to clean dirty bikes between races with a water blaster. In the kitchen area, King is able to cook food and generally feel at home – a luxury at any hot and dusty or wet and muddy racetrack.
"I can lock the door and take some time out there to recover from races."
Although an expensive solution to a regular problem, King's race transporter has definitely made life easier in both getting his bikes to the track and into pit lane. But it doesn't come cheap, or without its problems – costing almost $80,000 all up to build. In winter, motocross tracks can become quagmires when wet, so initially King envisaged the truck would have to be towed into the pit area two or three meetings a year. Before each event, the water tanks are filled at the motel before going to the track. And with most of the 700kg of water distributed over the rear wheel, they've found it can get into tracks without bogging down.
"We've taken it to 25 events now and we've got it into every pit area, no problem at all."
In 2003 King bought the 260hp, 1997 Nissan Condor MK2 as a cab and chassis from Japan through a Christchurch wholesale company. Three months in the making, the transporter was completed on New Year's Day 2004, then driven the following day to Nelson for round one of the NZ Supercross champs. Christchurch company McKay Motor Bodies fabricated the bodywork to King's specifications, including overall dimensions, cupboards, fold-down tables and lockers on the outside. The steps and side door were specially designed to be removed and closed quickly, in case the wind picks up suddenly. A 2.5 x 3m awning comes off the side door area, and with multi domes and support poles takes only five minutes to erect and disassemble. The rear door lifts up vertically and is also used as an extended tent.
"We built it basically just for the driver to drive it, and occasionally I'll catch a ride down if I need to," King says. "I wanted a truck that could travel at a reasonable, safe speed, and was powerful enough. That was the model I wanted."
Driving the Nissan feels not too dissimilar to a large car, with the main concern to ensure the front wheels track wide enough around a corner so the rear wheels don't clip a curb. With much of the body weight towards the rear, the steering was light but still offered good feedback to the driver. As with any vehicle this size and weight, wind is its biggest enemy. Strong winds on the day of our test drive were gusting around 30kph. While the truck stayed on line in this wind, I had to work a little to keep it there in a side-wind. I didn't have a problem with the power either, going up hills the gear ratios seemed to be in the right places for down-changes. In maneuvering I had trouble with reverse gear situated right next to first on the stick.
"I'm really happy with the way it drives. It drives as good as my Toyota Hiace van! It's more comfortable, has more room and you can see further in front of you because you're sitting higher up off the road. Getting in and out of tight gateways at tracks you have to be quite careful – the overhang at the back is quite long. It's a little heavier when it's full of water and the bikes are in – you have to be aware of the brakes, not be too aggressive. I use the engine braking more but on the road it's amazing."
Obviously a big advantage must also be the Nissan's carrying capacity, which can squeeze in up to eight bikes. "It's like I have a house at the track. It creates the perfect atmosphere for sponsor signage, and it's a moving billboard."
On the motocross front, King finished second last year in both the Open and 125 classes. Machine problems ruled him out of three 125 races at Timaru, making it unlikely he can claw back the points deficit, so King now plans to focus on winning the Open class on his Yamaha YZ450F. To complement his 2004 Australian Pro Open title.
Get along to the final two rounds to see if he can do it. September 26, at the Trentham Race Course, Lower Hutt, and the final on October 31, at Harrisville, near Pukekohe.
Keep up to date in the industry by signing up to Deals on Wheels' free newsletter or liking us on Facebook.