Wheels at Wanaka 2019
---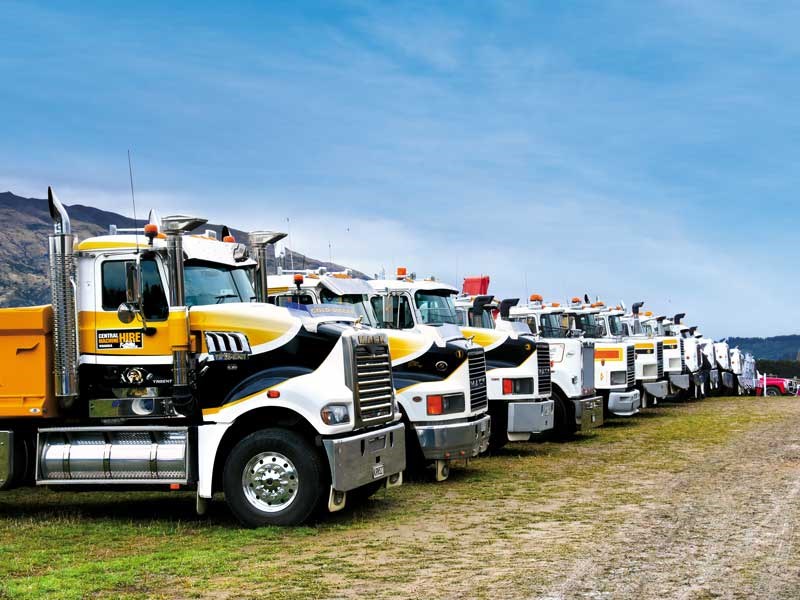 Central Machine Hire was a major supporter of Wheels at Wanaka. This line-up from their fleet over spans five decades of the Bulldog breed.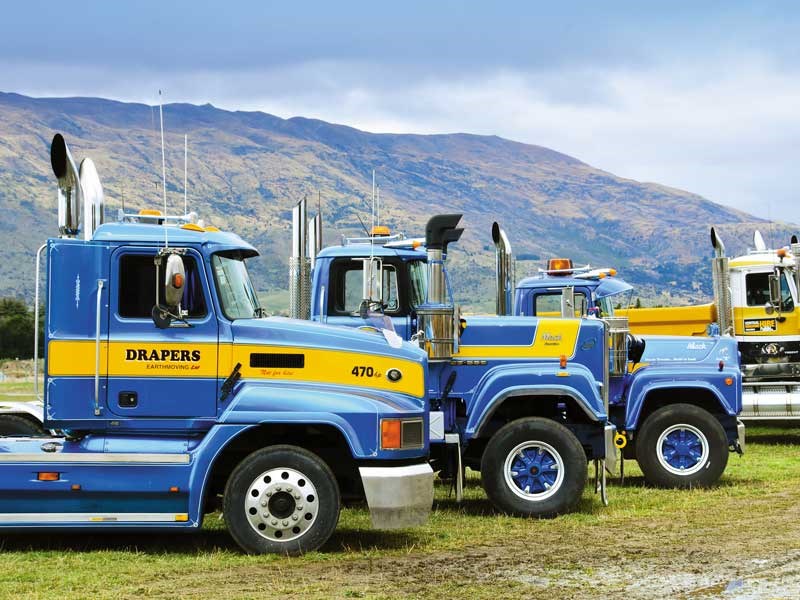 A number of vehicles from the North Island attended, such as this trio of Macks from the Wellington fleet of Drapers Earthmoving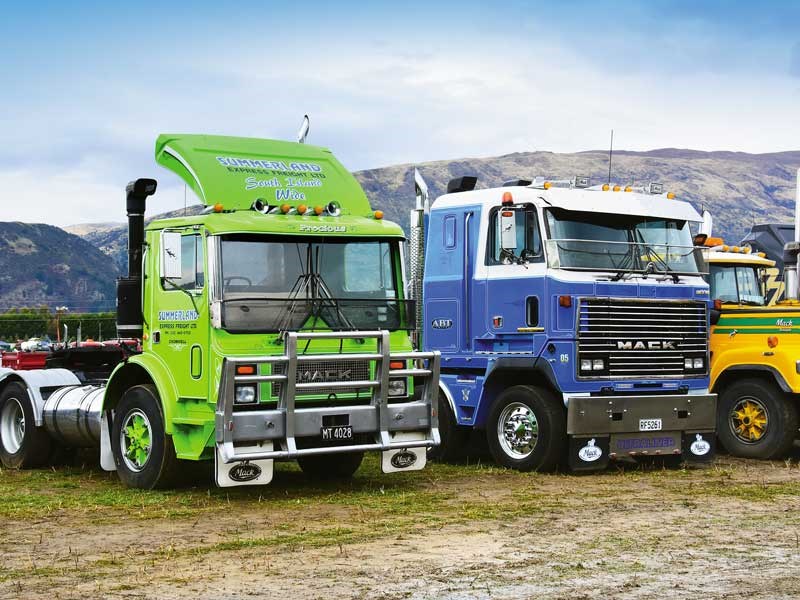 Summerland Express Freight Limited's 1986 Mack MCE sits alongside the Anderson Brothers Transport Mack Ultra Liner hailing from 1992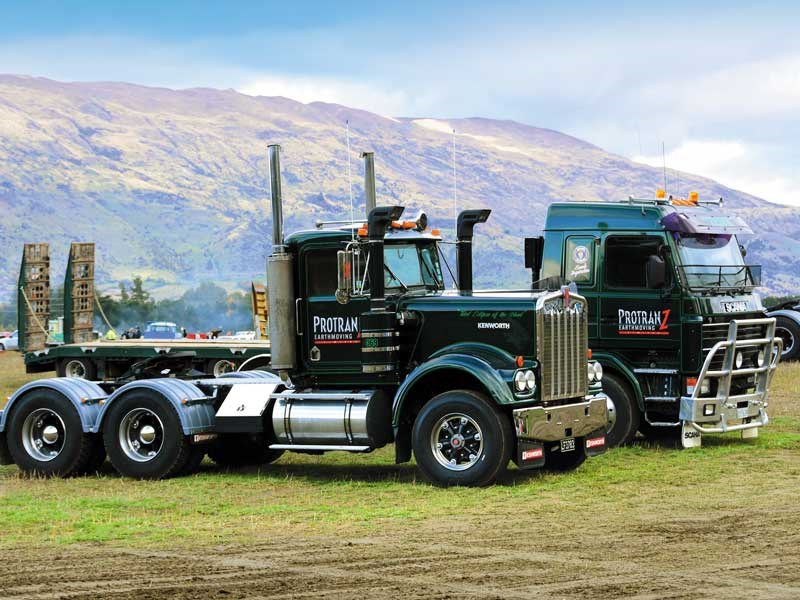 The Protranz Earthmoving operation is revered for their immaculate fleet of classic Mack trucks. Owner Gerald Daldry also has this Detroit-powered Kenworth W924 and Scania R143-500hp among his collection.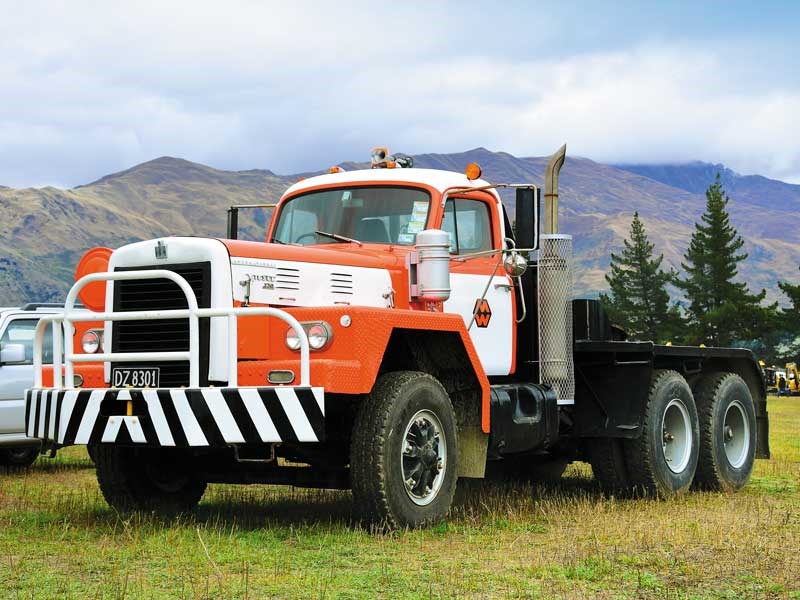 Paul Clarke has restored his ex-MOW 1967 international F230D back to its original condition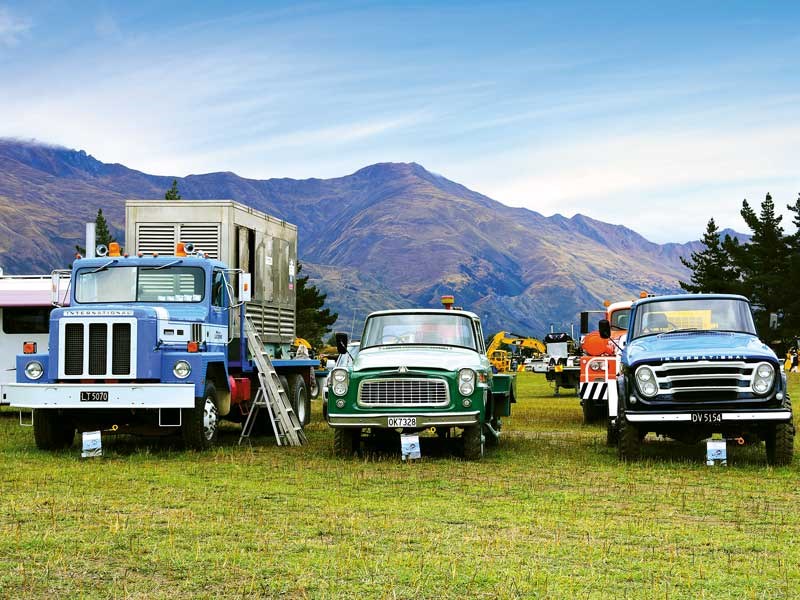 A trio of Internationals from the George Wallis collection. Left to right: a 1974 Paystar F5070A, a 1959 AA120 4x4, and a 1964 AB160.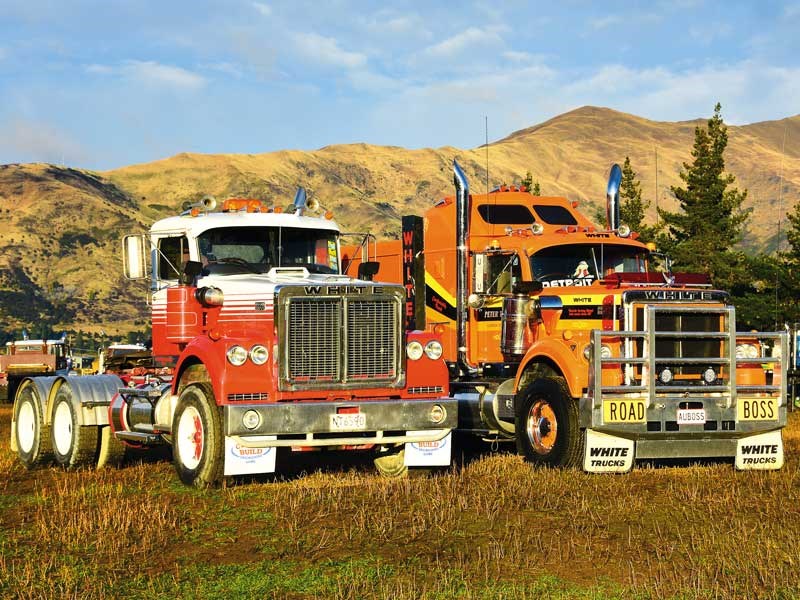 Jason Popplewell's ex Pan Pac White Road Boss sits alongside Peter and Jane Turner's Detroit-powered truck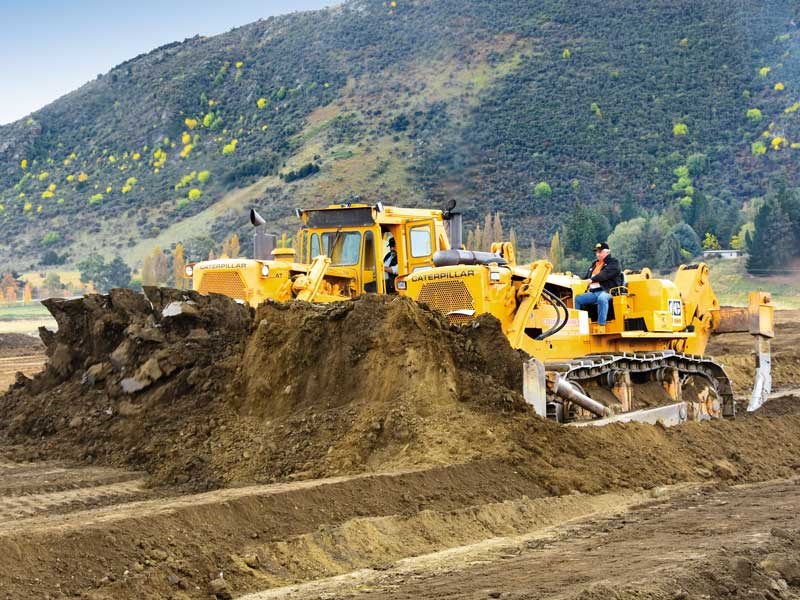 Dozing in tandem—a Caterpillar D9G and D9H from the Paul Clarke collection move a mountain of material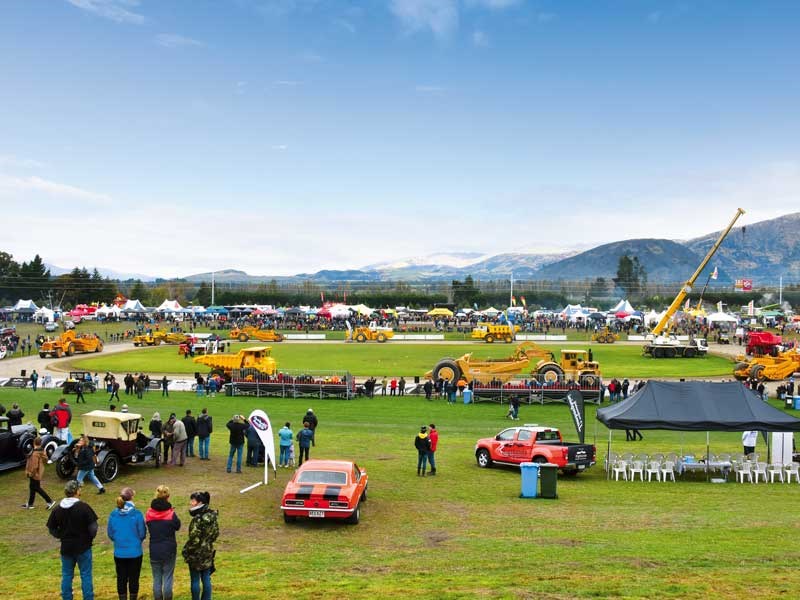 The Highlands parade ground had displays of all vehicle types. Here, the Caterpillar 660B motor scraper leads a selection of machinery that worked on many of New Zealand's mining and civil engineering projects.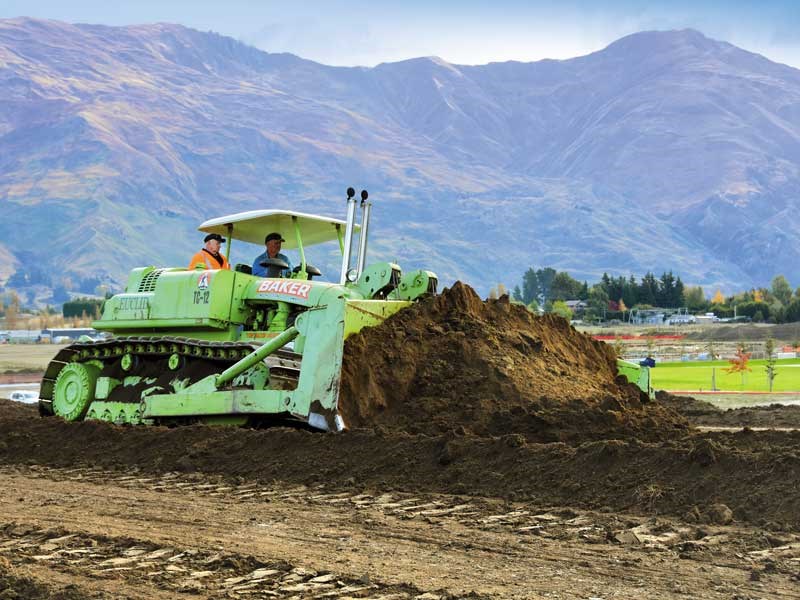 'Brutus', a Euclid 16TDT twin-engine motor scraper, began its life with NZ Roadmakers Ltd during the 1950s. Paul Clarke recently finished a re-build of it.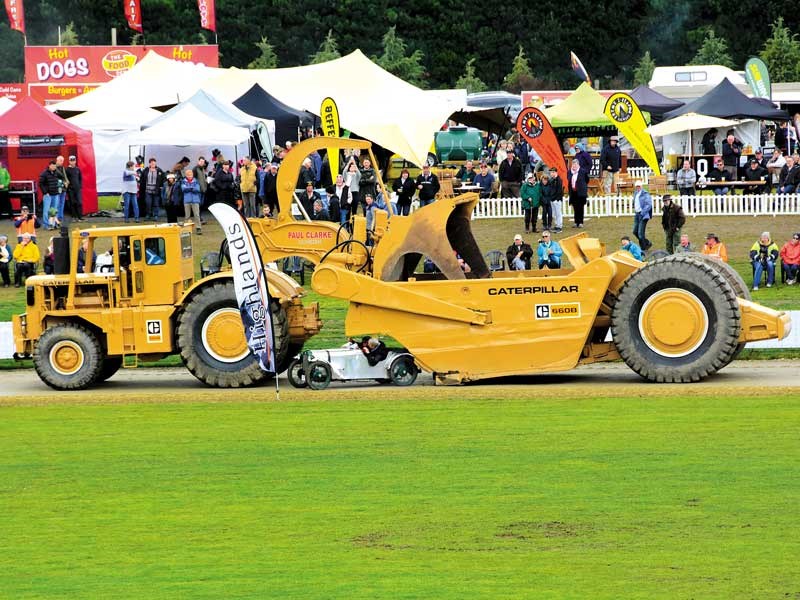 Robert Duncan and Maarten Durent exit the bowl of the mammoth 74-tonne Caterpillar 660B motor scraper in an Austin 7, much to the delight of the gathered crowd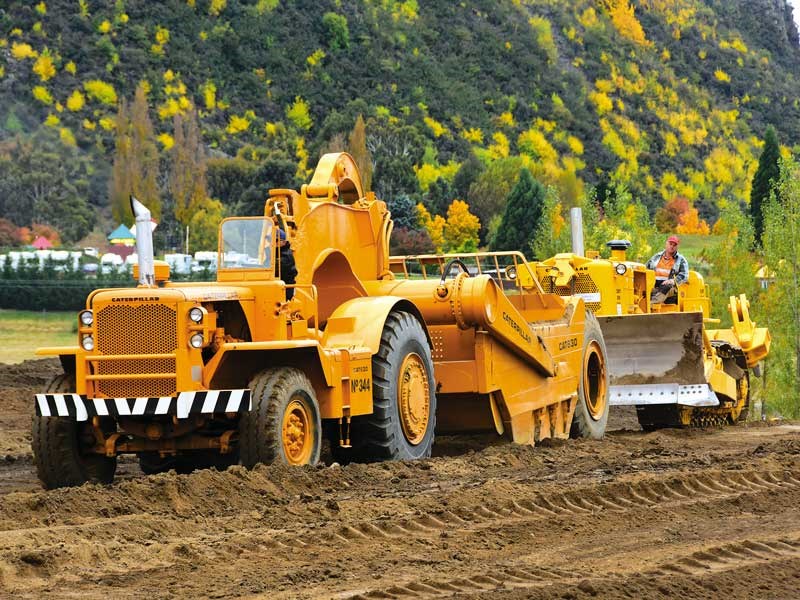 Immaculate restorations—a Caterpillar 630B motor scraper being push-loaded by the Caterpillar D9E 49A bulldozer, the D9 began its life working on the Benmore Dam during to 1960s.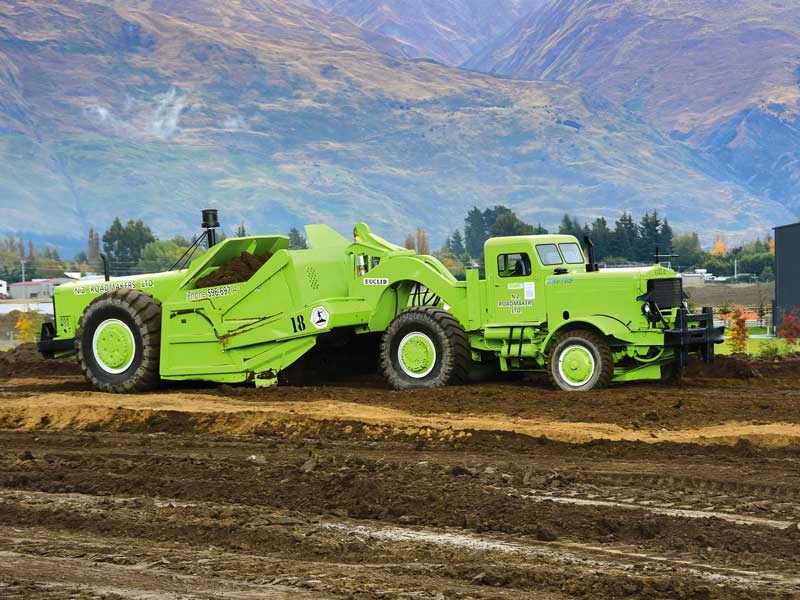 'Brutus', a Euclid 16TDT twin-engine motor scraper, began its life with NZ Roadmakers Ltd during the 1950s. Paul Clarke recently finished a re-build of it.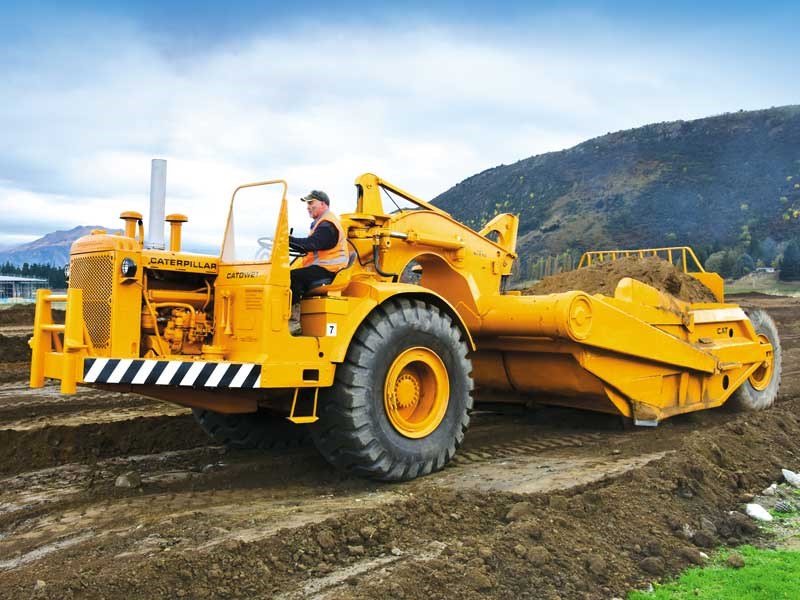 Wellington earthmoving contractor Vic Draper at the controls of Kevin Capel's Caterpillar DW21 motor scraper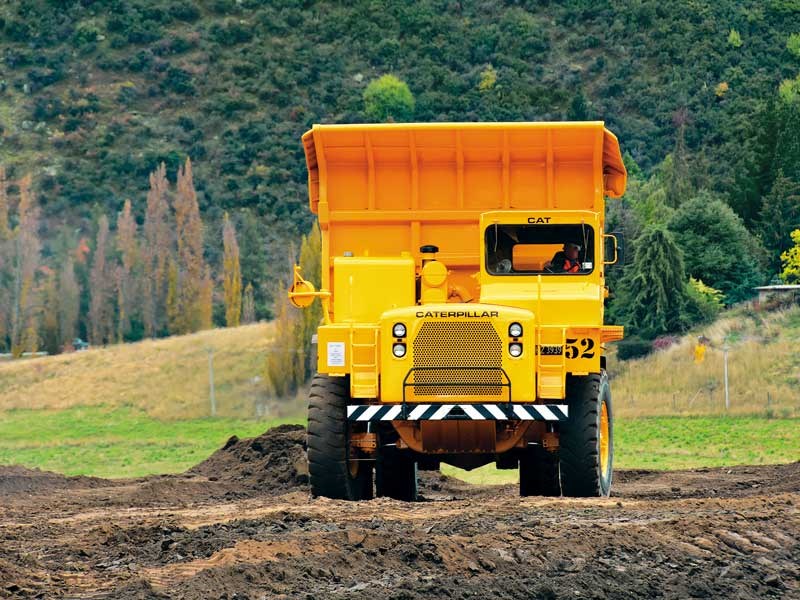 A Caterpillar 769B off-highway truck heads back from the tip-head for another load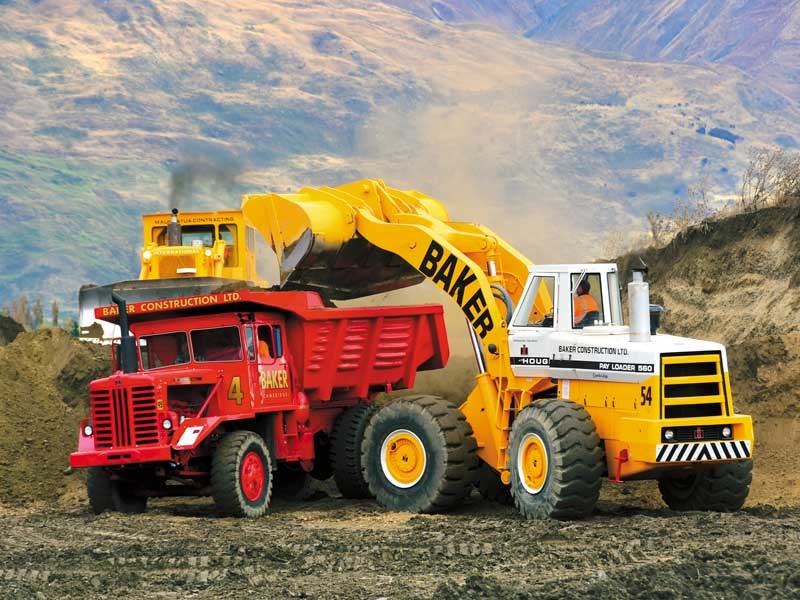 This scene was a replication from many sites throughout the South Island in the 1970s and '80s—International Pay Loader's loading Pay Haulers

A crowd of around 15,000 descended on the Three Parks site to attend the inaugural Wheels at Wanaka show held this Easter weekend
Vehicle and machinery enthusiasts were treated to both static and moving displays from hundreds of cars, trucks, tractors, and earthmoving machines.
Event manager Colleen Nisbet says she was delighted with how the weekend had come together, combining essentially what was four shows (cars, tractors, trucks, and earthmoving machinery)—an audacious goal, but a flexible, can-do management team combined with 150 fantastic volunteers achieved the vision that a group of vehicle-loving blokes dreamed up over a box of beers two years ago.
One of the many highlights at the show was the Gough CAT-sponsored Earthmoving Extravaganza. Around 40 machines dating from the 1940s to 1975 performed a constant live working display on a custom-built arena throughout the day.
Extravaganza co-organiser Paul Clarke says it was the largest earthmoving display in the southern hemisphere and the first of its kind in New Zealand.
He, and a handful of experienced operators, travelled from throughout New Zealand and Australia to coordinate the earthworks demonstration; this was a historic occasion for many of the operators, some of whom had not driven the machines in several decades.
The delight on both the operators and the crowd's faces was readily apparent, and Clarke has already committed to returning to the show in 2021, planned to be bigger and better than ever.
"We'll make a few programme changes to ensure each vehicle can be viewed stationary and operational on both days of the show, and we're already receiving a wish-list of other machines that the public would like to see in action, so we'll do our best to have those roaring around in two years' time too."
The event's founding partners, whose directors form the Wheels at Wanaka Charitable Trust—Three Parks & Willowridge Developments, Warbirds & Wheels, Clarke Machine Hire, Devon Dairy Farms, and the West Otago Vintage Club—are all thrilled with the show's success with full support being pledged for a repeat on the Easter weekend in 2021 on 3 and 4 April.
This year's surplus funds were distributed between the West Otago Vintage Club and Coastguard Wanaka Lakes.
Wheels at Wanaka 2019 winners
Trucks
Light Commercial 

Graham Manson
Mack ED

PreWar 

Johnson Family
Chevrolet

Classic 

Ryan Pullar K Worth Holdings
Thames Trader 

Modern 

John MacDonald Road Metals
Mack Superliner 'Daddy Cool'

Judges Special Award

MTD Murray Sowerby
Mack FR 

Judges Special Award 

Maarten Durent Southpac Trucks
Kenworth LW924R 

Judges Special Award 

Gerard Daldry Protranz Earthmoving
Mack Titan

Earthmoving Machinery
Best Classic Bulldozer 

Vic Draper Vickers Vikon bulldozer

Classic Earthmoving Equipment 

Rick Goodman
LeTourneau LW16 wheel dozer

Horsepower Award 

Paul Clarke
Caterpillar 660 B motor scraper

Performance Award 

Ross Brothers C&R Developments
Euclid TC12 'The Buzzing Dozen'

Judges Special Award 

Paul Clarke
Euclid 16TDT motor scraper 'Brutus'

Judges Special Award

Ross Brothers
C&R Developments Furthest travelled with the best kit
Keep up to date in the industry by signing up to Deals on Wheels' free newsletter or liking us on Facebook.