RTF Conference 2017
---
Always with its finger on the pulse of the road transport industry, the Road Transport Forum (RTF) held its 2017 Annual Conference at Claudelands Arena in Hamilton
This year's theme was 'Resilience and Adaptability', which Neil, in his chairman's welcome, said was most appropriate, given the disruption caused to major transport routes with the advent of the Kaikoura earthquake and the indefinite closure of the Manawatu Gorge—to name just two major disruptions of the past 12 months.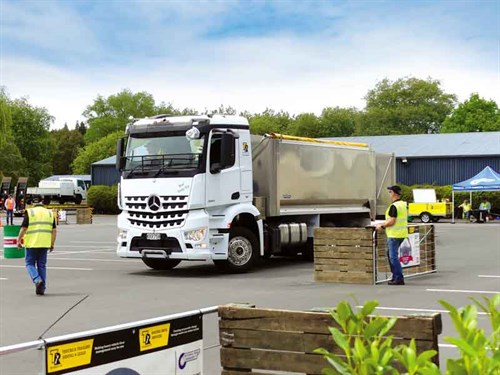 At the time of the 2016 Tauranga conference, organisers and attendees alike had no idea that the theme of that year—Innovation and Change—was about to be put to the test in a matter of only a few weeks, when one of the strongest New Zealand earthquakes in living history struck Kaikoura, wiping out the primary supply route for road and rail passenger and goods services.
While the 'change' part of the equation was foisted upon us all by Mother Nature, the 'innovation' portion swung into action with unbelievable rapidity as the movers and shakers of our great country went about the task of getting the traffic flowing once again.
It can only be hoped that the theme of 'Resilience and Adaptability' won't be placed before the road transport industry (or any other sector for that matter) as forcefully or as urgently as 'Innovation and Change' and that any step changes will occur at a more gradual pace in the year ahead.
A day of learning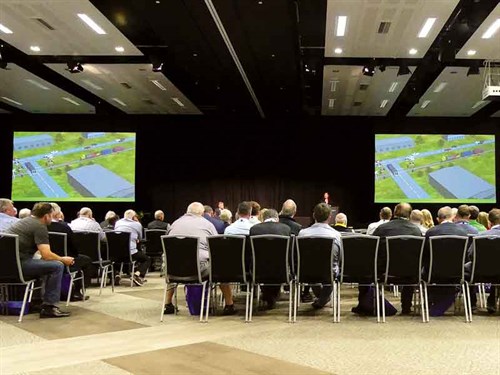 As is customary at RTF conferences, there was much to be learned from a host of conference speakers throughout the two-day event, with the keynote speaker, Mike Bennetts, CEO Z Energy taking to the stage on day two of the event.
Mike's presentation focused on the transition to electric-powered vehicles and how his and other fossil fuel retailers will need to change their business models, as petrol and diesel sales decrease over time.
He also spoke of the need to "challenge cognitive dissonance"—a theory that's been around since the 1950s and is used to describe the way the human mind needs to adapt to new ways of thinking, even when that thinking is at odds with current-held beliefs and values. While this portion of the presentation might have seemed a little highbrow, it at least gave an ageing reporter more than a little food for thought.
Leading financial journalist Bernard Hickey began Saturday's programme with his signature no-nonsense point of view and commentary, keeping his listeners glued to their seats with his 'take' on how businesses and the country as a whole might be affected by policy changes likely to be introduced by the recently appointed government.
Despite his cheeky reference to 'greenies', followed by a few muffled chuckles from the audience, Bernard appeared confident that although there would be challenges for business people to overcome, it would be pretty much business as usual for the country in general.
At the 2016 RTF Conference, Bernard forecasted that sales of double-cab utes would skyrocket in the following year. With the prediction proving to be correct (if you don't believe it, just count the number of them on the road the next time you're out and about), one has to have a fair degree of faith that we're all going to be okay if Bernard's predictions are as spot-on this time around.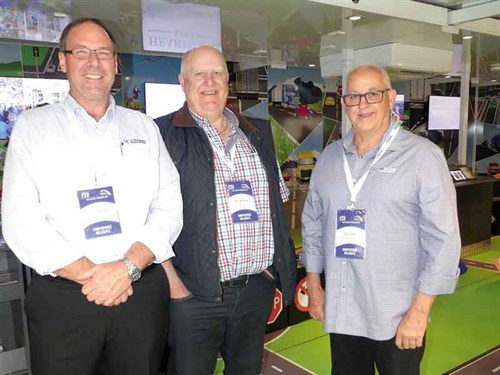 His prediction on ute sales was backed up by the figures he produced for this year's RTF Conference, in which Ford Ranger, Toyota Hilux, and Holden Colorado took out three of the four top spots in vehicle sales for the year.
Megan Dreyton from TrackSAFE made a presentation that focussed on the disturbing increase in collisions between trains and longer vehicles at level crossings, in a phenomenon known in the industry as 'stacking distances'. The term refers mainly to truck and trailer units with a length so great that the tail-end of the unit sits across a railway line when the truck is waiting to make a turn at an intersection.
An interesting presentation given by Peter Fisher, business development manager—key accounts at MetService, informed those in attendance that his company, in association with Finnish company Foreca, is able to provide road condition updates via sensors. These sensors are currently placed in the road surface, the information from which is being used by transport organisations and roadwork contractors and has the potential to transmit hazardous road conditions to a vehicle's on-board computer, thus reducing the risk of road crashes.
Another speaker, Abbey Reynolds of the New Zealand Sustainable Business Council, spoke of the fact that the current Government will most certainly pass a law for New Zealand to be carbon-neutral by 2050 as part of the Paris Agreement and that businesses will need to be proactive in reducing emission levels.
Steve Divers of Sector Workforce Engagement Programme (SWEP), an organisation set up to get more class 5 drivers on the road and to attract more younger drivers into the road transport industry, also gave an interesting presentation.
The two final speakers at the conference were Waste Management's Tom Nickels who spoke enthusiastically about his company's all-electric truck fleet (one of which was on display at the conference) and The Hon Phil Twyford, Minister of Transport, giving his first speaking engagement since his appointment as Minister.
Truck driving competition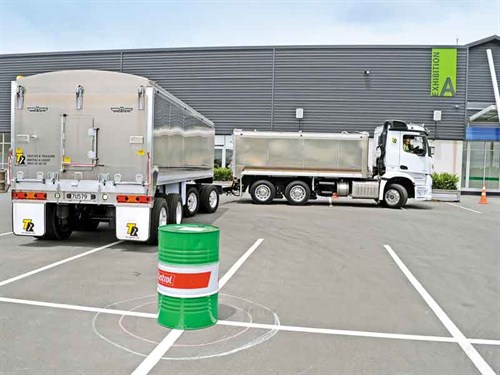 Away from the lecture halls and plenary sessions, there were plenty of events and displays taking place to keep the delegates and their partners occupied.The annual truck driving competitions are a major event at the conference, attracting participants from all parts of New Zealand and which culminate in a gala awards dinner on the final night of the event.
Participating drivers sit a preliminary driving theory test before carrying out the practical side of the competition, which involves manoeuvres carried out in varying combinations of vehicle configurations.
The winners of the 2017 event were as follows.
| | | |
| --- | --- | --- |
| Name  | Company  | Class |
| Simon Reid  | SJ Reid Transport | NZ Champion Truck Driver 2017 |
| David Rogers | Tranzliquid | ERoad Young Driver of the Year |
| Matthew Jackson | Ben Allen Transport | Combination Truck & Trailer |
| John Baillie | Baillie Transport  | Combination Tractor & Semi |
| Andrew Crandon | Linfox Logistics  | Class 3 & 4 |
| Sam Linton | Emmerson Transport  | Class 2 |
 The Young Driver of the Year was Award was won by Andrew Crandon from Linfox Logistics.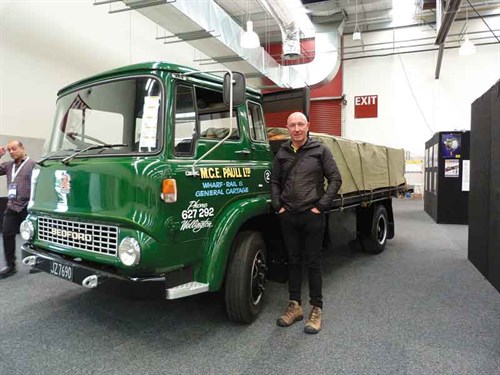 WiRT working lunch
An important feature in the calendar was the Women in Trucking (WiRT) working lunch, sponsored by Strait Shipping.
Meryn Morrison, chairperson of WIRT, spoke of her organisation's desire to better portray the industry as a viable career path for women and younger people. She stated emphatically that she hoped there would be a day when there was no need for WiRT to exist once the gender imbalance in the industry had been put to right.
The WiRT board currently consists of both men and women who are passionate about attracting more women into the industry. By casting one's eye around the room at the lunch, there were as many (a couple more, in fact) men as there were women who were keen to get behind the drive to see more females joining their male counterparts in the trucking fraternity.
Safety MAN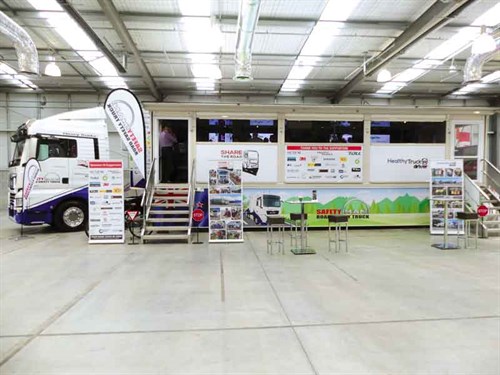 At the centre of the trucks on display was an important MAN who is making his mark on the road safety scene in New Zealand. He's better-known as Safety MAN—the road safety truck.
The brainchild of Christchurch-based NZ Trucking Association, Safety MAN is a clever play on words in honour of the MAN tractor unit that powers it. CEO of NZ Trucking, Dave Boyce, says Safety MAN has been put into operation in a number of roles, namely as a mobile classroom for its Share the Road programme, which aims to educate all road users on how to be safe around big trucks.
Dave says many people don't understand about blind zones and how long it takes for a truck to stop. He added they want to educate people on those issues and to take those issues back to the trucking industry as well.
The Healthy Truck Driver programme, which is promoted through Safety MAN, aims to further the education of truck drivers and others in the industry on the benefits of staying fit, eating well, getting enough sleep (at least seven hours per day), along with maintaining good mental health.
NZ Trucking produces a handy booklet that covers these issues and many more besides. It's worth seeking out a copy, as it's a very good read indeed. When Safety MAN isn't being used to enlighten road users on matters of road safety, it can be quickly converted into a classroom for students of all ages to learn about their responsibilities as drivers of the future.
Being Christchurch-based, the trip to Hamilton in the 600hp MAN was its first foray out of the South Island, with those who drove it up to the Waikato saying that at a mere 25 tonnes all up weight, it never felt like it was doing any work.
For more information on Safety MAN, e-mail info@nztruckingassn.co.nz or visit nztruckingassn.co.nz
Keep up to date in the industry by signing up to Deals on Wheels' free newsletter or liking us on Facebook.