Hino Track Day 2017
---
Deals on Wheels brings all the action from the much-anticipated Hino's Hampton Downs Track Day 2017
In what has become a much-anticipated event in the calendar of those involved in the transport industry, Hino's Hampton Downs Track Day was once again a hit with all in attendance at the 2017 event.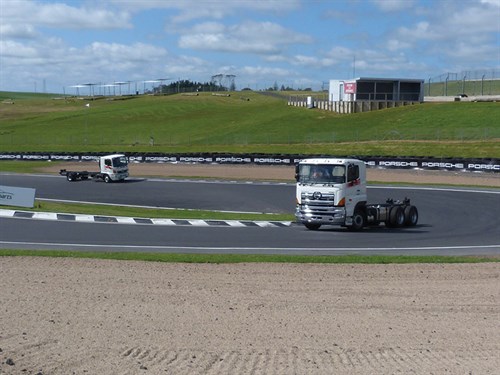 It was apparent that the entire day's programme was designed to not only be informative but also highly entertaining in the bargain.
The event was meticulously planned and executed, with two sessions throughout the day—one in the morning and one in the afternoon.
A crew of two from Deals on Wheels attended the afternoon session, which commenced with lunch, followed by a drivers' briefing, after which attendees were placed in teams of eight or so people, who were seamlessly rotated through four separate sessions throughout the afternoon.
Each team—Yellow, Red, Blue, and Green—took turns at driving a pair of light trucks on the skidpan. There was also a reversing challenge, laps around the racetrack (although not at speed), and a 'Technical Station' in which presentations were made on upgrades made to current models.
The practical side of the day was designed to be a lot of fun, and it was interesting to note that many of the attendees weren't truck drivers. There were a number of people who worked in other departments of the industry who had never driven larger trucks prior to the track day.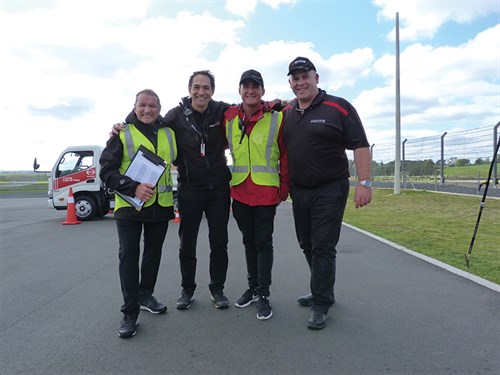 Hino provided a wide range of trucks in different sizes and configurations, from light delivery 300 Series through the mid-range 500 Series and right up to six-wheelers, where some trucks were represented as cab and chassis only.
There was also an 18-speed Hino 700 Series with a tipper body, which gave drivers a realistic feel as to how the truck would perform on the road, and it was a nice one, too!
Hino supplies its trucks with a transmission mode to suit the needs of absolutely everyone, right from push button fully automatic to Pro Shift, AMT (Automated Manual Transmission), and 18-speed Roadranger gearboxes.
Around the racetrack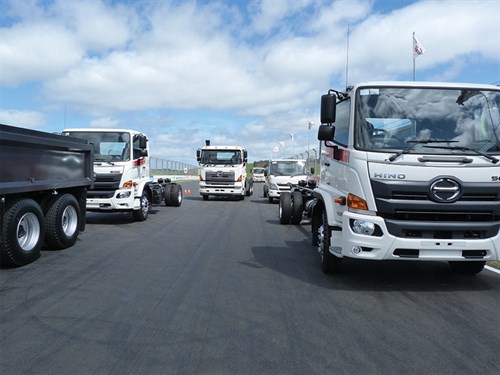 Driving teams were split up into different groups, and the Blue Team that I was placed in headed straight for its first session of the afternoon—an anti-clockwise drive around the racetrack in whichever truck you could get your hands on in a 'first up, best dressed' flurry to the fore.
In order to accommodate 40 or 50 blokes hungry to get a piece of the action, the organisers had to limit the rotations to around 40 minutes, although it only seemed like 10, given we were having so much fun.
Keeping safety first, drivers had been instructed at the earlier briefing not to drive off in a vehicle without making sure they had an instructor with them.
I have to admit that I had never driven anything on a racetrack before. But there's
a first time for everything, and I was quite surprised at how slow the legal road speed of a truck (which we were instructed to limit ourselves to) appeared when you have the entire width of the racetrack to yourself.
The trucks were driven around the track in the opposite direction to give drivers an opportunity to put the Hill Start function to use.
Hill Start is now fitted to all Hino trucks with manual transmission, leaving most who tried it out to wonder how we ever got along without the function prior to its introduction to the market.
As much fun as driving a multitude of trucks around a racetrack in a 40-minute timeframe was, the Blue Team was reminded that the Hino Track Day wasn't just about having fun and that there was a serious side to the day as well. So the next event we were off to was a segment titled Technical Station.
Latest technological developments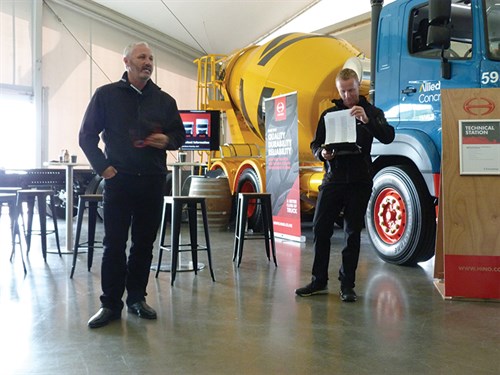 Technical Station was the business end of the event, in which several members of Hino's technical team gave us an overview of latest technical developments designed to make their trucks more fuel-efficient and safer on the roads.
On display was the latest truck to join the Hino stable—the new 500 Series Wide Cab.
An overview was presented on Hino's latest chassis design and upgraded engine specs, along with the introduction of SCR (Selective Catalytic Reduction) negating the need for diesel particulate filters and EGR (Exhaust Gas Recirculation) to be fitted to their engines.
Now with SCR/AdBlue, new models have an extra AdBlue gauge fitted as standard to the instrument panel.
Hino's Vehicle Stability Control
Also covered in Technical Station was Hino's Vehicle Stability Control (VSC), which is a miraculously efficient way of keeping a vehicle in control during an emergency stop.
After being tutored on the benefits of VSC, the next stop for the Blue Team was at the skidpan to put the VSC system to test.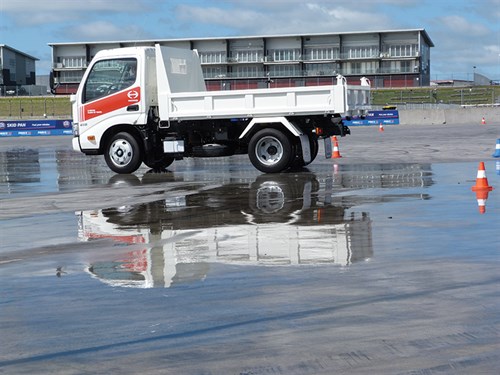 This session definitely gave the biggest buzz of the day (for me anyway), as it's not often you get behind the wheel of a truck with an instructor sitting beside you telling you to drive onto a wet, smooth concrete surface and specifically instructing that "when you get to that blue road cone, keep your foot to the floor and swing a hard right".
Something seemed wrong with the picture. I was looking at someone I had only met a couple of minutes ago and he didn't seem in the least worried that I might flip the truck on its head. So off we set.
I changed up a gear, planted the hoof again, and gently turned right at the cone and the truck came to a halt.
I was told that I wasn't aggressive enough and that I needed to go around again. So this time I gave it all that I had. However, even though I had got my foot hard on the throttle, the engine returned to an idle and the truck stopped effortlessly once I swung on the steering wheel.
My next turn on the skidpan was in a slightly larger 300 Series Hino. I was instructed to perform a similar manoeuvre, but on this occasion, I was told that when I get to the cone, I had to apply the brakes as hard as I could and put on a hard-right lock.
Not wanting to be lectured again on being too gentle, I gave it heaps this time, but still, as with the previous manoeuvre, the truck pulled up perfectly, proving that technology
is rapidly taking over from human involvement.
The reversing challenge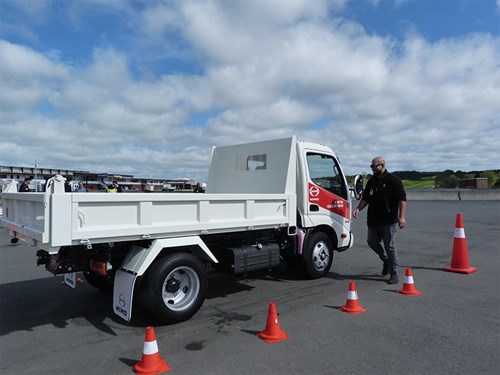 The last event of the day for the Blue Team was the reversing challenge, where technology played no part, other than the fact that the 300 Series Hino is an easy truck to drive.
Drivers were given a test run, which was timed, before going hard out on the second run, up through a chicane of road cones, reversing into a parking bay, and then doing it all again in reverse.
The Blue Team winner, Nick Longuet-Higgins, general manager at Swanson Transport, coming in with an incredible time of 48 seconds, was the overall winner for the afternoon, winning a ride of a few laps of the track in a 488GTS Ferrari—not a bad 48 seconds' work, one would have to say.
The rest of the Blue Team did pretty well, too, all with scores of under a minute for the reversing challenge. At the end of the day's events, there were smiles all around and everybody went home with a useful carry bag filled to the brim with handy gadgets.
Read more event reports on Deals on Wheels.
Keep up to date in the industry by signing up to Deals on Wheels' free newsletter or liking us on Facebook.