Event: Pukekohe Raceway
---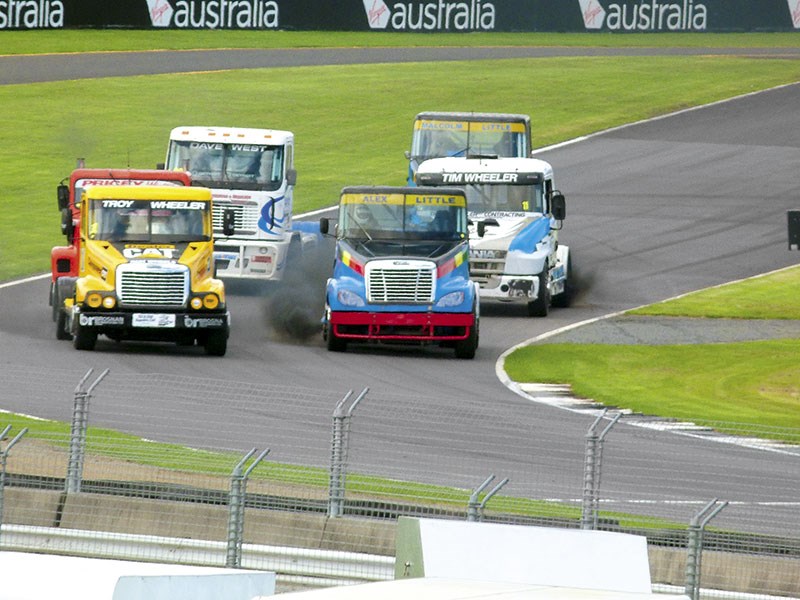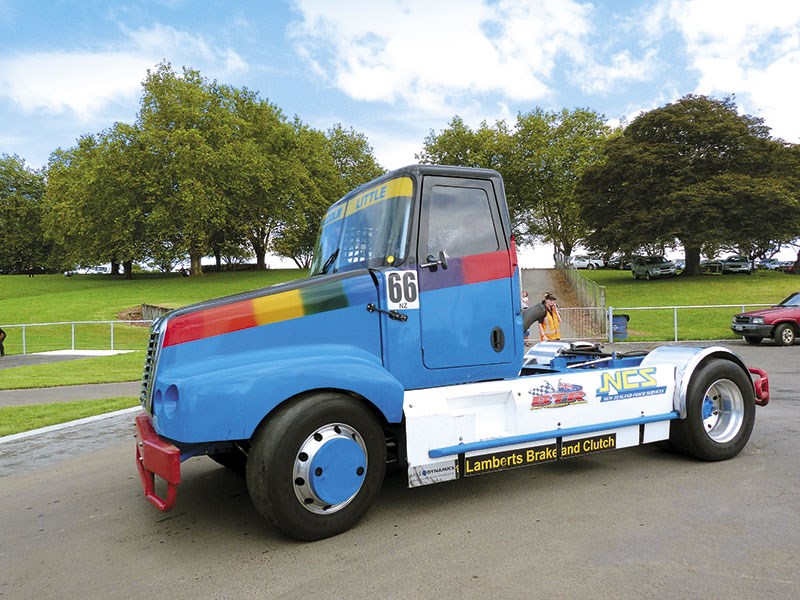 Malcolm Little's Freightliner getting ready to rock 'n' roll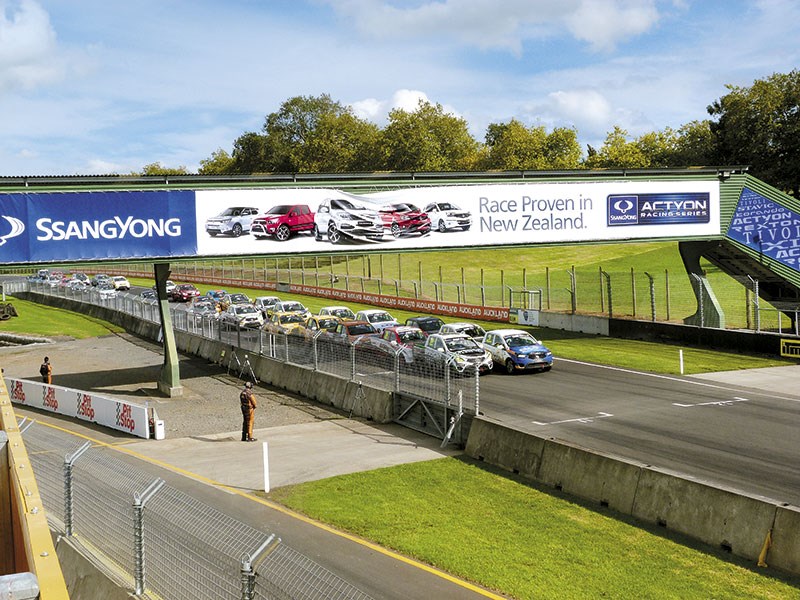 This is what 30 SsangYong utes on the grid looks like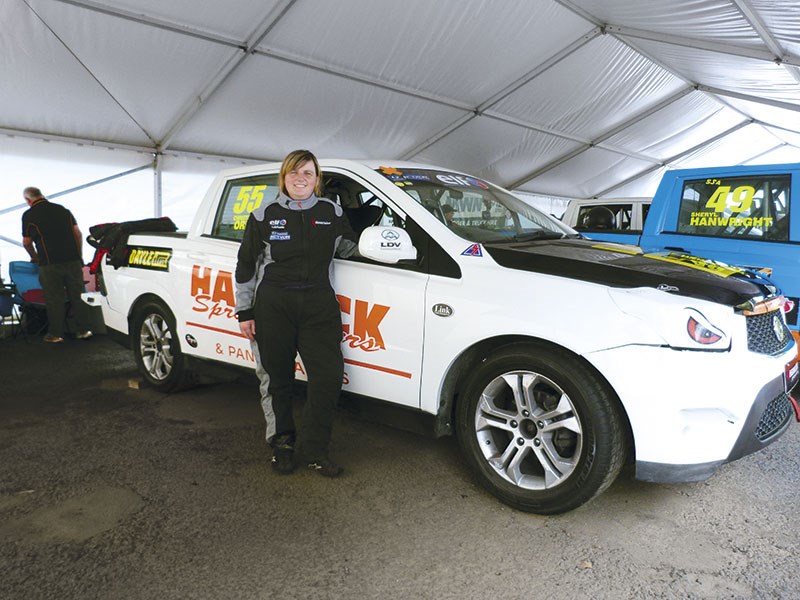 Christina Orr-West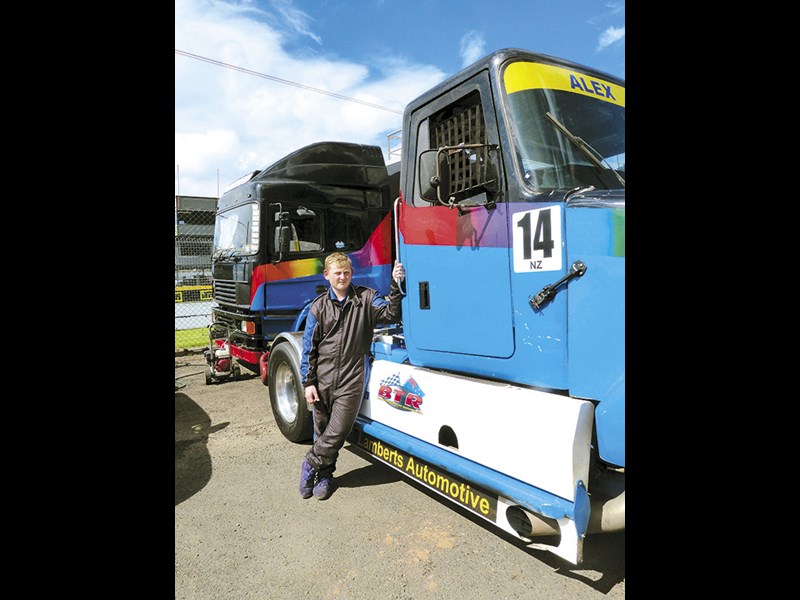 At 17 years of age, Alex Little was the youngest man on the track

Deals on Wheels stops by at the Pukekohe Raceway to get an insider's view of current events
Having had the opportunity of covering last year's event at Pukekohe for Deals on Wheels, where on my arrival I saw a dozen or so of the big rigs being prepared for the next race, I was a bit disappointed this time around to only see only half a dozen or so trucks being prepped.
My disappointment, however, was short-lived as one by one, the huge engines were fired into life and began to be lined up in preparation for going out on the track for Race 1 of Saturday's event.
Being a bloke who has to admit to being one of the old-school fellas who took a number of years to get his head around this idea of racing trucks—after all trucks are meant for working and not racing, aren't they?—I have to say that the rumble of all that horsepower, even at idle speed, made the hair on the back of my neck stand up.
Even though I'd have been happy standing and listening to the rumble for a while, it was time to get myself across the bridge to the other side of the track (the footbridge is closed while the trucks are racing) to get a few shots of the trucks lined up on the grid.
Notwithstanding the lack of big rigs on the track for this race, it was still a spectacle to behold, seeing trucks that weigh-in at around 5.5 tonnes going around the circuit at 160 kilometres an hour, not to mention the fact that they were lapping at times that were pretty close to what you'd expect in a car race.
There weren't any surprises at the end of the first race of the day, with Troy Wheeler coming in only slightly ahead of Alex Little, both driving Freightliners.
At just 17 years of age, Alex Little is the youngest driver to ever set foot on the throttle of one of the big racing rigs.
When asked how it was that he was able to keep up with the older, more experienced drivers, he modestly stated that it was probably because he was still too young to be afraid of what could possibly happen if things turned pear-shaped out there on
the track.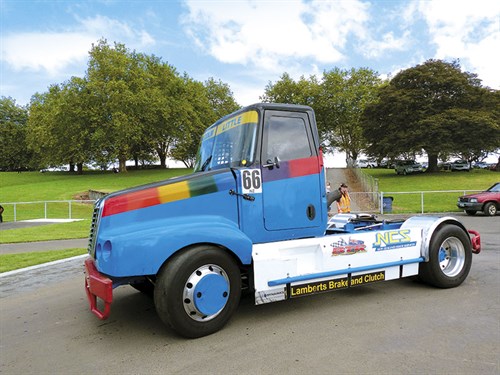 He did say, though, that he's had pretty good tuition throughout his life from his father, Malcolm, who on this particular day was having computer problems, which were causing governing issues.
However, Malcolm seemed unperturbed by the fact that he just couldn't make
the truck go fast enough this time around and said he had complete confidence in
his computer whiz crew member, Scott, who would sort out the technical
issues eventually.
Both Malcolm's and Alex' trucks are scratch-built by the Littles themselves (including forming their own chassis rails) with Malcolm's rig being powered by a
Cat C15 engine, which has the capability of producing 2000 horsepower, while the truck Alex drives is fitted with a 1600 horsepower engine.
It was unfortunate that the two KM Bedfords raced by Tony Brand and Brent Jones were missing from the track at Saturday's event, as was Andrew Porter in his Kenworth, making the field seem somewhat empty.
However, motor racing isn't just about truck racing and there were lots of other types of races taking place as well with events such as the Pre-'65 cars. For an old dude like me, it was a trip down memory lane seeing a Mk1 Lotus Cortina, a BMC Mini, and 105E Ford Anglia or two going like the clappers around the circuit.
However, it was disappointing to not have the BNT Touring Cars and the Porter Group V8 utes racing at this event, as the season for both of these classes had already finished a few weeks back at Hampton Downs.
Time for some Actyon
No, that subheading isn't a typing error. The Actyon I'm talking about is of the SsangYong Ute variety.
The SsangYong Ute racing series has all three of the basic elements of racing:
A big field—there were 30 SsangYong Utes lined up on the grid Noise—30 engines at full revs make quite a bit of it!
Close racing—more about that in a minute
Interest in this series is growing, as every single ute in this class has the same specifications as the next one and the only thing that determines the placings, save a mechanical failure or a tyre blow-out, is driver ability.
That fact, coupled with a relatively low financial outlay, is seeing more and more young people being able to fulfil their dream of becoming a racing driver and doing well at it to boot.
Because it's fairly inexpensive to get into, the sport is also getting the attention of people who have participated in the sport for years; people such as Christina Orr-West driving Haddock Spraypainting and Panelbeating- sponsored #55.
Christina has been behind the wheel of racing cars for the better part of her 29 years, starting out as a five-year-old, kart racing and working her way through the ranks in Formula First, Formula Ford, Toyota racing Series, and NZ V8 Touring Cars. She's even done a stint in the USA at Indy Lights.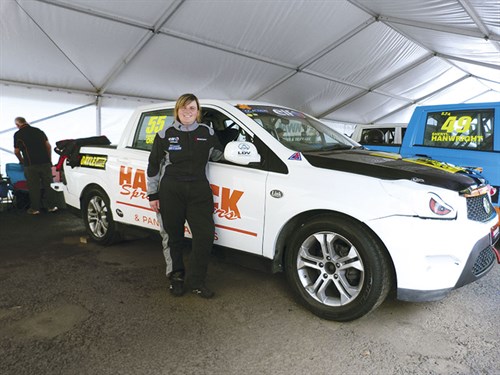 But, in spite of her lofty racing career, she says that the SsangYong Utes series is hard to beat, as she says it's competitive and that everyone in the field "plays for keeps".
Outside of the racing, she says that the series' organisers Rick and Deon Cooper and their Taupo-based company, Great Lake Motor Distributors, look after the competitors and even though the competition on the track can be fierce, when the racing is over, it's like being a part of a big family.
Even a veteran of racing circles such as Jake Stoneman says that having driven in a few races in Kirk Stoneman's SsangYong ute, he was surprised at the amount of competition there is to be the first one across the finish line. It's pretty exciting,
he says.
From a spectator's perspective, I have to say that I enjoyed watching the SsangYong utes out on the track the most of all the races I saw on the day, if for no other reason that there was such a large field. Because there were 30 vehicles in the race with identical power-to-weight ratios, there was greater potential to have vehicles tightly bunched, making for some pretty spectacular racing.
It's not uncommon to see utes nose-to-tail like cars on Auckland's Southern Motorway with the only difference being that they're travelling at around 170 kilometres an hour.
All in all, despite the absence of the V8 cars and utes this year, and the obvious reduction in the big rig field, it was still a great day out. Here's hoping I'll be invited back next year!
For a complete list of placings in all the races, visit speedhive.com.
Keep up to date in the industry by signing up to Deals on Wheels' free newsletter or liking us on Facebook.