VIDEO: Robur Bucket
---
Northland-based hire and sales company Ace Equipment has taken a bold step by producing its own brand of attachment. The Ed headed to near the top of the North Island to investigate the Robur Bucket.
Clem Simpkin seems to have a feel for business that belies his thirty years of age. The company owner has a lot of responsibility on his hands. His fleet of 70 hire machines can be regularly seen contributing to infrastructure and development work around most areas of his Northland stomping ground.
As if hire machinery wasn't enough to take care of, his company also sells a wide range of construction machinery, and this side of the business is the reason Simpkin has taken a gutsy step into yet another venture — the supply of his own Robur brand of excavator attachments.
One such attachment he sells is the Robur Clamp Bucket. Comprising a bucket with an integrated thumb, these devices are available for one- to 35-tonne machines, and weigh from 130kg up to 2200kg for the largest units.
Supply is something Simpkin says they have well under control. To alleviate any unnecessary delays for customers, a cache of the fully-built up attachments is kept in stock.
"One pet hate of contractors is the slow delivery of a required piece of equipment. Some buyers get a shock when we tell them the attachment is shipped the day we receive payment," he says.
Strength and reliability are keys to achieving repeat sales. The Clamp Bucket was run in the Ace Equipment hire fleet for two years before the decision was made to make it available for sale. "Doing this enabled us to make modifications for the New Zealand market," Simpkin says.
The device
Essentially, the Clamp Bucket is a digging bucket with a fitted hydraulic thumb. Unlike a traditional hydraulic thumb (attached to the boom), where the machine's hydraulic system pressure gets reduced at the unit to enable operation, the thumb on the Clamp Bucket is able to be run at full system pressure. This allows for a very strong grip and means demolition and stumping work are other uses to add to the unit's bag of tricks. To prevent any grip loss at the thumb, a 'check' valve is installed on the thumb ram, so in the event of a blown hose, full 'holding' pressure is maintained.
Simpkins says the Clamp Bucket is aimed at the budget conscious operator, and priced accordingly. "Most people get a pleasant surprise when they price-up these attachments."
He is, however, quick to point out that being well-priced does not mean they are flimsy throwaway units, citing the extensive hire use the design undertook before being made available for sale.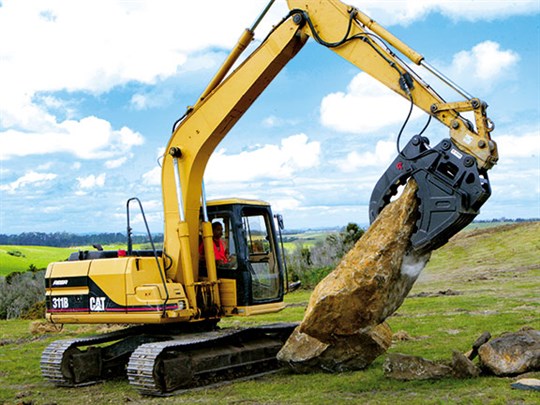 21-tonne machine
One thing I like is manufacturers who are well prepared when we turn up to try out equipment. Ace Equipment had certainly organised things for us. First up, we were taken to a subdivision where JSB Construction was busy removing macrocarpa stumps from a new subdivision.
Operator Neville Dadson seemed pretty comfortable behind the controls of a near new Hitachi ZX210LC-H. Those familiar with these machines will know that the 'H' stands for 'heavy-duty', and they are built beefier than standard models, weighing in at 21,400kg.
Having removed many a stump in my past life, I was impressed with the action of the Robur Clamp Bucket. This unit weighed in at 1080kg, and had a maximum clamp opening of 2250mm on the 800mm bucket.
Digging the bucket into the ground and using the available full hydraulic system pressure, the thumb was closed around the roots and then it was a straightforward matter of ripping the system out. The macrocarpa stumps Dadson was working on looked as if they had been cut for a while, so were probably a bit weaker than a fresh cut. The technique being used, however, showed a quick and painless extraction method when carrying out stump removal work.
Speaking afterwards to Dadson about the Clamp Bucket, he pointed out that the range of use exceeds a fixed thumb, as it can be used with the excavator arm close in to the machine, with the arm fully extended and every position in-between those two points.
Another point made by Dadson is that being a complete unit, the attachment can be quickly swapped from machine to machine as needed, meaning a contractor may only require one Clamp Bucket in their fleet.
Another advantage is that unlike a fixed hydraulic thumb, when the attachment is removed and a traditional bucket re-fitted, the original machine balance is returned with no additional weight placed on the boom of the machine. This alone probably adds to a few bucks saved in fuel, as a fixed thumb may only occasionally be required for use.
11-tonne machine
Our next test area for a Clamp Bucket saw us heading into the hills above Kerikeri, to the outskirts of the Puketi Kauri Forest, where a farm was being redeveloped and rock removed to achieve usable pasture.
Here, Ace Equipment had a Cat 311B fitted with a demonstration unit. This was my opportunity to get behind the controls. As expected, it wasn't long at all before I felt comfortable with the operation of the attachment.
One thing that really impressed me was the 'grip' that could be exerted on each piece of rock I picked up. As you can see from the pictures, some of the rocks were at the top end of the poor little Cat's lifting capacity, but were easily able to be held in place. If I wanted to build a wall or needed to place rock on some sort of embankment, this would be required kit, and it would also make adjustments and finishing work that much easier.
I'm also guessing the Clamp Bucket would be ideal for stacking up slash and handling the occasional log. My only comment would be that if I intended to use the machine for this type of work, I would be carrying a spare set of hoses and fittings, as they look a bit exposed on each side of the attachment. Probably some form of guarding could be placed around the fittings, but the hoses would be open season for an errant branch or log.
1.7-tonne machine
Our last look-in saw us casting a watchful eye over a Clamp Bucket that was fitted to a Yanmar VIO17 mini excavator. Watching rocks being moved around, it was easy to visualise one of these attachments in the hands of a landscaper. Rock walls or wooden poles were my first thoughts for uses, as well as breaking out footpaths
and the safe loading out of the concrete pieces. Throw into the mix the ability to easily load out vegetation, and it all makes a very good case for clearing the cobwebs off one's wallet.
Summary
I liked what I saw. Actually, I really liked what I saw. Ace Equipment has priced these attachments well and it would not be surprise me in the slightest if they sold like hotcakes. This type of design will make contractor's machinery safer and way more productive, I'm sure of it.
Positives
Full hydraulic pressure on thumb
Ability to use in many positions
Well priced
Negatives
Exposed hoses and fittings
For the latest reviews, subscribe to our Deals On Wheels magazine here.
Keep up to date in the industry by signing up to Deals on Wheels' free newsletter or liking us on Facebook.