VIDEO: Roma 500 N
---
A quick phone call to Maurice Gaustad, owner of Blades and Scrapers (agents for Montefiori equipment), determined that the erratic weather the North Island has been having lately, would be settled enough for us to run a test on the Roma 500 N at Gavins Ltd, a large contracting company and grain merchant in Gordonton, about a fifteen minute drive from Blades and Scrapers office in Te Rapa.
Gavins' purchased the Roma 500 N in July 2013 and were about to level a couple of hectares of grain field. This presented an ideal opportunity for Deals on Wheels to go along to see the machine being put through its paces under the watchful eyes of the supplier and Gavins' workshop and projects manager Ron Voschezang.
Blades and Scrapers, which has just added Montefiori levelling blades to its already impressive line-up of Orthman, Grouser, Ashland, and Hygrade graders, says it is able to supply Roma scrapers in sizes ranging from 1.6-metre blades, all the up to the Roma 700 with a blade width of 7.0 metres. However, on this occasion it was the five-metre machine being observed in action.
The entire Roma scraper range employs a number of special technological features that makes each scraper unique in its application, such as the high goose neck, coupled with special 'box ends' that allow the carriage of large amounts of soil across the work surface.
The on-board laser/GPS receiver sits atop a 1.5-metre hydraulically-operated pole which can be raised a further metre for use in the likes of gullies, in order to enhance reception.
A major feature very deserving of a mention is the one-sheet blade, which is folded to a 20-degree angle to allow the soil to be rolled and distributed evenly and quickly.
All the articulation points have bronze bushes and grease cups and the hubs of the wheels sit in columns that won't allow the dust in, giving extra protection from the elements.
Testing the Roma 500 N
The machine arrived on site, towed behind a John Deere 8530, and it only took the operator a short time to set the machine up to do a final cut on what will become a grain storage site over the coming months.
The set up involved jacking the tandem oscillating axle out to its full working-trim width of 4.1 metres, before lowering the blade extensions to their working-trim width of 5.0 metres.
While the scraper was kitted out with full laser/GPS capability, in this instance the machine was deftly operated manually through the John Deere's hydraulics by Gavins' operator Chris Davison.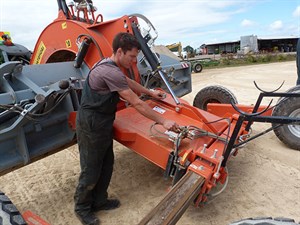 Aside from its 'on the job' capabilities, I could see how easily the Roma 500 N could be transported from site to site.
With most modern-day tractors having all the accoutrements of the modern car or truck and being easily capable of travelling at speeds of 50kph, distances of a hundred kilometres or so could be travelled without the need to put the entire rig on a truck or trailer.
This opens up seemingly endless uses and applications for this new kind of earthmoving equipment and presents a very cost-effective means of transportation between worksites.
For the latest reviews, subscribe to our Deals On Wheels magazine here.
Keep up to date in the industry by signing up to Deals on Wheels' free newsletter or liking us on Facebook.