VIDEO: Kobelco SK350LC
---
On a tight timeframe to make the rendezvous in Gisborne to view a Kobelco SK350LC in action, we opted for a standby car, but that meant leaving behind all the electrical gear we carry on trips these days.
Over a quick bite of lunch with Juken New Zealand Ltd general manager Sheldon Drummond, operations manager Dylan Foster and (Kobelco distributor) MIMICO rep Royd Young, we soon learned that the Kobelco SK350LC we were about to see is the second such machine the company has purchased recently.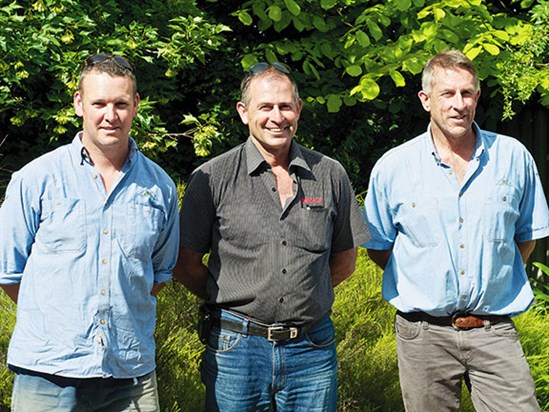 From left — Dylan Foster, Royd Young, Sheldon Drummond
It's easy to see that this is a well-run first-class operation with a quiet efficiency about it. We were told this is how Juken New Zealand Ltd likes it, with everyone trying their best to make things run as smoothly as possible.
Their operation is different to most companies, with the entire life-cycle being managed in-house, from the nursery to the customer. Juken New Zealand Ltd adds value to its products by owning a large mill that processes finished product, primarily for export. To keep everything running smoothly (that word again), the business currently has three company-owned logging crews that produce the raw product.
Drummond says they spent a lot of time researching different machines, and felt the support provided by MIMICO held a lot of sway with their final decision. "Downtime is our biggest enemy in the bush. When something stops, it doesn't take long for everything else to be impacted along the chain," he says. No doubt their latest foray into Kobelco territory is being closely watched by other logging companies.
Fitted with a rotating grapple, the SK350LC is being used by operator Ona Orotaunga to stockpile cut logs and load them onto the trucks. "The guarding, riser cab and logging package was completed by Priceright in Rotorua… They've done an excellent job", says Young. Understandably, he is keen to see more green machines on sites like this. It's a slick looking piece of kit and the guarding package cleverly integrates the use of high strength poly-carbonate glass to negate the need for steel protection on the cab side windows. It would be fun to see a vandal try to put their fist through one of those.
The SK350LC runs a six-cylinder Hino J08E Tier III engine that outputs 197kW. With a standard boom, the reach along the ground is 11.06 metres and pushes out even further with the grapple fitted. According to specifications the operating pressure of the hydraulic system is around 34.3MPa, which is more than enough to easily lift a piggy-backed trailer off logging trucks.
With just over four weeks as operator-in-charge of the SK350LC and a bit of spare time between trucks, we entice Orotaunga out of the machine to get his opinion on the machine's capabilities. Unlike this new ride, which weighs in at around 42 tonnes fully-kitted out, his previous machine was around 42 tonnes naked, so we're guessing it must have been a hefty 50-something tonnes fully-guarded.
Whatever the weight, Drummond says the larger machine was quite a bit to handle, especially when working around the confines of the hauler tethering lines. "Yeah, the size of the Kobelco definitely makes life easier," Orotaunga says.
He is still getting used to the power difference of a smaller machine, but it easily completes the tasks required of it, he says. The 360-degree grapple with live-heel works remarkably well with the machine and the underslung ram on the heel means there is less chance of it getting snagged on those pesky tethering lines.
For the latest reviews, subscribe to our Deals On Wheels magazine here.
Keep up to date in the industry by signing up to Deals on Wheels' free newsletter or liking us on Facebook.