Obituary: Brian Cruickshank
---
The industry farewells Brian Cruickshank
In recent times, Brian was best-known as the owner of The Machine Security Company and its wide range of devices designed to protect business owners' unattended assets during the wee small hours, along with the company's inventory of safety rails, which have become a mandatory requirement on larger machines and workplace equipment.
During a 2017 interview with DOW, it was apparent that Brian was passionate about the products he was selling, not merely for the purpose of making a sale but also more importantly because of a genuine desire to give peace of mind to the people who purchased his products.
Brian's ancestors arrived in New Zealand from Scotland and settled in the Matakana area in the late 1800s, with the family's strong connections to the area remaining to the current day. Brian is buried in the Matakana Cemetery.
At an early age, Brian became fascinated with all things mechanical, a fascination so strong that upon leaving school, he quickly found himself a job as an apprentice mechanic with International Harvester in Auckland.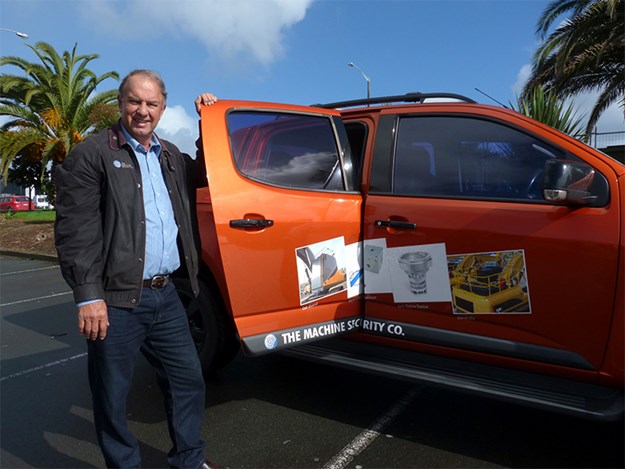 Armed with an in-depth working knowledge of the IH brand and perhaps with a touch of a desire to rid himself from the daily grind of 'grease under the fingernails', he set out on a new job with IH selling their products.
The year 1987 saw a further change of direction take place when he teamed up with Ashley Hall to form the company Cruickshank and Hall, establishing a Scania dealership covering the greater Auckland Area. A partnership that also included Don Wright and eventually lead to the set-up of Trucks and Trailers Ltd.
From 1991 to 2006 Brian embarked on a new venture, this time with Ken Reynolds.
The two keen fishermen formed Northern Truck World, selling more than 700 Volvo Trucks in Auckland and quickly set about sponsoring an annual fishing competition at Sandspit, an event that continued for four years. During this time, Brian was diagnosed with a brain tumour that was to eventually take his life.
However, the final chapter in Brian's business life was forged in 2011 with the formation of his beloved The Machine Security Company.
While sadly we'll never know how many new security devices The Machine Security Company would have introduced to the industry under Brian's stewardship, the company will continue to operate under the steady hand of Judy Cruickshank, Brian's wife of 25 years.
Brian is survived by Judy, his son Cole, and daughter Kristy and was a beloved stepdad to Joanne and Jordan.
Find new and used machinery for sale in NZ 
Keep up to date in the industry by signing up to Deals on Wheels' free newsletter or liking us on Facebook.