Komatsu launches first mining dozer with iMC
---
The D375Ai-8 is Komatsu's first 'intelligent' dozer that incorporates its fully integrated intelligent Machine Control system
After successfully releasing smaller and mid-sized dozers with intelligent Machine Control (iMC) across New Zealand and Australia, Komatsu launched its first mining dozer fitted with the system.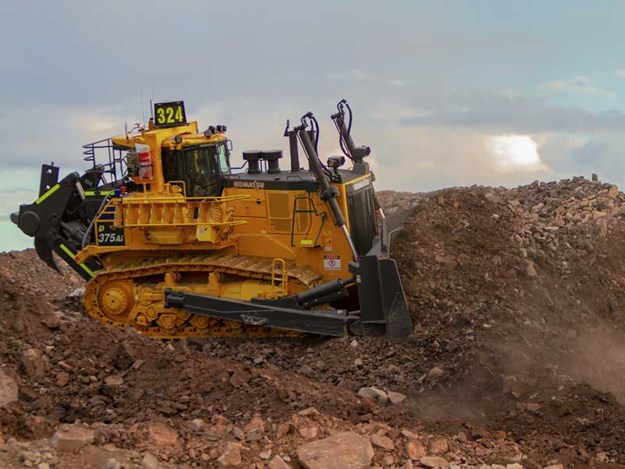 The 72.9-tonne D375Ai-8 is powered by a US EPA Tier 4 Final emission certified Komatsu SAA6D170E-7 diesel rated at 455 kW in forward gears and 558 kW in reverse.
According to Michael Hall, Komatsu Australia's mining product manager, the iMC version of the dozer can carry out both bulk and final trim dozing in fully automatic mode from start to finish, delivering final grade performance and accuracy.
 "The concept has been shown to significantly increase productivity and efficiency—up to twice as productive as dozers fitted with 'bolt-on' third party machine control systems according to Australian users and operators—while reducing the cost of each metre of material moved," he says.
As well as mining operations, the D375Ai-8 also has applications in quarrying and heavy construction projects.
Integrated Machine Control
The D375Ai-8 intelligent dozer incorporates as standard a factory-installed fully integrated Global Navigation Satellite System machine control system.
"Because the machine control system is fully integrated, it eliminates the need for coiled cables between machine and blade, the operator or service technicians don't have to climb up on the machine to remove and replace antennas or masts, and there's no requirement for daily connections and recalibrations," says Michael.
"As well, an enhanced sensor package combined with an intelligent logic system provides for high accuracy in a fully integrated system without the need for traditional blade-mounted sensors, which can be subject to damage, theft, or vandalism."
Komatsu's integrated Machine Control system automatically controls blade elevation and tilt according to target design data, using common industry standard design data software and systems.
Dozing progress can be checked using the integrated as-built mapping display, which collects surface data by continuously measuring actual elevations as the machine operates.
This data is also communicated back to the planning software to enabling monitoring of actual material movement by planning and management personnel.
Komatsu's intelligent dozer technology is also readily integrated with its SMARTCONSTRUCTION offering, which combines drone-based survey and site management systems and cloud-based information offerings to design, plan, construct and manage mining, quarrying, and construction operations.
Other performance enhancements
The new D375Ai-8 is based on the recently released D375A-8, which features a combination of a fuel-efficient low-emission engine, increased reversing power, and enhanced chassis and track frame durability to deliver significantly lower operating costs per metre of material moved.
Other features of the new dozer include Komatsu's automatic transmission with lockup torque converter for reduced fuel consumption and greater powertrain efficiency, automatic gearshift transmission, improved ride and operator comfort levels, better visibility to the blade and ripper, and maintainability enhancements.
Keep up to date in the industry by signing up to Deals on Wheels' free newsletter or liking us on Facebook.