New Tech Centre opens at Massey High School
---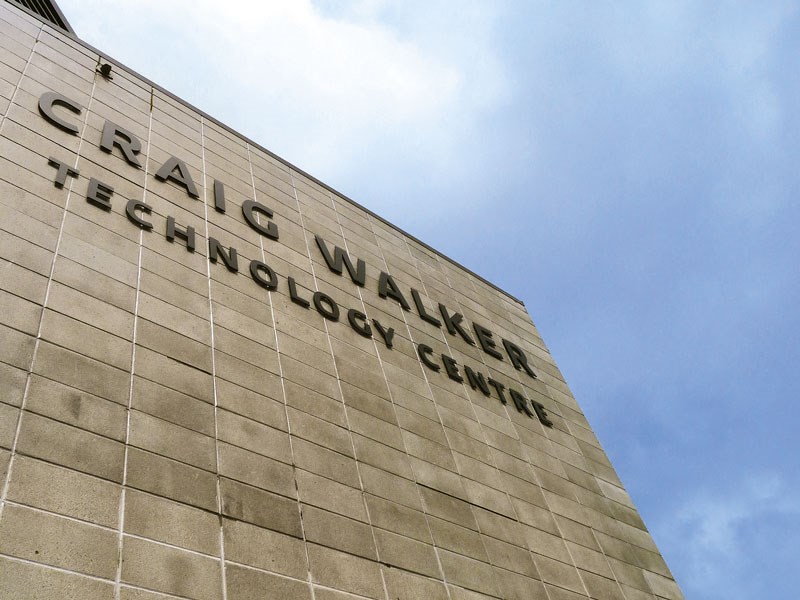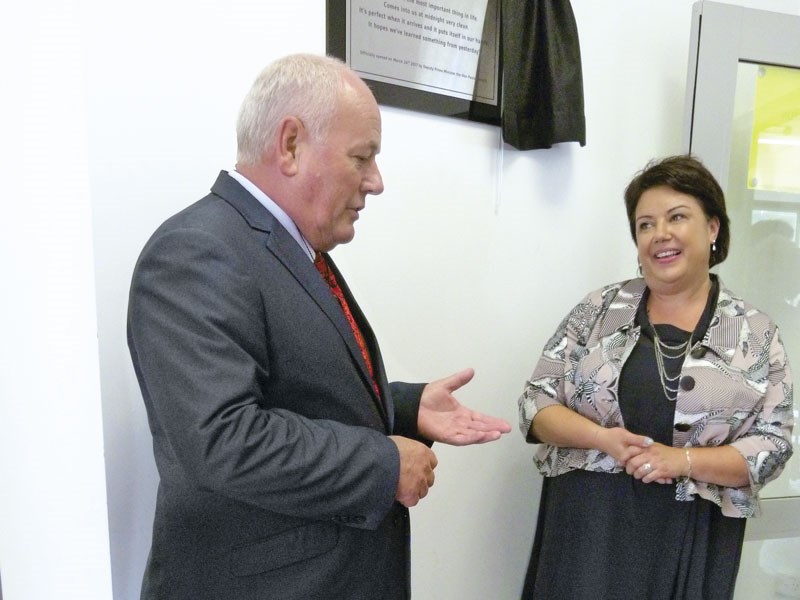 Craig Walker talking to the Deputy Prime Minister at the unveiling ceremony

Craig Walker Technology Centre opened at Massey High School
Massey High School is renowned for its innovative approach towards preparing
its students for life in the commercial world by way of the Auckland West Vocational Academy School principal Glenn Denham says he's extremely proud of the academy's achievements.
He goes on to say it would be almost impossible to make the whole thing work if it wasn't for the sponsorship of several dedicated local business people and companies such as Westgate Mitre10 Mega and Craig Walker Building Removals Ltd.
Craig was a Massey High School pupil a number of years back and recalls the conversation the headmaster had with him, in which it was suggested that Craig's presence would perhaps be better appreciated at someplace other than Massey High School.
Despite his inauspicious departure from the school all those years ago, Craig says it has always held a fond place in his heart and he's happy to do his "small" bit to help out.
Chris Skinner, head of department at the Building Academy, says that Craig's so-called 'small bit' equates to an unbelievable contribution of time, energy, and money.
Several months ago, there was a need to have extra space at the academy to house the Fashion facility. Somehow, Craig heard about this and almost overnight, a building arrived at the school. Incidentally, there was no charge made to the school for either the building or its transportation to the school grounds.
Once permits were approved by the council, Craig set his carpentry team to work on the task of placing the building on its foundations. A ramp and a deck also arrived on site and the building team carried on with the task of making the structure into a fully functional building.
The foregoing is just one example in a long list of sponsorships Craig Walker has made to his old school. John Tingling, the deputy principal at Massey High, says it isn't hard to see why the school's board and management team were unanimous in their decision to name the facility the 'Craig Walker Technology Centre'—a decision Craig wasn't aware of.
The look on his face when he drove up and saw his name high on the building
was priceless.
To add flavour to the day (in the literal sense), a sumptuous lunch served to 50 or so invited guests was prepared and presented by the vocational academy's Hospitality students. After lunch, a plaque in the foyer of the Craig Walker Technology Centre was unveiled by deputy prime minister, Hon. Paula Bennett,
to mark the occasion.
Massey High School is making an immense contribution towards preparing young people for the commercial world. It even has positions on the school board, which it makes available to its students, giving them a hands-on appreciation between the different philosophies of management and governance.
Massey High School can be justifiably proud of its achievements, but one thing that's given is that this can only come about with the generous input of time and money, which is gladly given by philanthropists such as Craig Walker.
Keep up to date in the industry by signing up to Deals on Wheels' free newsletter or liking us on Facebook.