Turners Trucks & Machinery opens new Tauranga branch
---
It's been a year of expansion for Turners Trucks & Machinery division, with branches continuing to be opened throughout New Zealand during the course of 2016.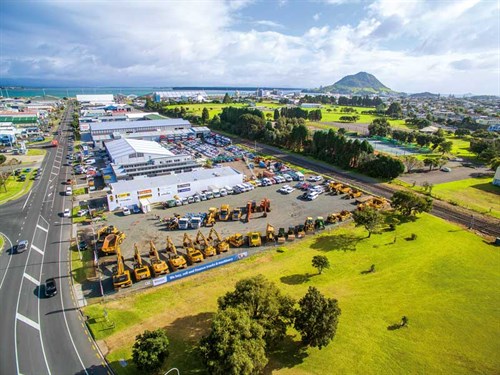 The latest branch to form part of Turners' increasing network was opened in May this year in Tauranga.
The new 5000-square-metre site is located just a few doors down the road from the Turners Cars' branch.
Brad Gardiner, general manager for Turners Trucks & Machinery, says it's been an extremely busy and exciting time for his team with other branches throughout the country all experiencing unprecedented growth.
Gardiner also says that Turners has recruited three extra personnel to staff the Waikato/Bay of Plenty region and is looking to recruit yard managers, drivers and sales people to staff its other branches throughout the country as well.
DOW also spoke to Turners Trucks & Machinery national sales manager, Mathew Randell about the recent massive 'Crazy Caterpillar' asset disposal that coincided with the opening of the new Tauranga branch.
Randell says that the new Tauranga site in Hull Road Mt Maunganui has an impressive road frontage which he said assisted in attracting a large number of viewers to the 'Crazy Caterpillar' sale.
He went on to say that having an excavator-friendly surface on which to load and unload heavy earthmoving equipment has already proved to be advantageous in keeping the presentation of the yard in pristine condition.
The opening of the Tauranga premises comes on the back of its two new dedicated trucks and machinery sites that opened last year, its flagship branch on a 1.6-hectare site at 133 Roscommon Road in Wiri, South Auckland and a 9000-square-metre site at Lunns Road in Christchurch.
Current growth in both the size and number of Turners Trucks & Machinery sites around the country is a result of the company's philosophy of providing a one-stop shop for buyers and sellers.
Aside from its popular weekly online auctions, the company also offers online listings to partner websites such as Deals on Wheels and Trade Me.
'CashNow' and 'BuyNow' are also popular with Turners' clients, whereby sellers can obtain on-the-spot cash for their assets and buyers have the ability to purchase trucks and machinery for the 'BuyNow' price on the window.
The easy-to-navigate Turners Trucks & Machinery website features all of its current stock and attracts over 220,000 visitors each month meaning the company is now the largest nationwide retailer of used trucks and machinery.
Turners also has a team of registered insurance and finance consultants on hand to provide qualified advice to its clients.
Keep up to date in the industry by signing up to Deals on Wheels' free newsletter or liking us on Facebook.