TransDiesel debuts SDLG wheel loaders in NZ
---
One of New Zealand's most prominent names in equipment distribution, TransDiesel, is introducing SDLG-branded machines to the country.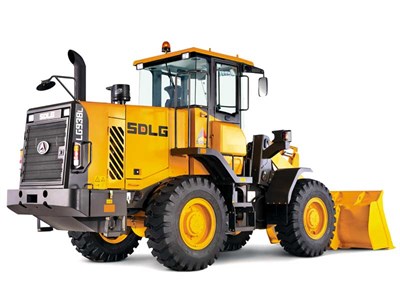 The SDLG line of equipment is built by Shandong Lingong Construction Machinery Co. Ltd. (known as Lingong) and has a reputation for robust design, reliable performance and fast return on investment for owners.
New Zealand is the latest country in the Asia-Pacific and Australasian markets to start selling the SDLG line of equipment after prominent equipment sales and service company TransDiesel agreed a contract to represent the brand. TransDiesel confirmed the development after signing a deal with SDLG's manufacturing parent company Shandong Lingong Construction Machinery Co., Ltd., (known as Lingong).
While Lingong manufactures a full line of SDLG construction equipment, to begin TransDiesel will offer only the company's wheel loader line, a product for which it is one of the world's leading producers by volume. In addition to sales, TransDiesel will also backup the SDLG equipment with its trademark commitment to superior parts and service support, designed to offer customers the highest levels of machine uptime.
Mark Keatley, marketing and dealer development manager of TransDiesel said the design and performance of SDLG machines is well-suited to a number of New Zealand customers and applications.
"SDLG wheel loaders are a cost-effective solution with excellent reliability and their robust design allows them to work in a variety of applications," he says. "Customers looking for a machine that can deliver performance when it's needed but won't break the bank will really like the SDLG package. Particularly in applications where the machine is not used all day, every day it makes sense to look at something like an SDLG. Volume-wise SDLG is one of the biggest wheel loader brands in the world and we're confident that customers in New Zealand will soon understand why."
According to Keatley, TransDiesel is planning a series of marketing initiatives to introduce the SDLG brand to equipment users in New Zealand. He explains that the SDLG wheel loaders will be suited to a host of applications including work in distribution stores, gravel pits and batching plants, as well as working in general construction, agricultural and landscaping projects.
TransDiesel will sell SDLG's complete line of wheel loaders and expects particular interest in three units: the LG918L (6.2tn), the LG938L (10.7tn) and the LG958L (16.9tn).
Subscribe to Deals On Wheels magazine here.
Keep up to date in the industry by signing up to Deals on Wheels' free newsletter or liking us on Facebook.