Industry specific job website - tradeyourjob.co.nz
---
Powered by the Deals on Wheels and Farm Trader demographic, the website is an industry specific job search site aimed at the niche markets that both the Bauer Media titles serve.
The site was inspired by reader feedback and consistent complaints they had to trawl through a lot of unrelated 'junk' ads to find what they were really looking for on existing job websites.
Taking reader satisfaction into consideration, Bauer Media is utilising the power of the combined 160,000-plus people reading both magazines each month and producing a demographic-specific niche job site that is both easy to use and well-priced for the cost-conscious contractors, transport operators, and farming community.
With Kiwis constantly hopping 'across the ditch', the Tradeyourjob website has been developed parallel to an Australian site. This allows industry job seekers moving between New Zealand and Australia to easily look for work on both sides of
the Tasman.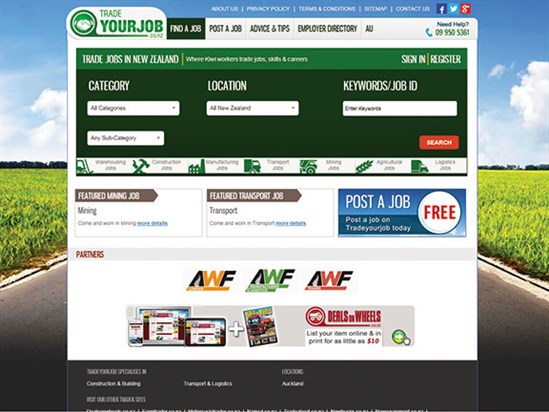 "As we're launching something brand new, content is the most important issue for us at the moment. Currently we are very small players in a big pond," says site co-ordinator and Deals on Wheels Editor, Randolph Covich.
To ensure quality demographic-relevant job content, Tradeyourjob is using the power of national recruitment company AWF.
"We are really happy AWF has come on board at this early stage. Like us, it is a recognised national brand, and with the reach of our audience, we think we have found a simple solution to match the correct people with job vacancies," Covich says.
To aid the growth of the site, free listings have been made available for employers looking for staff for a limited time.
Tradeyourjob specifications
Site name tradeyourjob.co.nz
Purpose Providing jobs to the construction, transport, and farming industries
Power Deals on Wheels and Farm Trader demographic
Demographic reach per month (DOW & FTM) Print – 160,000 readers; Online – 45,000 unique browsers
Areas jobs listed New Zealand & Australia
Cost to find a job Free
Cost to list a job (30 days) Online – Free for a limited time
Online & print – $50.00 (premium)
Online & print $99.00 (jumbo)
Are custom packages available? Yes
Who can list jobs? Anyone looking for industry-related staff
For more information contact Randolph Covich 09 308 2740 or Richie East 09 308 2781, email reast@bauertrader.co.nz
Keep up to date in the industry by signing up to Deals on Wheels' free newsletter or liking us on Facebook.