Product feature: Boss Attachments demolition equipment
---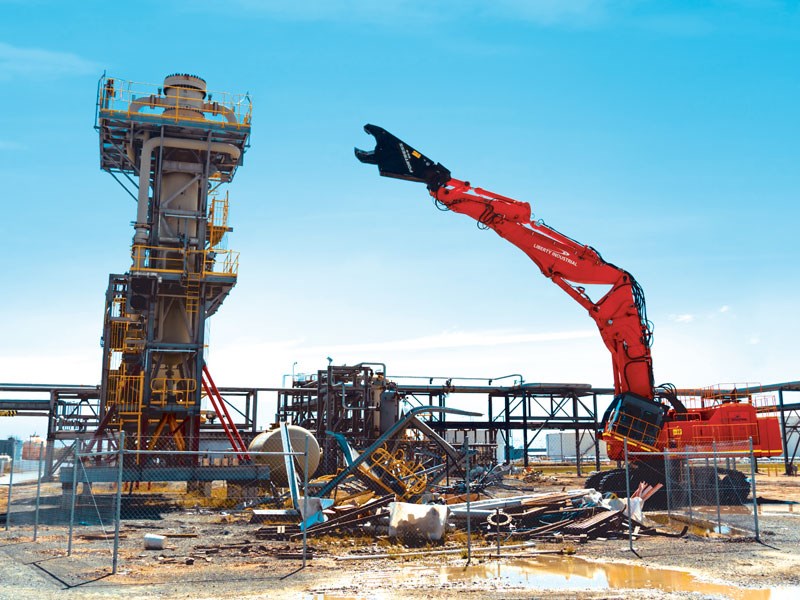 This FS24R is the best shear we've ever had

OSA demolition tools are designed to deliver long term uncompromising performance
Because demolition jobs come in all shapes and sizes, Boss Attachments has made sure that its extensive range is ready, willing, and able to take on almost every challenge
"We've worked really had to make sure that our range of brands can provide demolition and scrap metal contractors with the fit-for-purpose tools they can rely on," says Paul Herbison of Boss. One of those brands is Fortress ShearCore, a born-and-bred US world leader that Boss says has lifted shear technology the next level.
Of significance, company founder Bruce Bacon has a 30-year association with the demolition and scrap metal industries and prior to starting Fortress he was closely involved with the development of both La Bounty and Genesis Shear ranges.
Southern Demolition in Christchurch recently purchased a Fortress FS24R with 360-degree rotation for a specific project to cut heavy plate steel.
"This shear is really amazing," says Olly Edge of Southern Demolition.
"It made very short work of the plate steel project and now we're using it pretty much all the time. It's by far the best shear that we've ever had, and it has really increased our productivity."
The FS24R features innovative engineering with an optimised structure for long life and high strength to weight structure. The shear is designed with maintenance in mind including large removable access panels for component replacement.
A piston rotation motor is standard in the shear and the machine is centre line balanced to eliminate drift. It also has a massive two-piece piercing tip and taller blades with more parent material, which result in a stronger jaw.
"We now have a number of Fortress Shears operating throughout Australasia and they are really raising the capability bar for demolition contractors," says Paul. "Metalcorp NZ Ltd have had a Fortress FS45R model for about four years and report that it still cuts like a knife through butter, and they have never regretted buying it."
The Fortress range is complimented by the acclaimed OSA Work Tool range, which in addition to work-proven shears, also includes a highly respected range of tools for primary and secondary demolition.
Built to deliver long-term, uncompromising performance OSA crushers, hydraulic hammers, pulverisers, multitools and screening buckets are quickly becoming irreplaceable tools for a growing number of New Zealand contractors.
"At first glance people may see Fortress and our OSA ranges as competing brands," Paul notes. "They actually occupy quite different market segments. OSA fits really well with the general contractor, whilst Fortress is the perfect shear for the dedicated recycling, scrap or demolition operator who is pushing their gear to the absolute limit 24/7.
Clients who purchase Fortress never regret the additional cost of their investment." Boss Attachments has always focused on supply of equipment that delivers significant operating benefits for clients.
Their Xcentric range of crusher buckets and rippers is a great example of this philosophy. The technologically advanced attachments are said to be in a class of their own and can help deliver massive production gains for operators.
Rounding out their extensive demolition brands Boss also represents MotoFog dust suppression units, Gauss hydraulic circular electromagnetic lifters and Boss's on range of demolition hammers, all of which are highly respected in their fields.
Also, on the Boss brand-wagon is the acclaimed Antraquip milling head range. The proven performers deliver a reduced impact solution to demolition and they can often out-produce same size hammers, without the noise and vibration.
"Our brands deliver major benefit to clients – so if you're looking at options to cut operating costs and increase productivity– talk to us today," says Paul.
For more information, visit bossattachments.co.nz or call Paul Herbison on 027 290 830.
Find new and used heavy machinery for sale in NZ
Keep up to date in the industry by signing up to Deals on Wheels' free newsletter or liking us on Facebook.