Porter Press Extra: Kiwi Hire Group
---
Brad and Christine Potter are a highly driven young couple who are not afraid of hard work or long hours to grow their Taranaki business: Kiwi Hire Group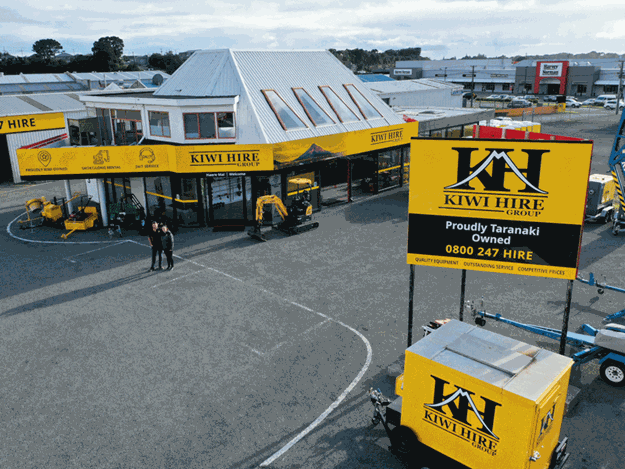 Thanks to a solid grounding of common sense and bucket loads of determination, business is flourishing. And they are quick to point out that being supported by a company like Porter Equipment has played an important role in that growth.
"We were just 21 and 20 when we started the business," says Brad, "That was, and still is, something of an exception in this industry, so we came into it with a lot to prove.
"Porter Equipment took a massive chance on us back then and had faith in us, which we'll never forget.
"Our age was a definite challenge when it came to being on solid ground when applying for business loans, and to make a success of things, we needed to invest heavily in capital expenditure to put ourselves on the map. "The team at Porter's took the time to hear our plans and get a feel for who we were and what we wanted to do. And then they helped us achieve that."
Steady growth
These days while Brad and Christine are still young guns, aged just 26 and 25 respectively, they are highly respected and have established an impressive base of corporate and return residential clients.
Since 2016, Kiwi Hire Group has grown to support a team of eight, as well as purpose-built new premises on the main New Plymouth highway, which includes an on-site workshop for maintenance and repairs.
"Just five years ago, we were a young couple starting our business from a double garage, with a woodchipper, a furniture trailer, and a concrete mixer. "Our current site is spread over 4000sqm and accommodates offices, machinery and equipment, and a full showroom. So, it's been quite a journey in a relatively short time."
Quality machinery is key
At the heart of it all is a long-held belief of investing in quality machinery and equipment.
"There are no shortcuts when it comes to machinery," says Brad. "In the hire industry, we need well-performing and hard-wearing machinery, with a quality build and excellent back-up service."
The Hyundai range of mini excavators is a staple of the Kiwi Hire Group fleet. The recent addition of two new machines has enabled the business to offer yet another tier of service.
"We're excited to have a new six-tonne Hyundai R60CR-9, the largest on our yard. It was only here for less than 24 hours before going out on long-term hire."
With a Yanmar 4TNV98 engine, the R60CR-9 is also the first cabbed excavator Brad and Christine have purchased. "Having this size excavator allows us to better meet the needs of clients looking for a versatile machine like this," says Christine.
"It is also user-friendly to operate—something else that's important when you're hiring machinery like this out. It needs to be straightforward and uncomplicated, and just like all the other Hyundais we have, it is."
With the all-weather steel cab offering safety glass windows and all-round visibility, inside is well laid out to maximise operator convenience, with efficient and ergonomic controls. The Advanced Hydraulic System includes a swing parking break, an arm flow summation system, and boom holding system.
The boom swing function is ideal for working in busy residential and urban areas and the boom can be offset left or right. Brad and Christine have equipped the R60CR-9 with a rotating tilt head, bringing even more versatility to the package on offer.
"This means the head can go 90 degrees in any direction and with any bucket," says Brad.
"Equipment that goes out on hire often gets treated twice as hard as privately-owned gear, so it has to be robust and of high quality to start with.
Because it's not necessarily always a seasoned expert operating it, it also has to be simple, straightforward, and easy to operate, and this is where the Hyundai line-up is really strong."
Ease of maintenance is also of high importance, and again this model ticks all the boxes, with a newly designed full-open type engine hood getting a massive thumbs up from the workshop team.
Plus, centralised grease fittings and an easy-change air cleaner mean the machine can spend more time working and less time being serviced. "Having this machine in our fleet is something of a luxury and it allows us to grow with our customers, and for our customers to grow with us," says Christine.
All hail Hyundai
With a total of six Hyundai excavators now making up their fleet, varying from 1.7 tonnes to the new six-tonne model, it's obvious the brand is exceeding expectations. As well as the new R60CR-9, also new in the Kiwi Hire Group yard is a Hyundai R17Z-9 and R25Z-9, all supplied by Porter Equipment. "Next on our wish list are a 1.6-tonne double BOMAG roller on a trailer, and a four-tonne combi BOMAG roller, aimed at our roading and construction clients."
Hyundai R17Z-9
At the opposite end of the size spectrum is the R17Z-9. This nifty little machine lends itself to everything from trenches to doing house fittings, such as plumbing, along with auger attachments for farmers and lifestylers.
"It's so user-friendly that even people who have never used a digger before can take it home for the weekend and they're operating efficiently before you know it," says Brad.
"One of the most particularly cool features is its ability to 'suck in its tracks' and make its way through surprisingly narrow gaps."
The new R17Z-9 has been snapped up by a civil communications company, happily using the 90-degree tilt hitch to dig down and under some existing utilities—work that would usually have to be painstakingly done by hand.
Brad says the Hyundai excavators are staple pieces of the business, in constant demand for house sites, construction, and driveways. "The compact size of the machine is a huge bonus, as it proves enormously labour saving in areas, which otherwise would require hand-labour and manpower.
"The zero-swing arm and variable undercarriage cater exceptionally well in confined spaces and the hydraulic system is precision designed for fast operation with fine control capabilities."
Canopy frames meet international standards for operator safety and the cab is well designed (and includes adjustable suspension seat and wrist rests) to give operators an enjoyable work environment.
Both the left and right control levers are ergonomically placed, and the pilot-operated hand levers are easily accessible for controlling the dozer blade and track extension. Built with accessibility in mind, maintenance is convenient, thanks to complete open access of all covers and hoods. "The guys in the workshop love these machines—there's nothing complicated or difficult in terms of accessing and taking care of regular maintenance."
Find new and used heavy machinery for sale in NZ
Keep up to date in the industry by signing up to Deals on Wheels' free newsletter or liking us on Facebook.