Business feature: Fulton Hogan
---
When Fulton Hogan was awarded a contract to remediate a steep unstable rock face, they opted for Komatsu's iMC to get the job done
When Fulton Hogan was awarded a contract (Flagstaff Hill Earthworks) to remediate a steep unstable rock face overlooking the Port of Otago, it was faced with a number of challenges to deliver the project safely, within a tight budget, and in a highly visible location.
Also known as Observation Point, reclamation of areas of the port during the 1990s had resulted in an unstable rock face, with several slips as well as rocks and boulders falling to the road below.
Over the years, slips have caused closure of the road, while frequent rock falls and boulders had come down the slope. The unstable nature of the face required daily inspections of the road. Slips, boulders, and rock falls had to be removed on an all-too-regular basis.
To minimise risks, Port Otago installed a shipping container wall across half of the road, along with additional safety catch fencing to protect the public. At the same time, an adjacent log yard storage and handling area was reduced to allow the public road to use part of the Port's land for access.
Removal of 47,000 cubic metres of clay and rock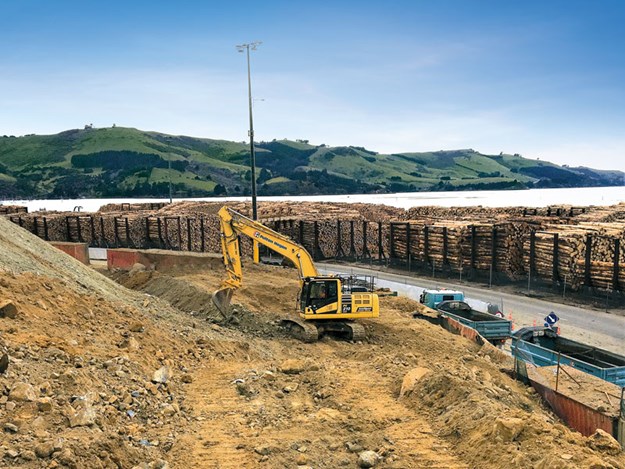 Consulting engineer WSP Opus was awarded a design contract to assess the underlying geology and develop a design for a cut slope with benches to remove the risk of further slips and rock falls in the area.
According to Grant Sime, Fulton Hogan's senior project delivery manager in Dunedin, the contract scope was to work at height on an unstable rock face and strip off more than 47,000 cubic metres of clay and rock and safely remove all the material from site.
"With existing gradients of 70% and greater, combined with the instability of the ground, putting people on the slope face would have been extremely dangerous," says Grant.
"Using our own in-house surveying team, and external subcontractor Jared Reeves of Overview Surveying, we carried out a point cloud survey using a drone to understand what we were up against."
The pre-start drone survey was mapped against the required finished batter of 35%, along with three five-metre-wide benches at the top of the slope, so that the exact quantities of material to be excavated were known.
Best operators
Given the safety and operational challenges of excavating on such a steep, unstable slope, Fulton Hogan sought input from excavator operators Ray Ta Huna and Kevin Patrick on how best to proceed. Grant describes Ray and Kevin as two of the best operators in the region.
"It's simple," says Ray. "When you're loading out from a digger, you sit on top of the material and load out while your mound comes down gradually."
Grant says this response gave Fulton Hogan the basis for how to proceed, knowing the company had full engagement of its expert operators.
"Together, we developed a plan."
With the drone survey having provided a highly accurate 3D overview of the existing site and WSP Opus providing a 3D model of the required final design, making use of an excavator fitted with precision GPS-based machine control was the solution to this challenge.
Intelligent Machine Control
Fulton Hogan purchased a Komatsu PC210LCi-10 intelligent Machine Control (iMC) excavator specifically for this project. Based around Topcon's precision machine control capabilities, fully factory integrated within the machines, iMC allows earthworks to be carried out to millimetre-level accuracy.
"Having integrated Machine Control on this excavator was magic," says Grant.
"Not having to set out pegs using manual survey methods improved efficiency tenfold. And because we didn't have to have a surveyor on the ground, it was much safer.
"In that type of environment, we had no option but to start at the top and work down, and there was no going back.
"And the end result was without a doubt the best batter slope I ever been associated with," he says. "It wasn't just a simple slope either; it was benched at the top, then battered and curved around to follow the line of the point."
The designs for the batter were provided to Fulton Hogan electronically, then downloaded to the iMC excavator, so at all times, it was working to the client's designs.
"In addition, the client accepted the as-builts coming out of the machine," says Grant.
"Then, when we completed the 47,000 cubic metre material removal, we were between 80 to 100 cubic metres out, compared with the original design. It was so close the client was just blown away. We are very proud of how close we got; in terms of that volume of material, it was nothing," says Grant. 
Why Fulton Hogan opted for Komatsu's intelligent Machine Control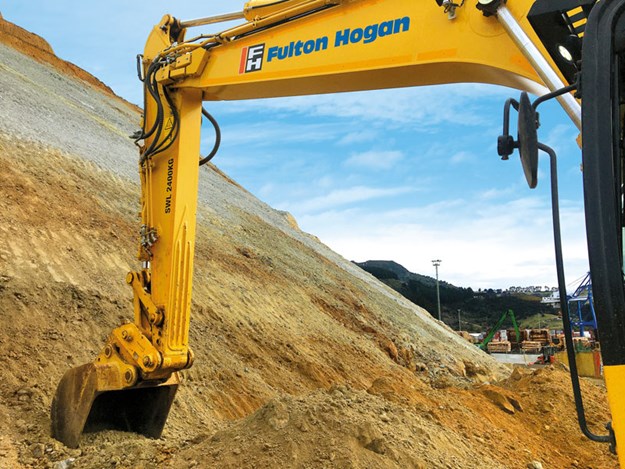 When Fulton Hogan was considering which excavator machine control system to use on the project, senior project delivery manager Grant Sime says the company looked at many different makes.
"With the Komatsu system, what really impressed me was the simplicity of the cab layout for the operator. In terms of the operator interface, it's spot-on. I think it offers by far the best operator layout," he says.
The operator's view
Operator Ray Te Huna, who's been an earthmoving equipment operator for nearly 20 years, with the last 10 years almost exclusively on excavators, says the Komatsu iMC excavator made his job "a hell of a lot easier".
"It also takes a lot more people off the ground, so it's much safer and easier not having to work around them," he says.
"Certainly, it's heaps faster. I'm probably 50–60% quicker doing my work because I don't need people to check it all the time. Now we just need the surveyors to come in and check the calibration a couple of times a week."
Since the Port Chalmers project, Ray has been operating the iMC excavator on a range of projects, including a logging yard extension, building pads for a large car park, drainage works, and on an arterial road project.
"Using designs imported into the machine is big time easier," he says. "I think I'd probably find it hard going back to a conventional machine after this."
The surveyor's view
Fulton Hogan's Otago-based surveyor Craig Kenneally also found that the Komatsu iMC concept makes his job much easier.
"I like the Topcon operating system; I always have because you can put your drawing files straight into it rather than having to use third-party software. That's one less step, and it's easier than loading up terrain models," he says.
"And because the sensors in the Komatsu machine are integrated, the excavator works really well, as you don't need to worry about them getting knocked. I've seen how vulnerable they can be with the bolt-on systems.
"We also had very good support from Komatsu's Smart Construction crew. There's a feature where they can log into the excavator's system remotely and help us out where there are any issues. There was a bit of a training/transition period when we first got the kit, but the support's always been really good.
"With the Port of Otago, we flew a drone over the job every few weeks to check everything. But on a nearly 50,000 cubic metre job, to come within one to two truckloads is really good."
Craig works closely with Ray setting up project protocols and loading the data.
"It's also really nice that it's got that feature where I can load the data externally whenever we get a new set of plans to work from.
"At the Port of Otago, we were using the excavator to quality assure all the time. Ray would go to a known point to check it was calibrated, and it was always consistent, always good.
"We were very happy with the data coming off the excavator; it was always very close to what we were getting off the drone and our other surveying systems," says Craig.
For more information, visit komatsu.co.nz.
Find new and used machinery for sale in NZ
Keep up to date in the industry by signing up to Deals on Wheels' free newsletter or liking us on Facebook.