Special Feature: Die-cast model collection
---
Most of us reminisce the past by browsing collections of photos. For a Bay of Plenty collector, memories are threaded into small three-dimensional pieces of metal.
Shaun Hurst's connection with the construction and equipment industry goes back more than 50 years and those who know him would attest to his extensive knowledge of almost all things machinery and how a successful business operates.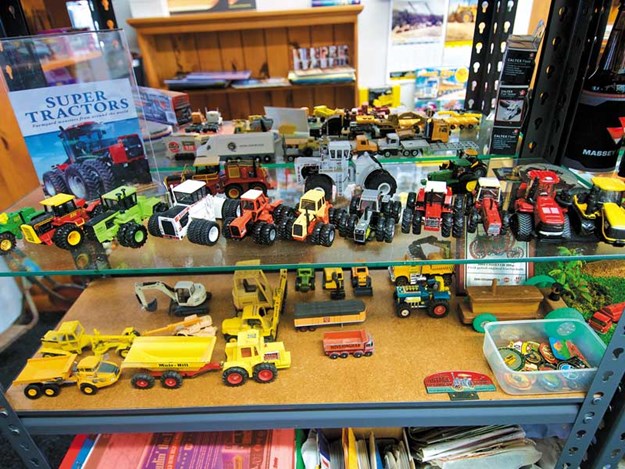 Two businesses of note Shaun has worked for include Gough Cat and Lees Industries, and he would probably be the first to say it didn't seem all that long ago when he was elbow-deep in dirt and grease working as a diesel mechanic on Caterpillar machinery.
The workshop floor didn't hold onto Shaun, though, as his skill base extended, beginning a journey along the corporate ladder. His different roles with Gough Cat moved through service management positions and eventually onto higher management.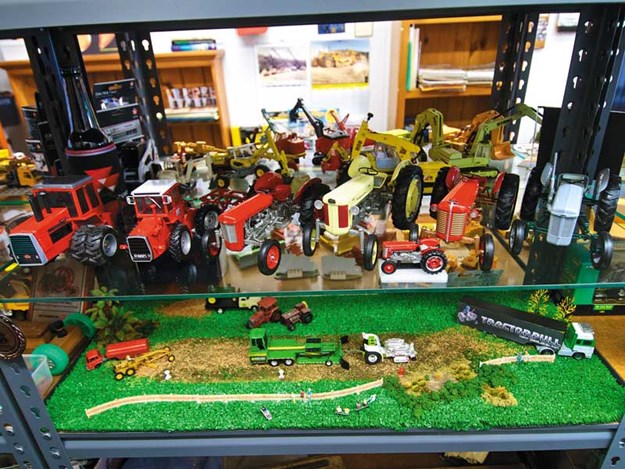 In the 1980s, Shaun transitioned into a senior management position with Lees Industries, at a time when the business had a focus on heavy machinery.
"One of my missions there was to establish a forest and construction equipment division for them," says Shaun.
He adds that within Lees, the business handled the distributorship of John Deere industrial machinery, Kawasaki wheel loaders, and Sumitomo diggers, which made up their construction equipment programme, along with wheel tractors and forklifts.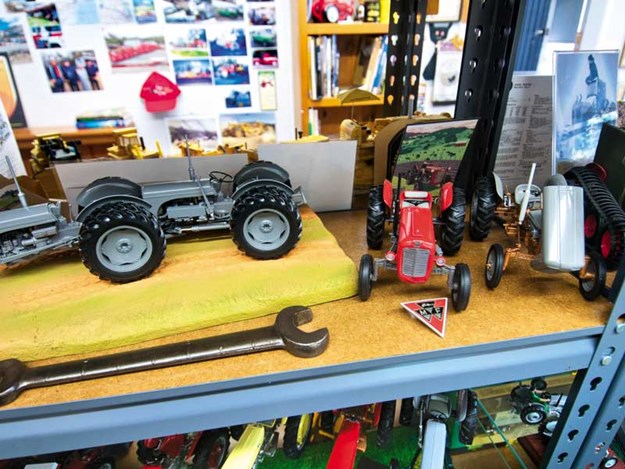 The company also had a range of forestry equipment from Europe and needless to say with all the combined brands, Lees was a big player in the New Zealand construction machinery market.
These days Shaun is based in the Bay of Plenty trading as SH Machinery handling excavators, tractors, and bin loader orchard trailers from a yard located adjacent to his lifestyle block.
Collectors' club
Despite being well-known in the equipment industry, perhaps one thing some people don't know about Shaun is that he's a collector of die-cast miniature models.
"I collect models of trucks, tractors, and machinery that were produced and in operation pre-1990, cause they're kind of my years," he says.
Going along with Shaun's 'prior to 1990 collection' is the criteria that everything on his shelves is a machine or truck he has driven, sold, worked on, or "had something or other to do with," as it is described. Fair to say, a lot of reminiscing happens in the collector's room.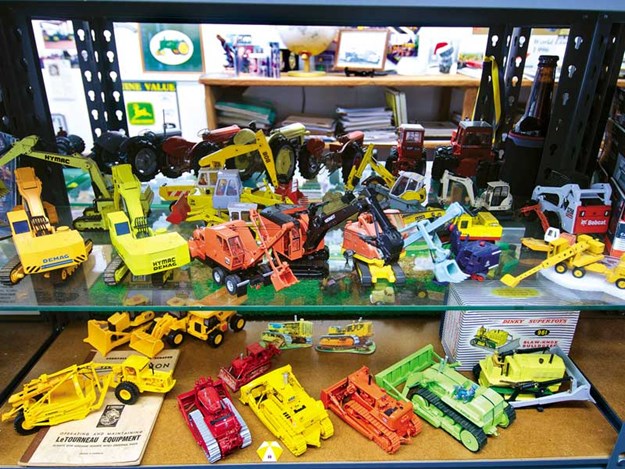 "It kind of got out of control a bit," Shaun says. "When it started off, it was going to be all Caterpillar and 1/50th scale, though, none of those things have worked.
"It's gone beyond Caterpillar and the scales are mixed up and all over the show. So now if I spot something that fits that pre-1990 criteria I get it, whether it's 1/50th scale or not and in it goes."
One thing that stands out is that Shaun's collection is quite varied as opposed to model collections we have seen previously where gatherers of die-cast miniatures often keep to one specific industry genre, trucks, or forestry machinery being such examples.
Shaun also has a comprehensive agricultural tractor section, primarily focussed around Massey Fergusson—a brand he grew up with.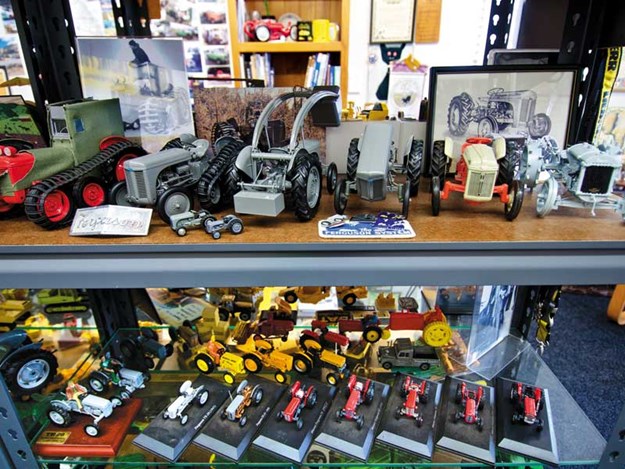 Understandably, he has a noticeable affinity with the red tractors, as he shows and describes in detail the different tractor models through the years.
Again, the collection veers slightly off from what is probably considered the norm as a number of miniature tower cranes dominate an area on one set of shelves.
Prized possession
Shaun leads us across to a separate cabinet wherein lies—what some Kiwis may consider the Holy Grail of New Zealand-made die-cast models—his prized possession: his Fun-Ho collection.  
Here sits one of New Zealand's iconic contributions to the die-cast miniature model industry, which, even when at their peak of production around the 1970s, were seen by some to be significantly inferior in design to their English-made die-cast competitors, such as Matchbox.
That aside, vast quantities of the Fun-Ho toys were seen in the hands of Kiwi kids, as the small sturdily-built metal trucks and machines were able to withstand the punishment of the family sand pit that adorned the backyard of almost every suburban house in those days.
Fast forward to today and older Fun-Ho miniatures are in hot demand, with collectors snapping up authentic models quickly and often for significant amounts of money.
"I had one missing model in my collection and that particular one is as rare as hen's teeth," says Shaun.
"On a visit to the Fun Ho museum in New Plymouth, I struck up a conversation with someone there and as it happened they had a spare one in their collection, so I was able to fill the missing gap," he says, while remaining unusually quiet when questioned about the cost.
But, if you think that Shaun's model collection is all about someone who has hung up their boots and prefers to sit and reminisce about the good old days, then you're sorely mistaken.
As mentioned earlier, his business sells heavy machinery along with other construction and agricultural industry-related items. He is involved in a hands-on project that will introduce dozer-type technology to assist kiwifruit growers in the Bay of Plenty, and there's the ex-Trevor Doidge Caterpillar 1673-powered White 2064 truck. that's undergoing restoration in Rotorua.
With all of that on his plate, coupled to a seemingly endless reserve of energy, we figure there are still a few more spots on Shaun's shelves that haven't been filled yet.
Watch the video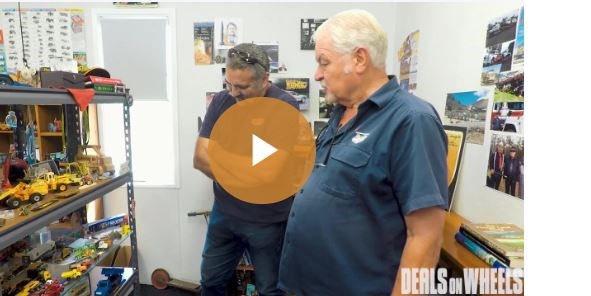 Keep up to date in the industry by signing up to Deals on Wheels' free newsletter or liking us on Facebook.