Cover story: Cat 980M wheel loader
---
The Cat 980M wheel loader is the perfect example of a machine that will perform for its owner in more ways than one
David Blair from KB Contracting & Quarries Ltd firmly believes in one maxim when it comes to protecting his machinery investments—give an operator a machine they're proud to drive and they'll look after it like it's their own.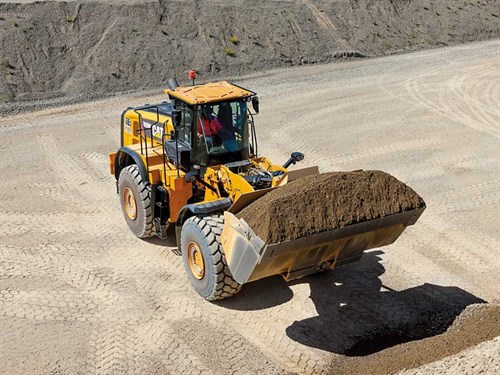 There's no two ways about it. Quarrying is hard yakka, especially on gear. But, David says, investing in a good quality machine out of the box means that performance remains consistent across its working lifetime, and he can look forward to better resale value when it's time to upgrade.
Cat 980M wheel loader
KB Contracting & Quarries Ltd recently upped their Cat count by one with a new breed of wheel loader to arrive in the country. The firm's Cat 980M wheel loader is the largest M Series loader Gough Cat has sold in New Zealand to date. It represents a significant addition to KB Contracting's fleet; one David is understandably excited to see arrive. "We've got a handful of Cat K Series loaders working at the quarry already, but this is our first M Series," he says.
"Caterpillar is very good at incrementally advancing the capabilities of its big machines. We could see immediately that the Cat 980M was going to be a worthy addition, in terms of operator comfort and running efficiencies.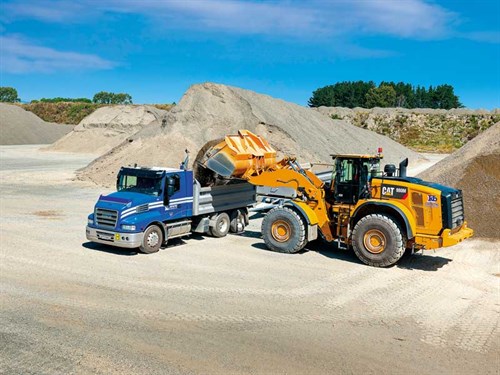 "When you have a machine like this on the job, you've got to fully optimise everything about how it's run to really get the best out of it. We run a 'one-machine, one-driver' policy, which not only harks back to making sure the guy in the cab is looking after the machine but it also gives us more predictable certainty over how the machine will be operated, what its through-put will be like, how much fuel it'll burn; those kinds of measures.
"Of course, if you're asking a guy to spend long hours on a loader, you need the working environment to be comfortable for them. Our Cat machines do well here: comfortable cabs to operate in, a rear-view camera, and good outward visibility, and, of course, all the horsepower we need."
Cat 980M wheel loader features
The big Cat 980M ups the ante in terms of capacity and power, but that doesn't come at the cost of fuel efficiency. Weighing in at the 30-tonne mark, the 980M boasts a proven Cat C13 turbo diesel in its easily-accessible engine bay. The Cat 980M is available in three different power grades and can be specified with peak power of between 278kW (373hp) and 307kW (417hp).
In each case, maximum power is achieved from an impressively low 1800rpm, so, coupled with gross torque of 2192Nm, this wheel loader is one serious material shifter. Up front, a bucket that will take a load of up to 12.2m³ is backed up by advanced and updated load-sensing hydraulics, helping achieve a maximum breakout force of 224kN.
Thing is though, despite all this power, Caterpillar says the M Series generation of wheel loader offers 10% better fuel efficiency than K Series machines. Engineering advances such as an economy mode and a more intuitive Powershift transmission (with features like a lock-up clutch torque converter with lock-to-lock shifting) combine to reduce running losses.
"We've been buying Cat equipment through Goughs for 30-odd years now and, when it comes down to it, Cat machines are just great machines," David continues.
"It also helps when you have a good relationship with the sales person at the company and we have that with David Bainbridge from Goughs, and when he says he is going to do something and he does, it adds to the trust with them. We've around eight wheel loaders across our business and we tend to hang on to them for four or five years. They're not cheap machines to buy, but then again, if we know we are going to get reliable performance out of them, as well as a good resale value, then I think that's pretty fair.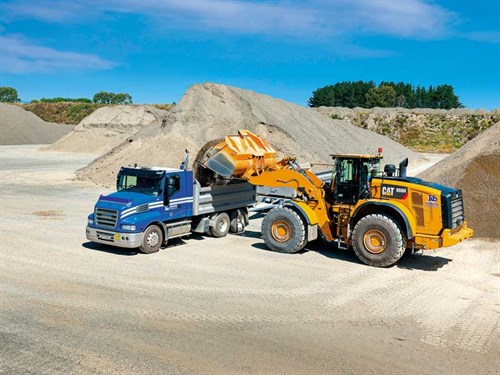 "Goughs offer superior back-up for us and their ability to get any part whatsoever to you in a timely fashion is excellent. We're a Christchurch-based firm, but we have operations up in Nelson, too, where we're moving a few hundred thousand cubes on a retirement estate development. I feel just as confident that, were anything to go wrong with a Cat machine up there, we'd get the same level of response at the same speed from Goughs there as we would here at home."
More Cat machinery is on the way for David, too. KB Contracting & Quarries Ltd has also recently ordered two new Cat 730C2 articulated dump trucks. With the Christchurch rebuild giving way to new developments such as the city's evolving motorway system, David says the company's quarry business is running flat-stick, so investing in gear from a trusted source—both at the manufacturer and distributor level—remains a no-brainer.
"Our father Kevin Blair formed the company in the early '70s and was a fan of Cat equipment from the early days. After my brother Michael and I took over the reins in 1999, there was certainly no way we would have wanted to move away to another machine supplier for this sort of equipment," David says.
"Cat stuff really works for us, so we stick with it. Sure, you have to research every big machine investment and see what options are out there but we like what Cat offers us. So for this kind of heavy-duty equipment, Goughs helps make the decision pretty easy."
Keep up to date in the industry by signing up to Deals on Wheels' free newsletter or liking us on Facebook.