Special feature: Camp Glenorchy
---
DOW visits Camp Glenorchy, which is set to become New Zealand's first Net Zero Energy campground
Opening in late December this year, Camp Glenorchy is set to become New Zealand's first Net Zero Energy campground and will provide visitors with a unique opportunity to experience first-hand how thoughtful design, environment-friendly materials, and sustainable practices can conserve resources.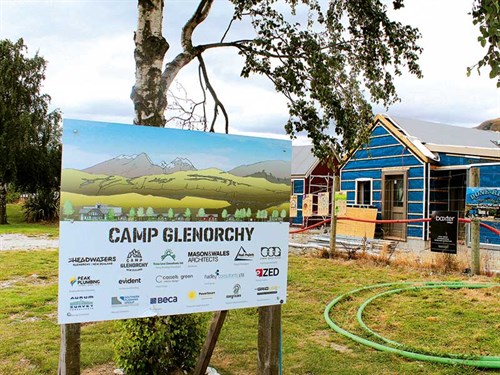 Nestled among some of the most stunning scenery in the country, the campground is part of The Headwaters, a collective of environmentally sustainable accommodations and services, and will offer bunk huts and cabins as well as tent and motorhome sites.
When DOW visited in late February, the site looked typical of many construction zones, but a closer look reveals some inspired innovations and clever design features.
Harnessing energy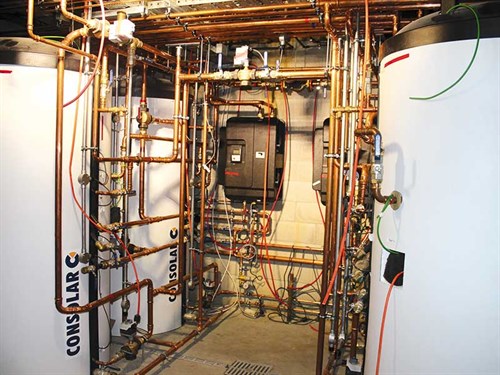 With winters in Glenorchy being pretty cold, the design of the campsite needs to carefully balance the comfort of guests with the goal of being Net Zero Energy. With this in mind, the bulk of Camp Glenorchy's energy will come from the 432 solar photovoltaic panels that make up the site's 'solar garden' and the 168 low-profile panels on the building roofs. Solar energy generated by the panels will be used to meet the site's power needs. When demand exceeds supply, power will be drawn from the grid, and when supply exceeds demand, power will be sold back to the grid, resulting in Net Zero Energy consumption over the course of a year.
One of the cool features of the site is the hot water system beneath each building, the largest being the common room. The Headwaters general manager, Steve Hewland, explains the common room system is made up of four huge super-insulated thermal stores.
"You can think of them as water batteries that store your energy," he says. "The system is incredibly efficient and can be used in a number of ways depending on solar availability and energy demand."
And to ensure guests are comfortably warm even during the coldest of winters, each of the cabins is super-insulated with a foam layer and a vapour barrier making them not only thermally efficient but also airtight. Each cabin contains a heat exchanging ventilation system that monitors air quality, circulates fresh air, and helps meet the goal of keeping cabins cosy and healthy while using the least amount of energy possible.
The cabins are also fitted with energy and water monitors that allow guests to learn about and actively monitor their energy use during their stay.
Building better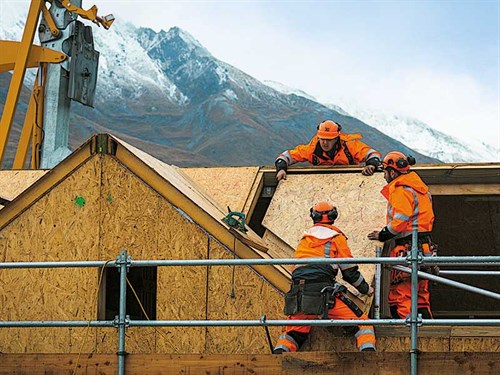 Along with a commitment to sustainability, the buildings have been cleverly designed to reflect the natural and cultural history of the area. Reclaimed timber, iron, salvaged and locally sourced materials have been incorporated into the build where possible, providing visitors with a real sense of place.
One thing the site doesn't have is the presence of any building materials containing environmentally damaging or toxic substances. To be LBC certified, all construction materials need to be healthy
and free of toxins, socially responsible, and benefit people and the environment.
"You'll notice that when you walk into a new building, it has that 'new' smell to it. Often that's the chemicals within the building materials that you can smell. You won't notice that here," Steve says.
Since timber is one of the key materials in the construction of the campsite, builders keep a record of all timber sources and are committed to using salvaged timber wherever possible. The builders also reuse any wood offcuts longer than 600mm.
"It takes a bit longer labour-wise and, of course, it would be easier to throw them out than take the time to pull out nails and reuse, but we encourage the builders to reuse as much of the materials as possible," Steve says.
Stemming the flow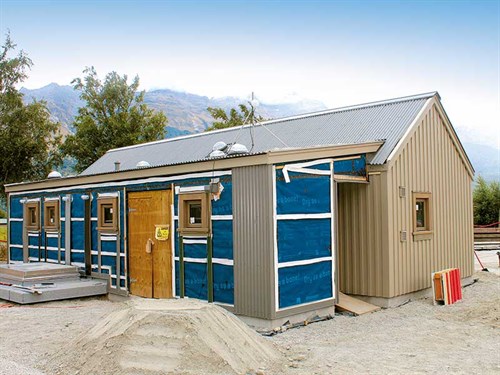 To help achieve the goal of using 50% less water than similar facilities, the camp collects rainwater that will be stored in large underground tanks. This is then filtered and treated with UV light to meet drinking water standards and routed back to taps and showers.
The site will also be fitted out with low-flow fittings and water-efficient appliances to minimise water used by taps, showers, dishwashers, and washing machines. In addition, the campsite's toilets are all self-composting.
Simple yet state-of-the-art, the Phoenix composting toilets generate virtually no wastewater. And as unbelievable as it may seem, the toilets are completely odourless. Over a period of around 18 months, the composting toilets break down waste into a completely safe soil-like material that can be used as a nutrient-rich plant fertiliser.
A work of heart(h)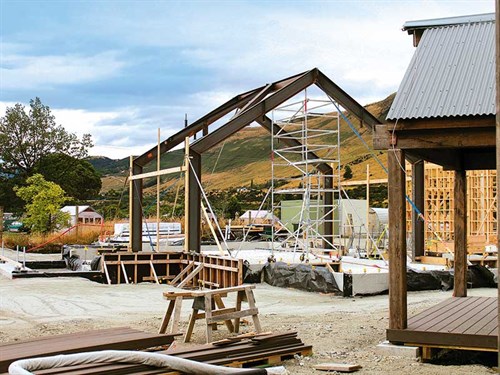 At the heart of the campsite, an impressive 26-metre long by 5.5-metre high scheelite shelter is being hand-built by local artist Dan Kelly and a team of stonemasons.
The enormous structure is being constructed from locally sourced ancient scheelite stone and recycled timber and will feature a large fireplace at the centre. The shelter will also feature a kinetic-powered water sculpture inspired by the old water-driven scheelite ore battery stamper once positioned at Mt Judah in Glenorchy.
Debbie Brainerd, who with her husband Paul, founded Camp Glenorchy, says, "This shelter is a wonderful example of how having a talented local artist such as Dan can combine extraordinary natural beauty with cultural and historical details that will make the campfire shelter the 'jewel' of Camp Glenorchy.
"It will be a beautiful juxtaposition to the more traditional-looking energy-efficient buildings adjacent to the structure."
Clean, quiet, and convenient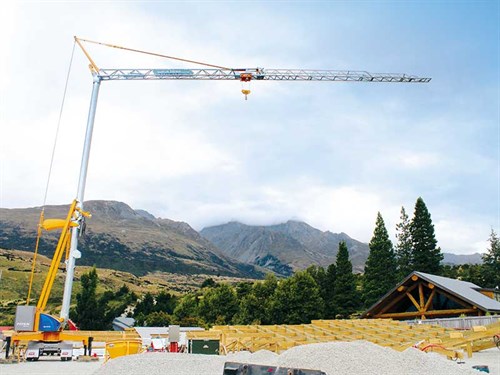 One of the key pieces of equipment on the site is the Potain IGO MA 21 tower crane from Manitowoc. The crane was imported to New Zealand by TWT Ltd, who also added the axles and dolly set to it.
A remote control with indicators, combined with variable frequency drives for all main functions, means the IGO MA 21 can be operated within a radius of around 300 feet.
The unit can be connected to an electrical supply of either 480-volt three-phase or 220-volt single-phase, which eliminates the need for a generator and provides a quiet, clean solution for the Glenorchy site.
"With an excellent electrical network and failsafe sensors, the crane is easy to operate," site manager, David Osbourne, says.
"Capable of lifting 1.8 tonnes close in and 0.76 tonnes at 26 metres, the Potain IGO MA 21 has an excellent capacity and reach."
Unlike other cranes, movement from site to site is simple with no additional vehicles required to carry counterweights or over-width road permits to obtain.
"The biggest benefit for us is the ease and speed of fold down and the simple connection to a tractor unit's fifth wheel.
It can be folded down, moved, and re-erected in 30 minutes. Other cranes of this type that we looked at hiring required another crane to lift them on and off a transporter—a substantial additional expense. Being in a relatively isolated site, the crane allows us to continually operate cost-effectively without the program interruptions, which would have been inevitable if we had relied on crane trucks and conventional cranes."
Keep up to date in the industry by signing up to Deals on Wheels' free newsletter or liking us on Facebook.