Event: Bauma 2019
---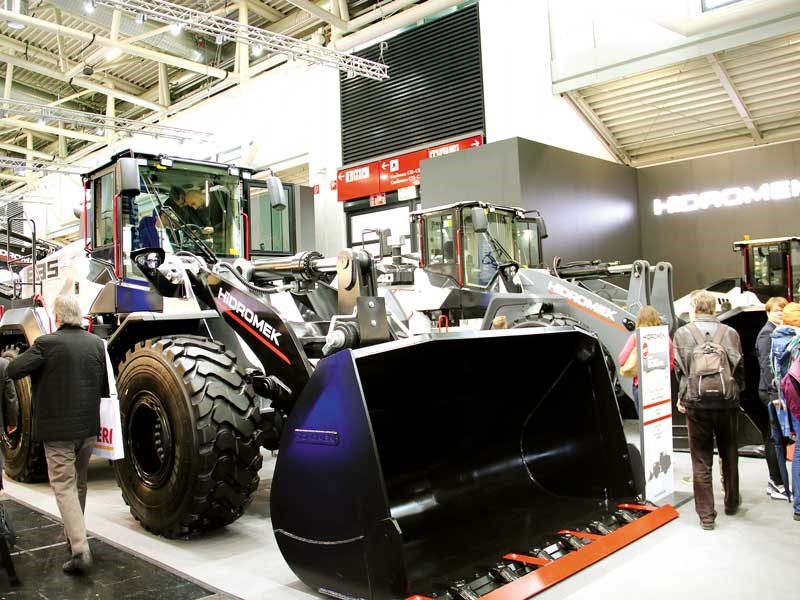 Hidromek certainly put on a show for the Bauma visitors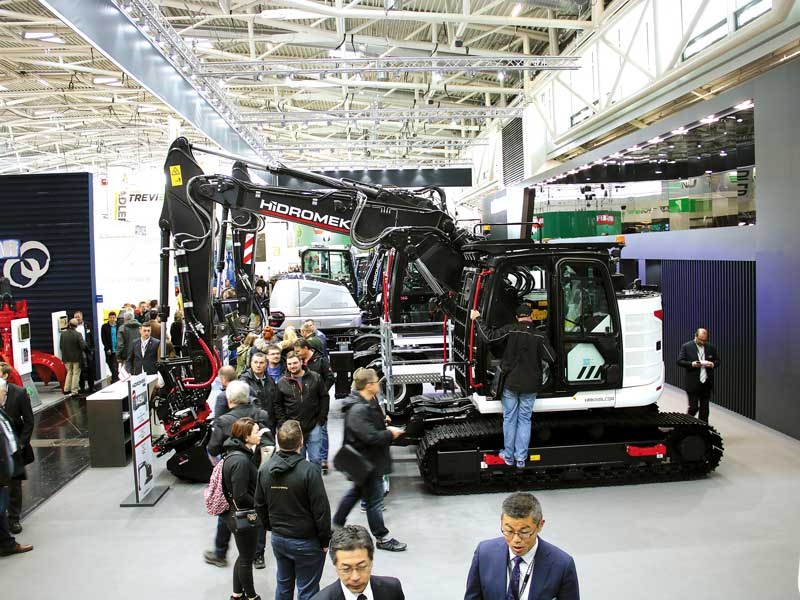 Global interest surrounds the Hidromek excavators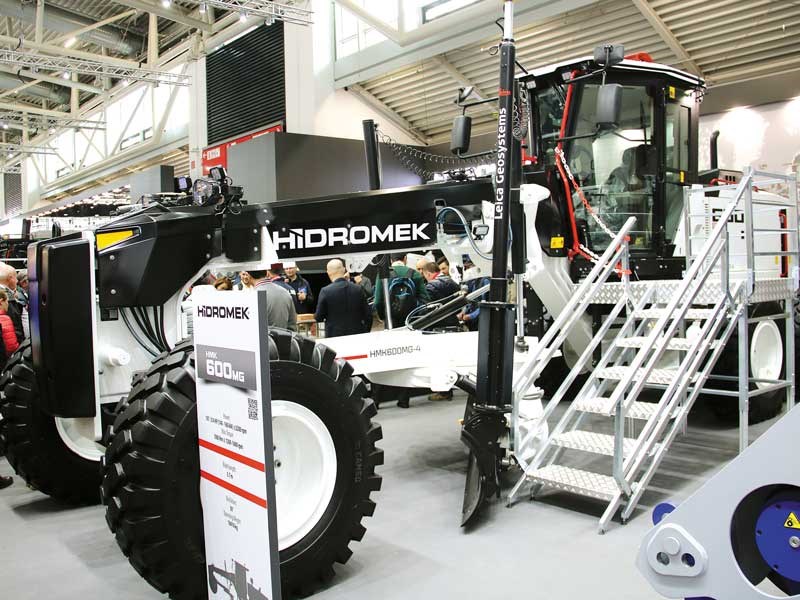 Hidromek road graders were of particular interest for the down under visitors

It's classed as the world's leading trade fair and Bauma 2019 held earlier in April certainly lived up to that title with 3700 exhibitors and more than half a million visitors
Held in Munich over six days, Bauma was a must-see for those involved in the manufacture of construction and mining equipment and, of course, the dealers and operators who get hands-on with the machines.
The show is held every three years giving the manufacturers ample time to develop new ideas and fresh thinking, which was obvious at the 2019 event where the focus really was on reducing emissions and remote control.
Hidromek
Making the long trek to Germany from New Zealand was Liam Field, the owner of Magnum Equipment Ltd based in Auckland.
Liam is the distributor for Hidromek and Morooka equipment in New Zealand and was visiting Bauma for the second time. 
"This is my second trip to Bauma," he says. "During my first trip here, I met the team from Hidromek at the show. It certainly is a very big place for a guy from little old New Zealand."
Turkish manufacturer Hidromek launched a few new machines at the show, including a new loader, and ventured into the electric excavator market. Liam says, "It was great to see the new models from all the manufacturers but particularly the new seven-tonne electric excavator from Hidromek who also launched the new HMK 635 loader and the HMK 145SR excavator.
"There are some very exciting new machines coming from both the brands we represent. In New Zealand, we do have a four-yearly trade show very similar to Bauma but a lot smaller of course."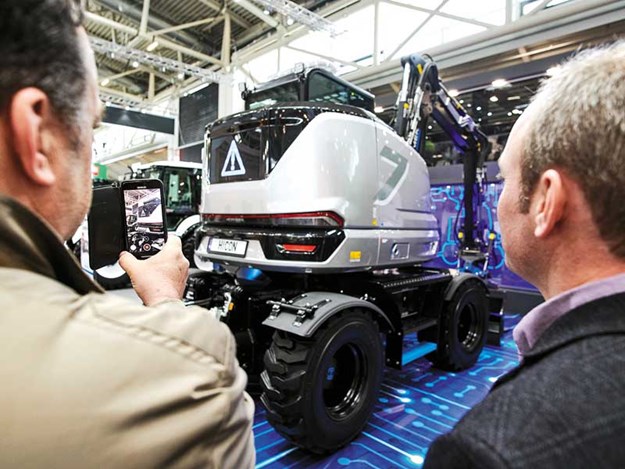 Hidromek has created the name Hicon as a sub-brand to service the electric excavator machines. The new Hicon 7W was developed as a 100% electric city excavator to reduce the environmental impact with its zero emissions. Hicon stores its energy in new generation Lithium-ion batteries and uses its energy 97% efficiently due to its electric motor.
Hidromek says the electric excavator can operate for eight hours on one charge and it can be fully charged in three hours using standard car charging stations. The Hicon 7W is also fitted with a host of new safety features, including a screen to give the operator a rear view.
This flashes up warnings if a person approaches within five metres, using laser detection technology and is also able to warn of other imminent collisions and bad weather.
The high-performance H4 Series excavators have an increased working speed achieved in part by changing the diameter of hydraulic cylinders, tubes, and bars, which helps to produce more work with less fuel.
The HMK145 LC SR, with its sharp and dynamic lines, is designed to work with power and precision in urban areas and narrow spaces, aiming to avoid the risk of damage and improving safety. It has a short turning radius with a two-piece boom and is ideal for construction, landscape, material laying and levelling work in narrow spaces.
Liebherr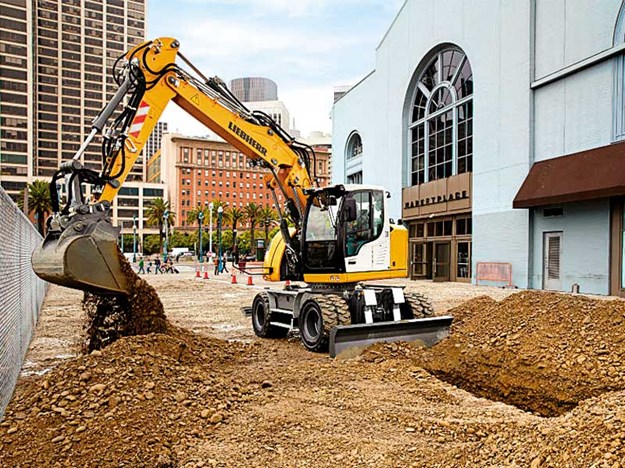 Liebherr introduced a prototype of its A913 compact litronic wheeled excavator available for compliance with Stage V exhaust emission standards from the middle of 2020.
Powered by a 129hp engine, it has an operating weight of between 13,800 and 15,500kg and thanks to the flexible undercarriage with all-wheel steering and crab mode, the machine particularly impresses with its combination of exceptional manoeuvrability and high-lift capacities.
The prototype is equipped with a 2.55-metre wide undercarriage with outriggers at the back and a dozer blade at the front. Its equipment consists of a 4.65-metre long adjustable boom and a 2.2-metre long dipper arm.
Kubota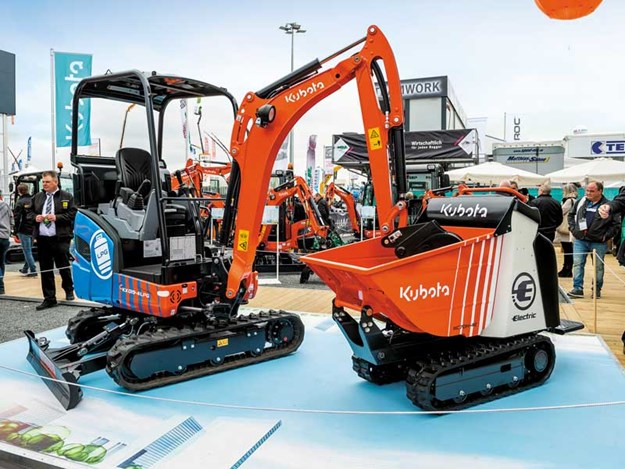 Kubota was also in fine form launching the KX019-4 LPG mini excavator and the KC70-4e electric mini crawler dumper at Bauma.
Features on the KX019-4 LPG mini excavator include a next-generation Kubota Spark Ignition series engine, which allows users to work in emission restricted access areas and generates less noise pollution.
It also has a variable undercarriage that allows operators to enter into areas with less than a metre of access and has an operational amplitude and guaranteed maximum digging depth of over two-and-a-half metres.
Kubota's KC70-4e electric mini crawler dumper incorporates a new lithium battery, which offers the same level of performance as those powered by diesel or petrol. It is only 750mm width, which enables it to enter buildings with ease.
Hyundai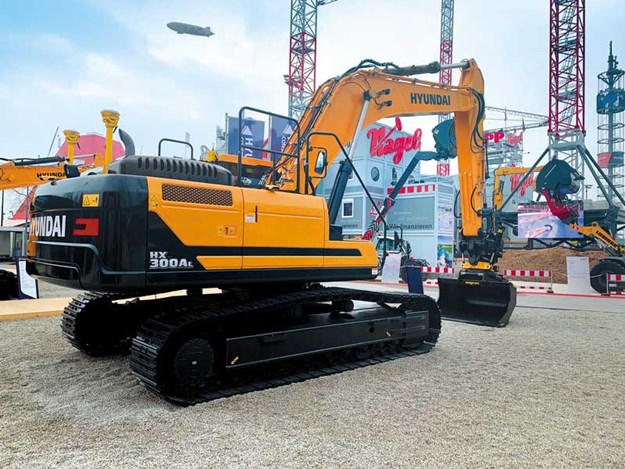 Meanwhile over in the Hyundai camp, the manufacturer launched six brand-new machines, including the new one-tonne HX10 A and the 8.5 tonnes HX85A CR compact excavators.
The line-up also includes the release of the newest models of the Stage V compliant range excavators and wheel loaders: the HX85A CR, HX220A L, HX300A L, and HL960A.
Also on the stand was the new HX900 L, which is specifically designed for the demands of the European construction and quarry industries, and which will replace the R800LC-9.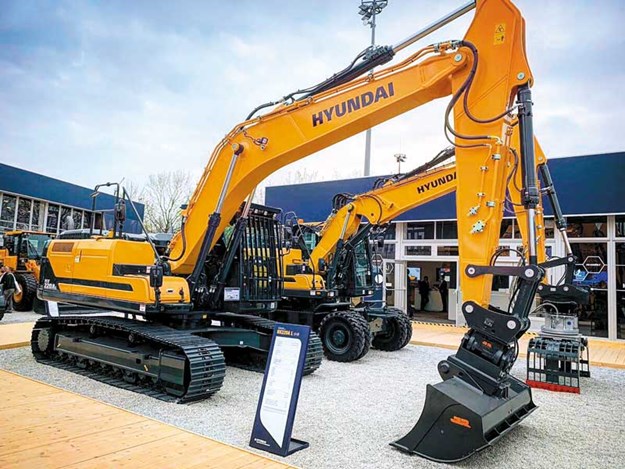 This 90-tonne machine has been developed using market-leading technology to deliver exceptional productivity. The HX900 L is the second-largest Hyundai machine in the range sitting behind the gargantuan 120 tonnes R1200-9.
Also at this year's Bauma, Hyundai and Swedish tiltrotator manufacturer, Engcon, announced a co-operation in terms of product completion. The collaboration means that Hyundai Construction Equipment (HCE) will factory-mount Engcon's proportional control system DC2 on its excavators to be easily equipped with an Engcon tiltrotator.
Volvo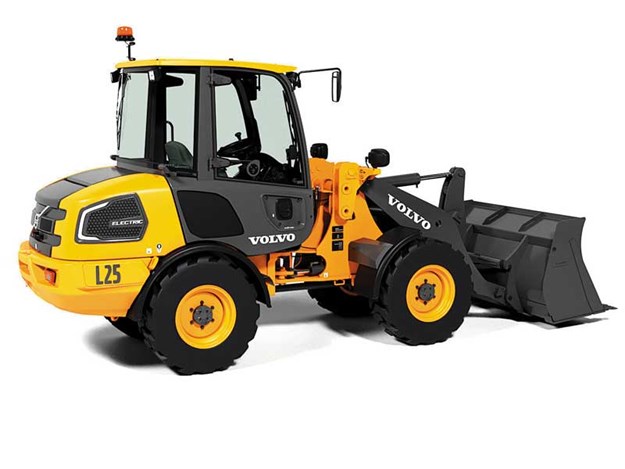 Volvo Construction Equipment (Volvo CE) unveiled its first commercial zero-emissions electric compact excavator and wheel loader at Bauma.
The machines, which are the first to be shown from a new electric range of Volvo branded compact excavators and compact wheel loaders, deliver zero exhaust emissions, significantly lower noise levels, reduced energy costs, improved efficiency, and fewer maintenance requirements, compared to their conventional counterparts.
From mid-2020, Volvo CE will begin to launch its range of electric compact excavators, EC15 to EC27, and wheel loaders, L20 to L28, stopping new diesel engine-based development of these models.
To make the ECR25 and L25 electric, the combustion engines have been replaced with lithium-ion batteries. The ECR25 is fitted with lithium-ion batteries and one electric motor, which powers the hydraulics in order to move the machine and the attachment.
The machine's batteries store enough electric energy to power the ECR25 for eight hours in its most common applications, such as utility work. The L25 incorporates lithium-ion batteries that allow for eight hours of operation in the machine's regular applications, including light infrastructure work, gardening, landscaping, and agriculture.
The L25 also incorporates two dedicated electric motors, one for the drivetrain and one for the hydraulics. Decoupling the subsystems has led to higher efficiency in both the systems and the entire machine.
Both the ECR25 and L25 have on-board chargers that enable overnight charging via a regular household plug socket. A fast charging option, requiring more powerful grid access, will also be available.
Case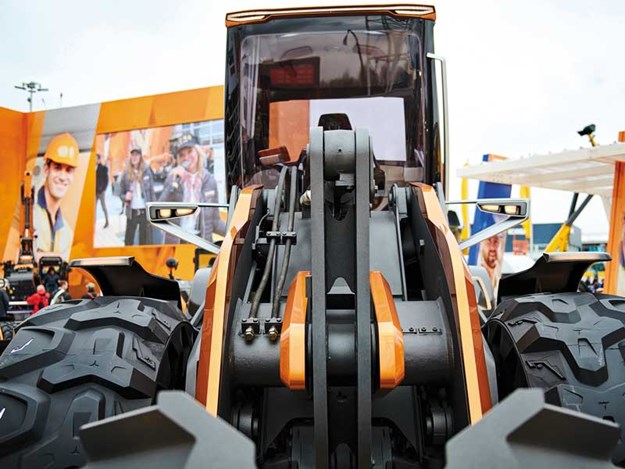 And to top things off, Case Construction Equipment presented a new wheel loader concept that is powered by methane. The concept, named Project Tetra, is the first Natural Gas construction machine from Case and is powered by a six-cylinder NG engine from FPT Industrial's NEF family.
This power unit, delivering power up to 230hp and torque up to 1184 Nm, has diesel-like performance but with a smoother and quieter drive. It also offers the same reliability and durability and fuel savings up to 30%.
The engine runs on Compressed Natural Gas (CNG), ensuring 15% less CO2 and 99% less Particulate Matter than its diesel-based counterpart.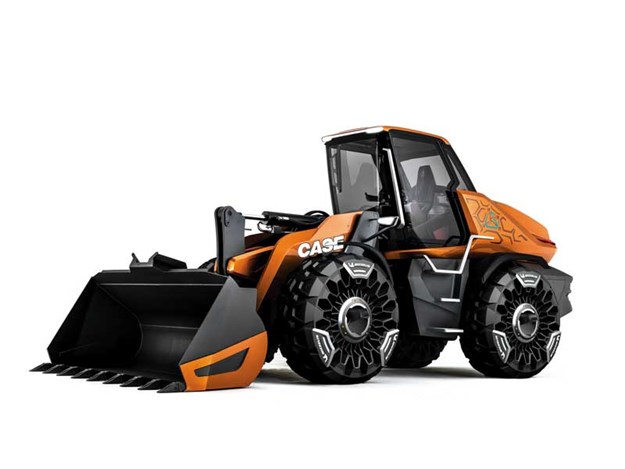 The NEF engine uses stoichiometric technology, which ensures the correct chemical balance between air and methane in every working condition, delivering clean combustion and low emissions.
Such technology is enabled by FPT Industrial's proprietary control strategy, specific piston design and multi-point injection. Optimised combustion improves engine efficiency, leading to running cost savings of 10 to 30% over diesel.
Keep up to date in the industry by signing up to Deals on Wheels' free newsletter or liking us on Facebook.