MIMICO Excavator Competition 2018
---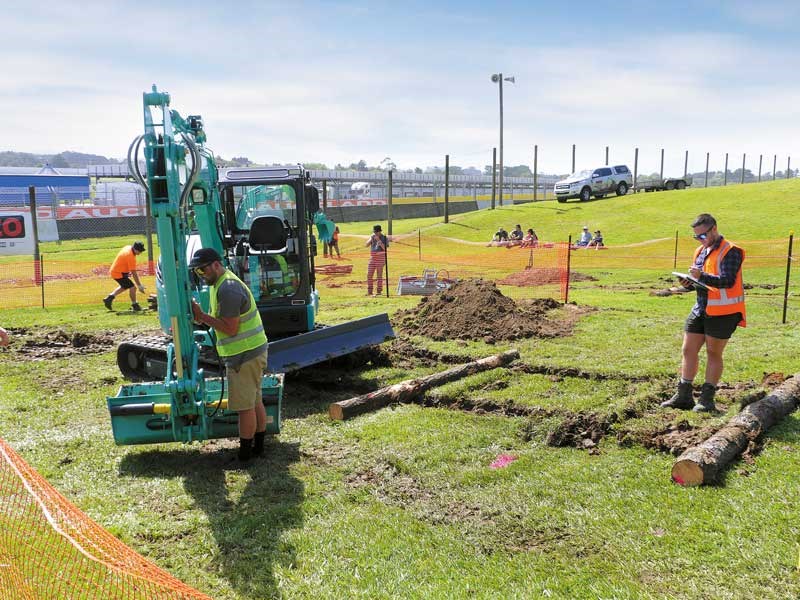 Josh Simpson, one of the judges, keeps notes while eventual winner of competition Daniel Smith does a quick bucket change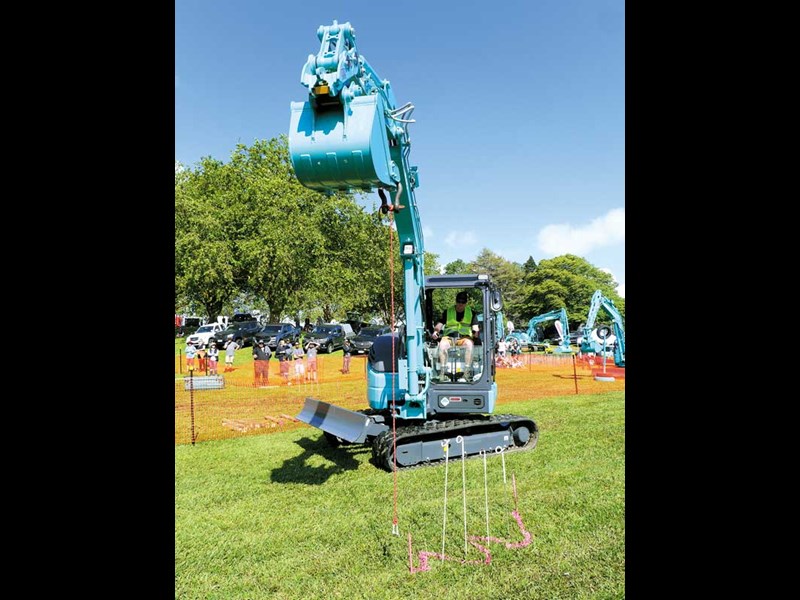 Paul Sweeting-Shaw attempts to place the shackle on the rebar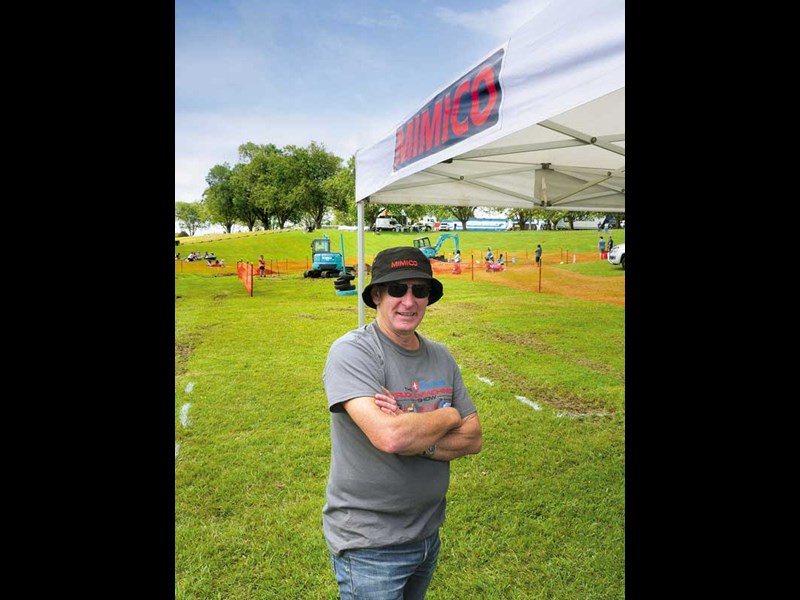 Chris Skelton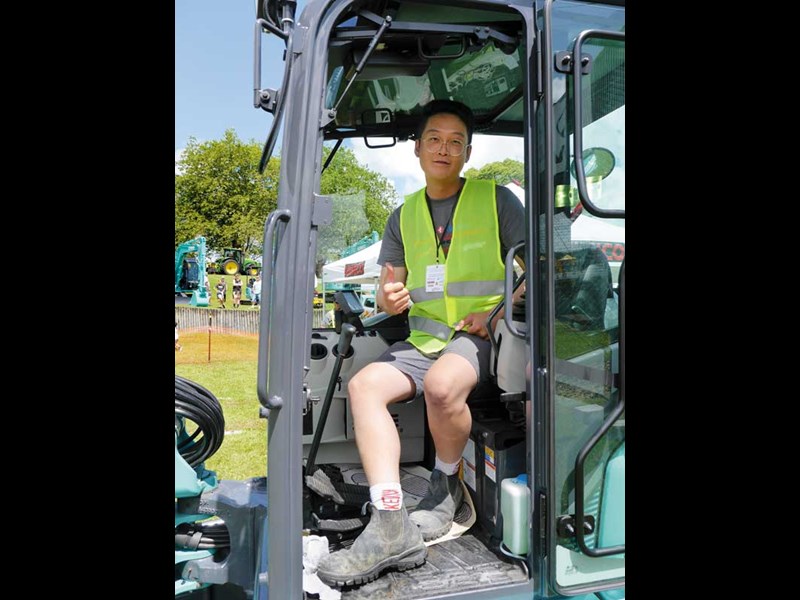 Alex Kim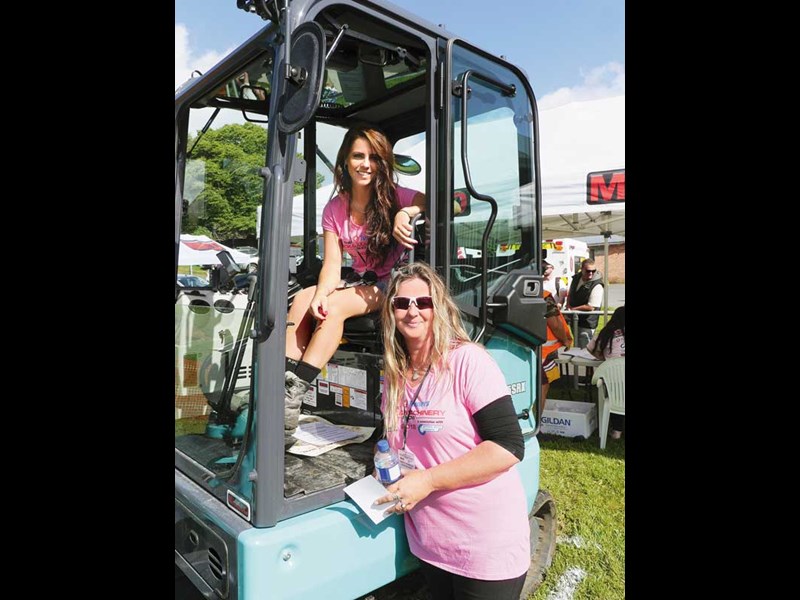 Shannan Bell and Kim Dixon (right)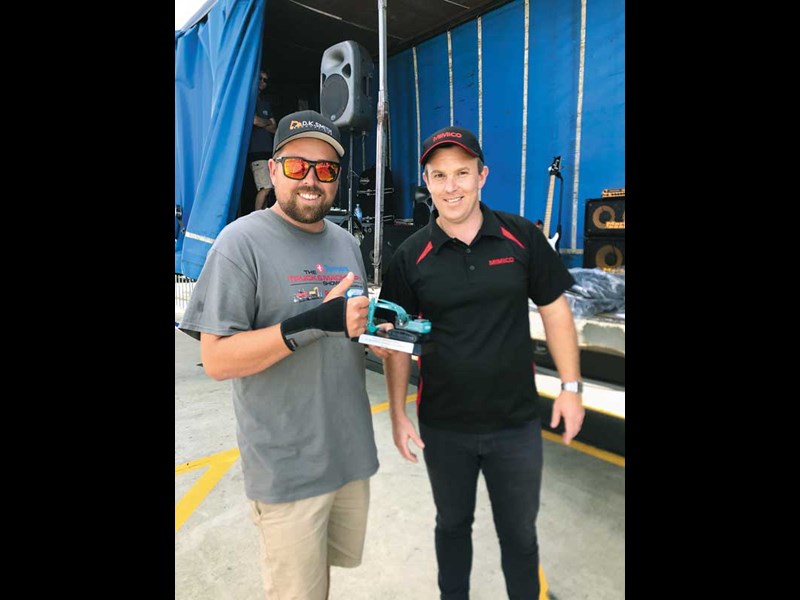 First place Daniel Smith and Scott Turner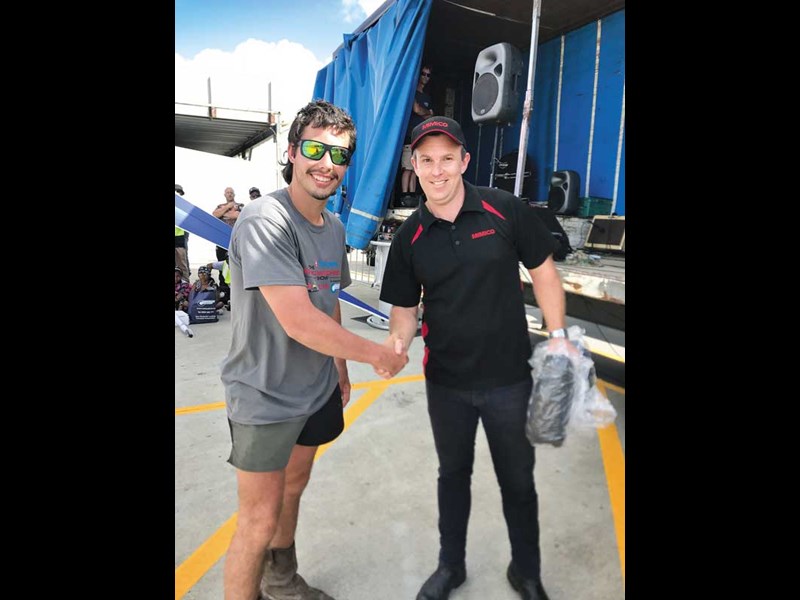 Second place Josh Stockwell with Scott Turner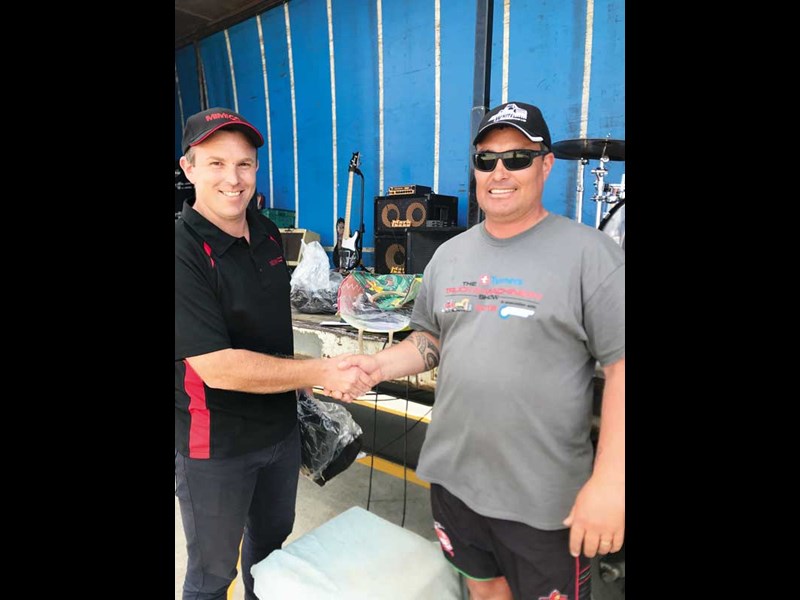 Third place Michael White

Some of the finest excavator operators battle it out at the MIMICO Excavator Competition at the Turners Truck & Machinery Show
Fun banter and the odd bit of shoulder slapping got put aside as excavator operators gathered to receive instructions from course organiser Chris Skelton.
Along with judges, Josh Simpson and Brooke Harland, ably assisted by Marty McCardle and scorekeeper Amy Glynan, the team had spent the previous day and a good part of the night preparing a tight little course aimed at testing the skill of the 14 contestants.
Consisting of a few tasks from the previous years' inaugural competition, such as tyre and post stacking, a number of new evolutions were there for challengers, namely, placing a small shackle over a vertical piece of rebar then threading the line through a set of warratahs; creating the letter 'K' (for Kobelco, of course) out of a pile of soil, along with other jobs conceived to test not only operating ability but also technique.
"Similar to last year, we wanted everyone to enjoy the course and complete it in a timely fashion while being able to compare their small machine operating skills against peers in the industry," Chris says.
"While there are certain operating techniques the judges are looking for, most tasks are goal orientated, so if they are completed, everyone knows that the score for that evolution will be good."
That may have been easier said than done, with a few operators finding some of the challenges a bit more difficult than they estimated and leaving tasks unfinished to move onto the next one in an effort to keep within the 30-minute time frame.
Judge Josh Simpson says that some of the small things such as changing the bucket caught out some contestants who were not familiar with the Kobelco system. "There were instructions in each machine, but in the heat of competition, little things such as reading the bucket changing procedure carefully get put aside. Similar to being given a set of instructions when working on-site, everything must be read carefully and not scanned over to ensure there are no mistakes," he says.
As mentioned earlier, the judges were also looking for operating technique, and it was here the occasional contestant queried their final score. "One operator asked why I deducted points as they traversed the horizontally-laid log section of the course," Josh says.
"I had to explain to them that they dropped the back of their tracks off the logs as the machine travelled over them, whereas the technique we were looking for was to swivel the excavator body around and place the bucket on the other side of each log, then lower the tracks onto the ground in a controlled manner."
What was good to see was the diversity of contestants, with a wide multi-cultural mix reflective of the Auckland region, something that is somewhat rare in other parts of the country. Going along with that were the two female operators, Kim Dixon (DOW 302) and Shannan Bell, with Kim placing high in the final standings in fifth place overall.
With an electronic scoreboard in place, competitors were able to keep up with placings as results came to hand, and there were a few dropped smiles as the scoring progressed throughout the day.
"All in all, we had an excellent turnout of operators for the competition," says judge Brook Harland. "What was interesting is that we could pick the small machine operators, as they performed better in the earlier stages of the course, which was more technically challenging.
"As the course progressed to more freestyle tasks, the rural-trained excavator skills were able to show through more. It's my opinion that it was the operators with training and experience in both disciplines who obtained the top scores on the day."
And it was Daniel Smith of D.K Smith Excavations who once again took out the honours being awarded first place for the second consecutive year, with a score of 111 points out of a possible 125. Second place went to Josh Stockwell (100 points), with one point separating him from third-placed Michael White (99 points).
"There is talk about a possible South Island competition being held at a future date, although this is still in the very early stages," MIMICO marketing manager Scott Turner says.
"For us, this is promoted as a competition where operators can be involved in a semi-competitive environment where they can network with other like-minded people while becoming familiar with our Kobelco brand of excavators."
MIMICO Excavator Competition 2018 winners
| | |
| --- | --- |
| First | Daniel Smith |
| Second | Josh Stockwell |
| Third | Michael White |
| Fourth | Michael Pou |
| Fifth | Kim Dixon |
| Sixth | Paul Sweeting-Shaw |
| Sixth equal | Alex Kim |
Watch the video
 Check out the MIMICO Excavator Competition 2018 in action.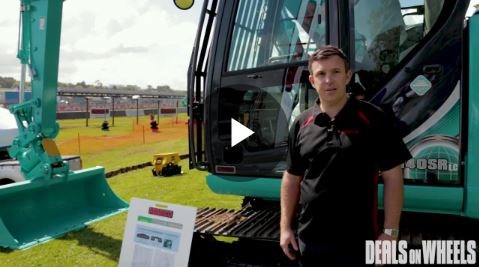 Keep up to date in the industry by signing up to Deals on Wheels' free newsletter or liking us on Facebook.