Equip2 Open Day 2018
---
Along with a number of others with an interest in screening and crushing, the Ed travelled to Masterton to see the latest machinery from Equip2
Following on from their successful inaugural Levin-based open day in 2017, the Equip2 team brought things a little closer to home—well right at home this year, with the latest event to primarily showcase their Keestrack and Portafill crushing equipment being held at the company's Masterton home base.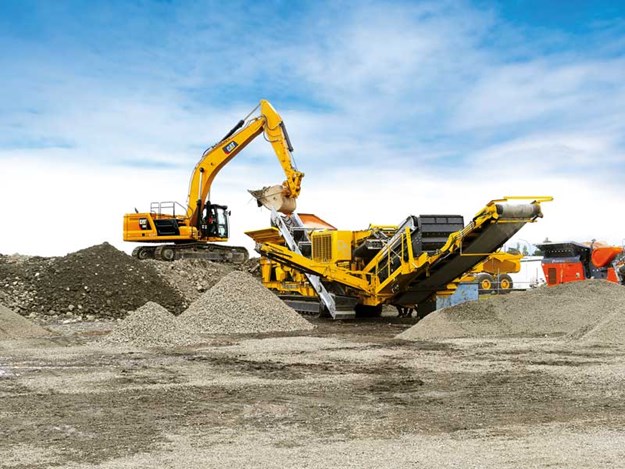 Teaming up with sister-business Attach2 and other like-minded equipment suppliers NZAM and Gough Cat, the gathered contingent put on a comprehensive live display for a large number of prospective buyers who attended the morning and afternoon sessions, complemented with a prequel tour of the company premises and engineering factory.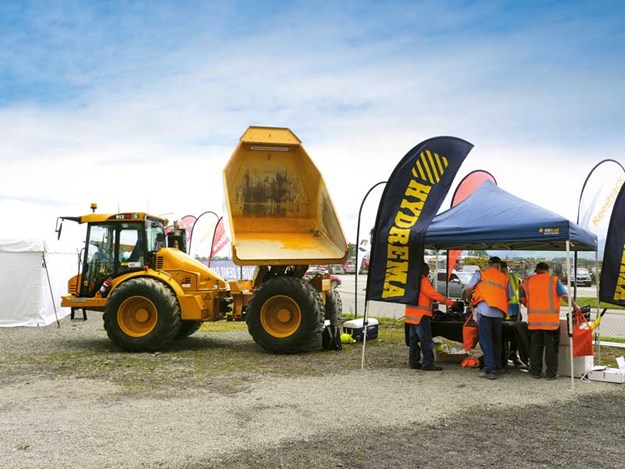 Keestrack R5
Across the way in the adjacent sales yard, front and centre was the diesel-powered Keestrack R5 impact crusher/screen. It gained wide approval from attendees, as the Caterpillar 336 excavator and Keestrack R5 combo produced graded aggregate from concrete waste in quick order and to a quality that has allowed the Keestrack name obtain a strong foothold in New Zealand's competitive screening and crushing market.
The Keestrack R5 impact crusher has a transport weight of 42.5 tonnes and a working weight of 50-tonnes when the after-screen is fitted.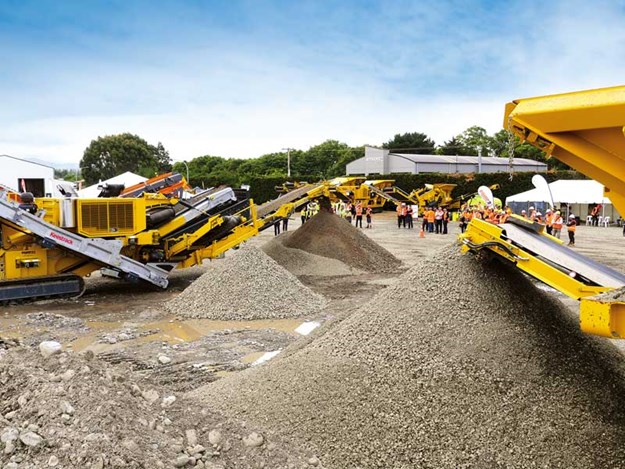 The 800 x 1050mm inlet is fed from a five cubic metre hopper, with a 1260mm diameter by 1000mm wide rotor taking care of business. The product is then split into three via a 2200 x 1000mm double-deck screen after-screen.
Helping reduce wear is another double-deck pre-screen, which removes a large percentage of fines prior to raw material being fed into the inlet, and this along with optional return conveyor enables fully closed-circuit crushing.
The R5 is also available as a hybrid unit, with the rotor powered by a diesel engine and conveyors, along with other systems benefiting from diesel generated electric power, allowing for processing up to 350 tonnes per hour with significantly less fuel usage its manufacturer says.
Portafil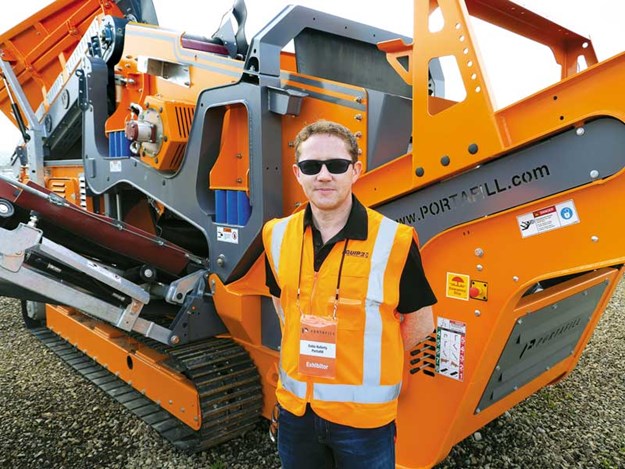 Moving to the western side of the European continent, another distributorship Equip2 have in their portfolio are the smaller Irish-made Portafill mobile plants.
Of keen interest to contractors at the open day were the compact MJ-9 jaw crushers, which fold down to under 10 metres in length and are designed to operate in urban environments.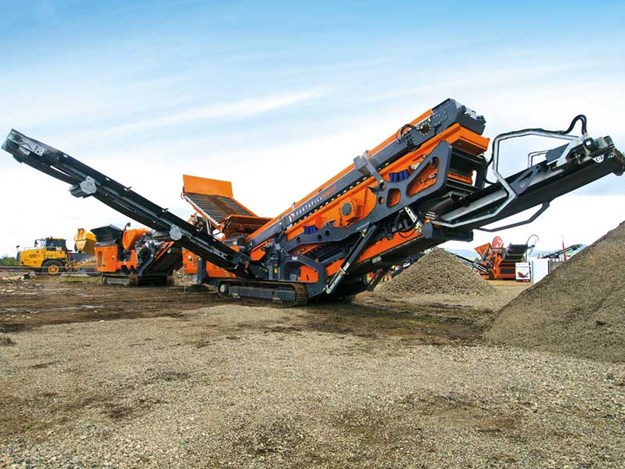 Fitted with a four cubic metre hopper and an 850 x 500mm jaw opening with reversible drive and adjustable magnet, Equip2 says the MJ-9 is ideally suited for contractors who want to convert their concrete tip fees into a cash positive product.
McKloskey Washing Systems
Of particular interest was the announcement that Equip2 had acquired the McKloskey Washing Systems distributorship, and the low-key launch of the brand at the event will no doubt be followed up with further information being released as the new local distributors get the wash systems up to speed. Suffice to say that the addition of the wash systems open up a number of opportunities to forward-thinking contractors.
Comparing notes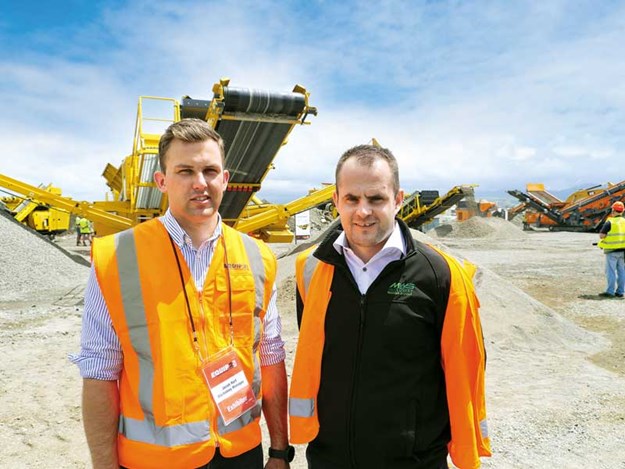 Equip2 marketing manager Jacob Hart said the event was an opportunity to present the company and its products to the market in one place, and where prospective buyers could find answers to any technical questions as well as compare notes with fellow contractors, some of whom were owners of either Keestrack or Portafill plants.
Another reason Jacob says was to show buyers that the Equip2 business was a serious player in the screening and crushing market.
"Even though we have been around a while now, some people still think we're a new business. Events such as this give customers confidence in our supply and back-up capabilities. We're not a company selling goods online out of a tin shed," he says.
One customer had travelled from Auckland to get first-hand knowledge of the Equip2 and Attach2 businesses, telling us he wanted to observe the work methods around the Attach2 buckets and attachments—something he understood more fully after attending a group tour during the open day.
"When holding events such as this, we really try to ensure customers have an understanding of how we operate and how our businesses can not only provide the equipment they require but also how we can support them along the way. To this end, we're always looking for ways to further develop products that will reduce their cost
of doing business," Jacob says.
Video: Equip2 Open Day 
Click here to watch what went down at the event.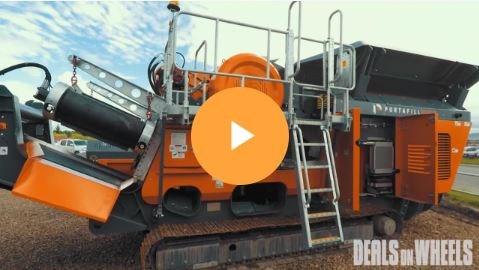 For more information, visit equip2.co.nz.
Keep up to date in the industry by signing up to Deals on Wheels' free newsletter or liking us on Facebook.