The Mimico Excavator Competition 2017
---
Held at The Truck and Machinery Show during November, the Mimico Excavator Competition saw some tough competition for the top prizes and DOW was part of the action
"As long as the competitors are not pouring tea or painting anything, then we're in": I'm pretty sure those were my first spoken words after course manager Brook Harland and Mimico rep Chris Skelton pitched the idea of a running an independent stand-alone excavator operator competition to test the skills of top operators.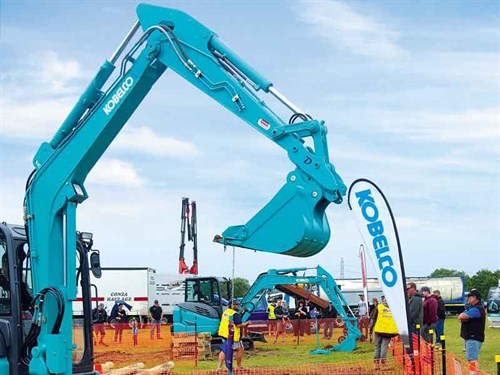 Over a coffee or two, Brook, Chris, and myself, along with event organiser Amy Glynan, all agreed the competition (dubbed Mimico Excavator Competition for obvious reasons) would be as viewer-friendly as possible and it would take competitors no longer than 30 minutes to complete the course.
I had gone to the initial meeting armed with a few ideas, but it became quickly evident we wouldn't be able to dig any ground or make too much of a mess at the Kumeu Showgrounds. So any activities involving digging were dropped in favour of ones that would align closely to operating skills experienced operators acquire during their career, primarily ones requiring a touch of finesse.
A couple of meetings further on, Brook had mapped out a course that all agreed would keep competitors on their toes and provide good viewing opportunities for the showgoers. It was then onto getting things underway for the big day.
Putting the word out
Over a few weeks, a shout was put out over Deals on Wheels social media, website, and magazine pages, which turned up a good number of operators keen to see how their skills compared to others.
Unfortunately, numbers wanting to compete were in excess of the 18-competitor set limit, so a waiting list was created. As it turned out, two competitors were unable to make the event, allowing two from the waiting list to be entered.
I was told one entrant had been placed near the top at another competition only to be relegated to a lower spot due to red tape. Obviously, there was a point to prove with their entry in the Mimico Excavator Competition.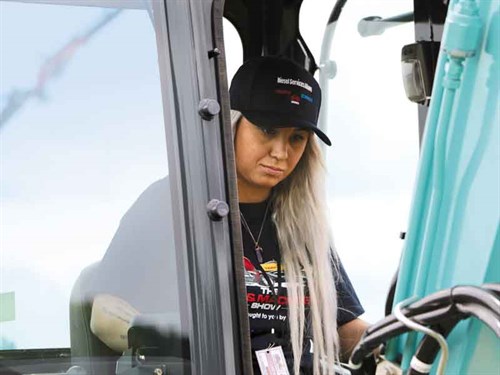 Travelling all the way from Wellington and representing female excavator operators was Jay Julian from C&D Landfill Ltd. She had seen a regional event of the national excavator competition at Feilding earlier in the year and was keen to check her skills against the testosterone-fuelled competitors.
Day of the event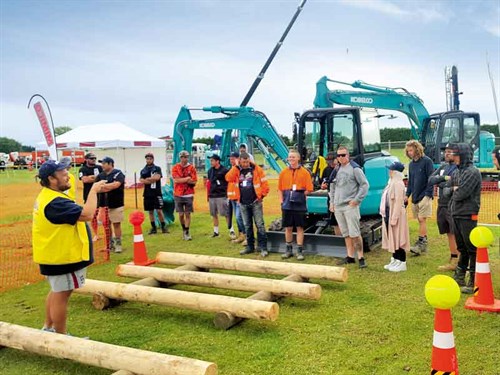 The day began with breakfast and a safety briefing for competitors, followed by a course walkthrough. Names were drawn out of a hat to see who was lucky enough to be first on the course.
Competition proceedings started with a pre-start check, judged by Wayne Drinnan of Diesel Services Albany Ltd. This evolution was fairly straightforward and involved an inspection any machine owner would hope their staff would carry out each morning before beginning work. Looking at the stats after the event, I can safely say, there are one or two who probably aren't as thorough with their checks as others.
To keep on schedule, Brook and his assistants had duplicated the course, allowing two machines to operate at the same time. Chris Skelton judged one course and I kept score on the second. For competitors, it was onto one of the two 5.5-tonne Kobelco SK55SRX-6 excavators Mimico had provided for the hands-on operator skill test and things got underway.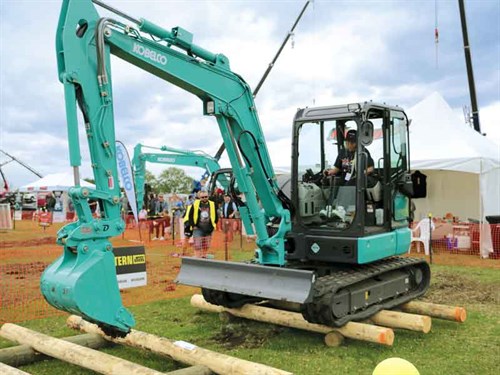 First off, there was a log crossing to contend with requiring operators to collect soccer-sized balls off cones and place them into a large bucket. If that wasn't enough to get things going, competitors also had to keep a separate ball in play by continually hitting it through croquet-styled hoops as they progressed around the course.
Following some tight confined-space manoeuvring, competitors then had to erect a steel warratah and then place a wooden stake in the ground. Both were measured and points given depending on accuracy.
The straightforward task of placing tyres on a totem pole eased the tension for competitors a bit, only to have the mental pressure return when a steel hoop needed to be run along a length of bent wire, imitating the 'Operation' game kids of the 80s would remember.
Using the ball that had followed the machine through the hoops around the course, here was the opportunity to punt it through the last hoop and then dunk it in the centre of a stack of building cores. Competitors had individually stacked these prior in a neat and tidy arrangement, with points given for tidiness. This would be the undoing of a number of competitors as time ran out mid-stack.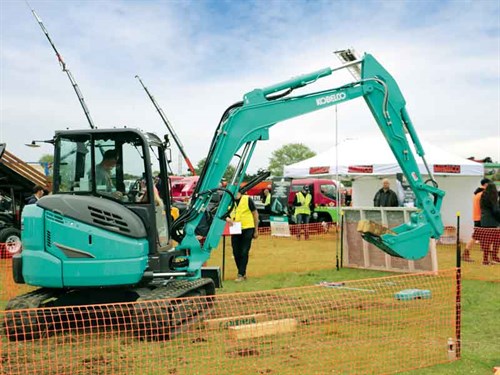 If competitors had not expended their 27-minute time slot, they had the final task of placing a flagpole (complete with New Zealand flag) in a concrete base, re-purposed from some temporary site fencing.
With the clock quickly ticking down and only a few millimetres to spare and a brisk breeze blowing, this was one of those hold-your-breath moments for the spectators, as operators who had time to spare tried again and again to complete the final task.
For those who did and those who did not complete all of the stages, it was then a matter of waiting for the outcome to see who would go ahead into the final four play-off. Thanks to some clever work by those behind the scenes, an electronic scoreboard enabled competitors to see placings as soon as they were updated.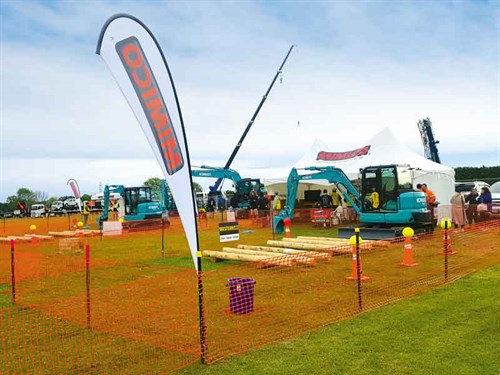 With judging complete, the four finalists then started with a clean slate, completing a scaled-down version of the original course. With the level of experience at this stage of the competition, placings in the end were weighted heavily on the time it took to complete the course. As it turned out, the difference between all four finalists was only a few minutes apart and just five points separated all of them.
Summary
From my end and as one of the judges, I was highly impressed with the skill level on display, as well as the high level of camaraderie between competitors. I was a little surprised to see not many older operators had entered but figured a lot of them preferred to comment from the sidelines and leave such competitions to the younger generation.
Organisation for the event was carried out with military precision, and I must congratulate Brook, Chris, and Amy for putting together such a well-run competition. A host of other businesses also helped out, sponsoring staff, equipment, and prizes: Burnett's Transport & Earthmoving, Global Engineering, TSL Transformers, Western ITM, Kumeu Tyres, and Breswa Outdoor Furniture.
To the winners and non-winners, it was encouraging to see some top skills at work and a high level of professionalism from everyone. Word has it the competition will be back next year. So hone up on those skills and stay tuned for more.
Mimico Excavator Competition Results
First place: Daniel Smith Easy Transport/GTG Earthmoving
Second place: Chris Drinnan Drinnan Contractors
Third place: Brad Jones Target Drainage
Fourth place: Jake Alderson Higgins Contractors
Good sport: Jay Julian C&D Landfill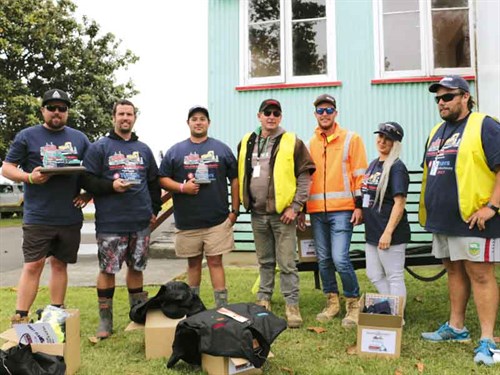 Watch the action
Keep up to date in the industry by signing up to Deals on Wheels' free newsletter or liking us on Facebook.