Conexpo 2017
---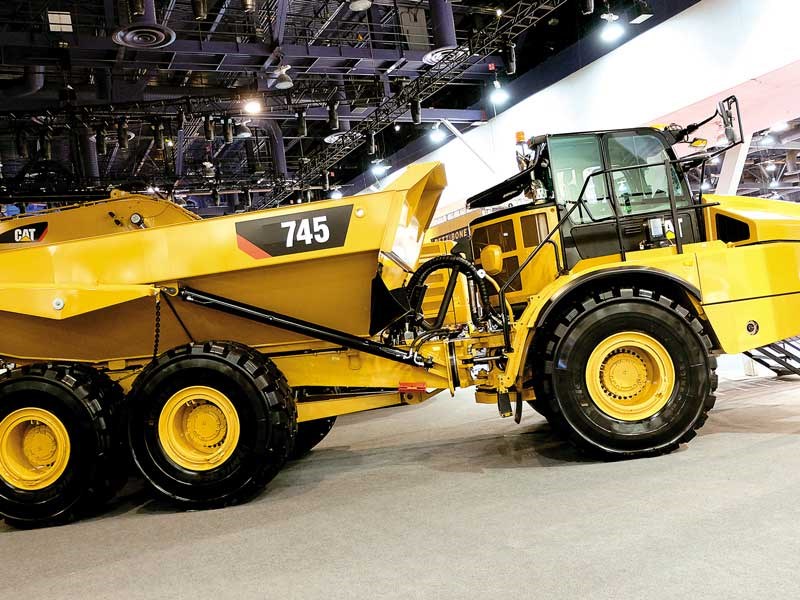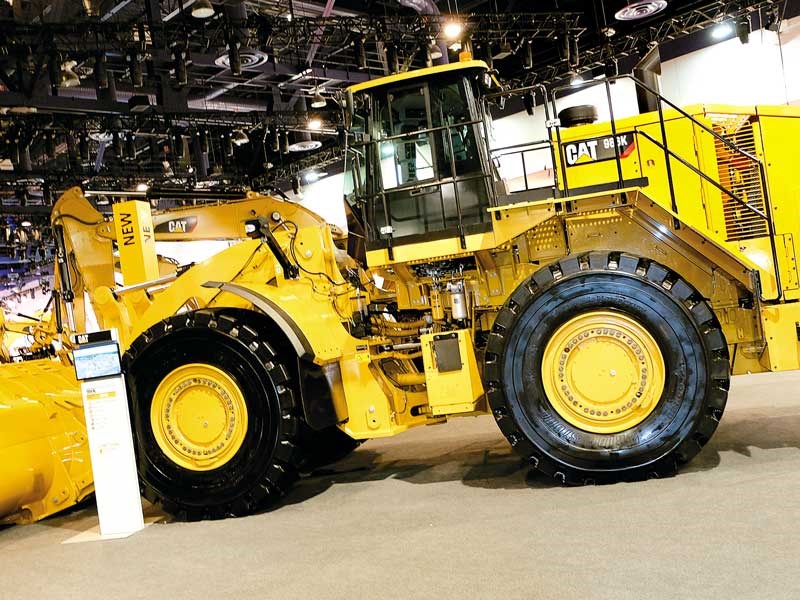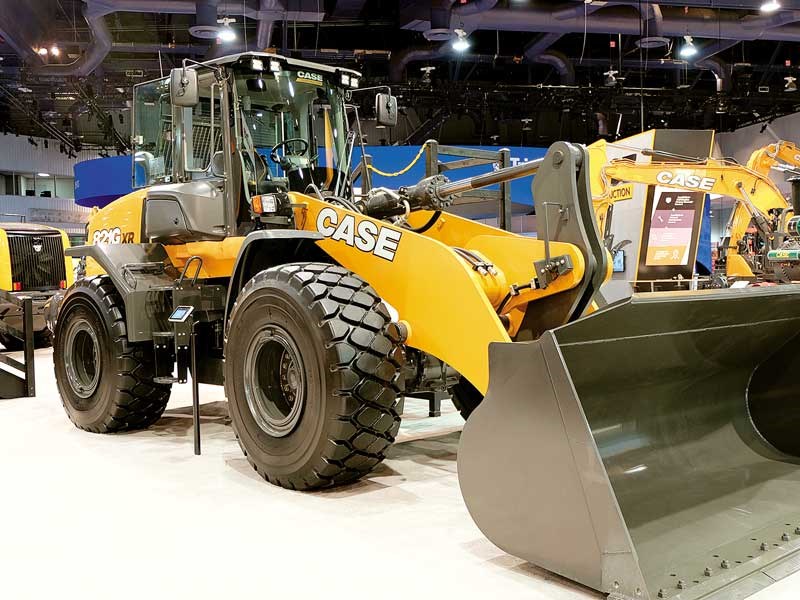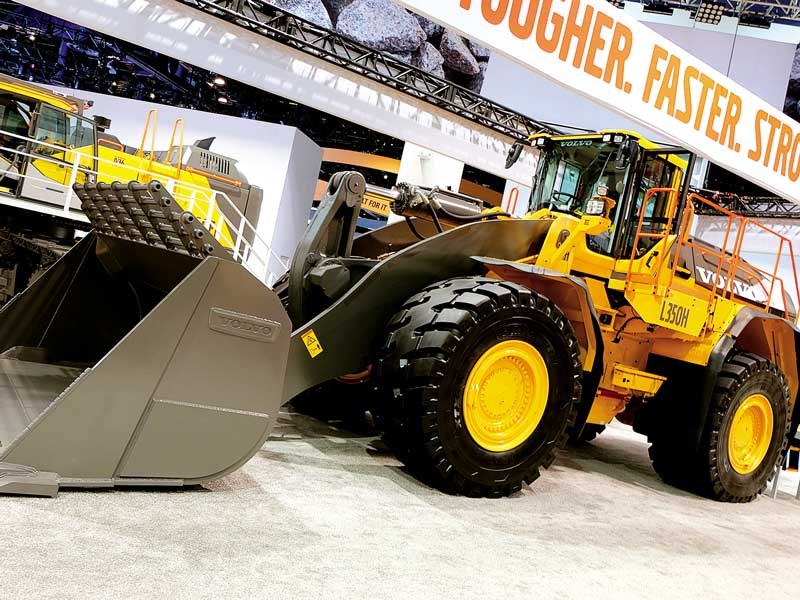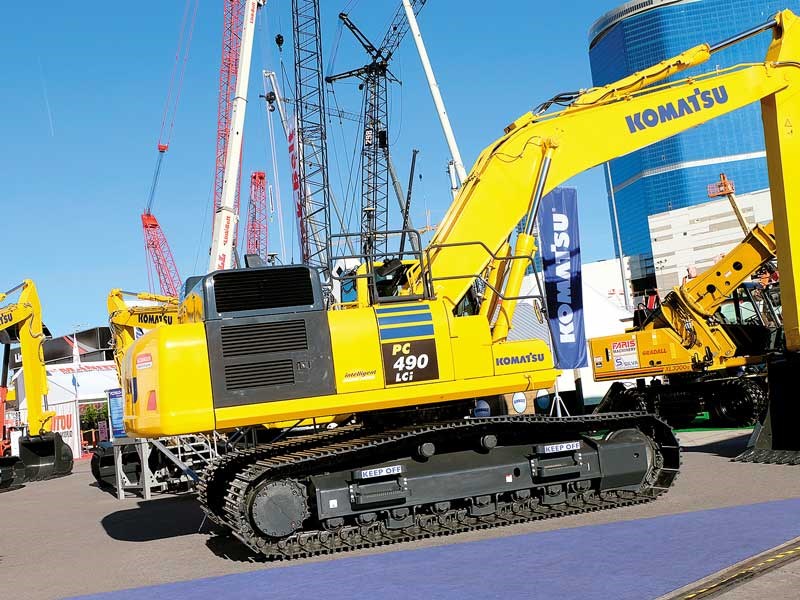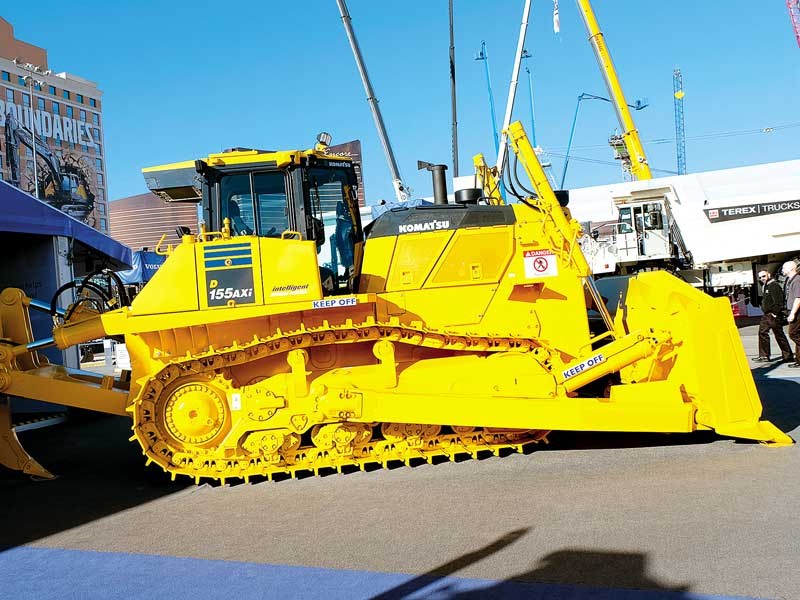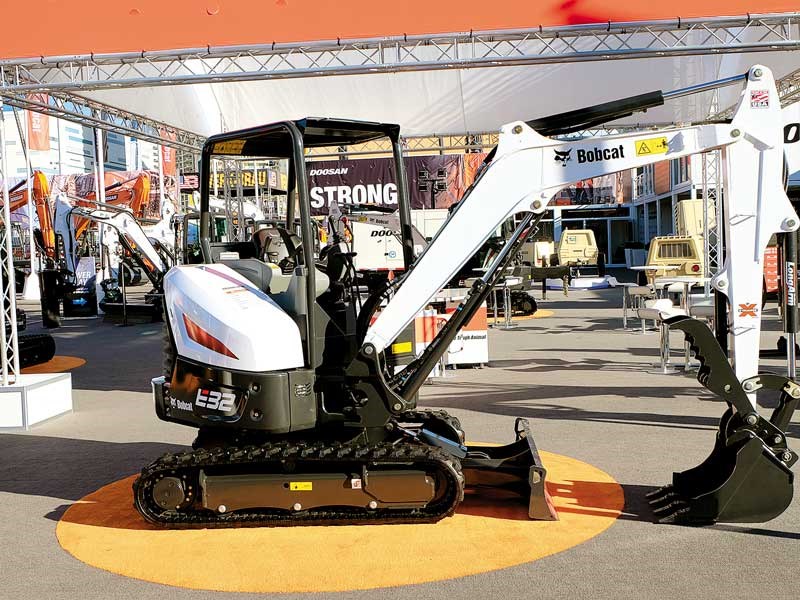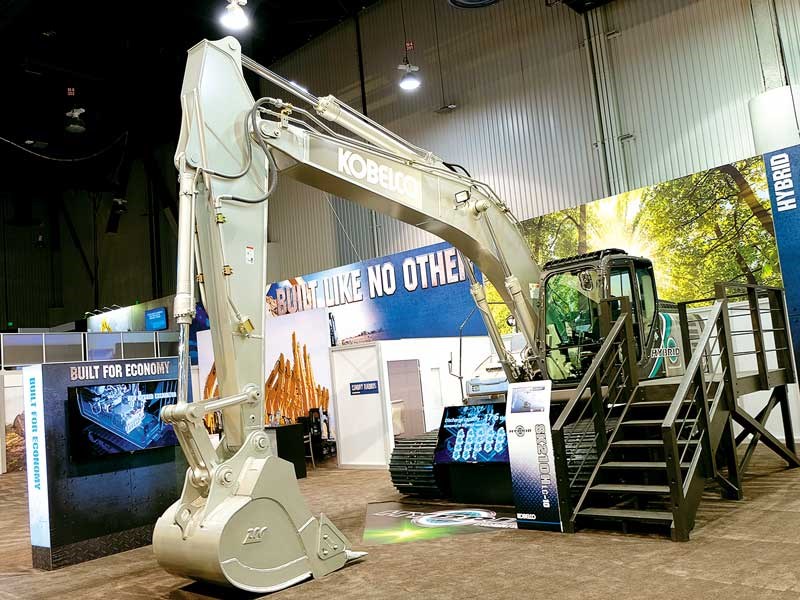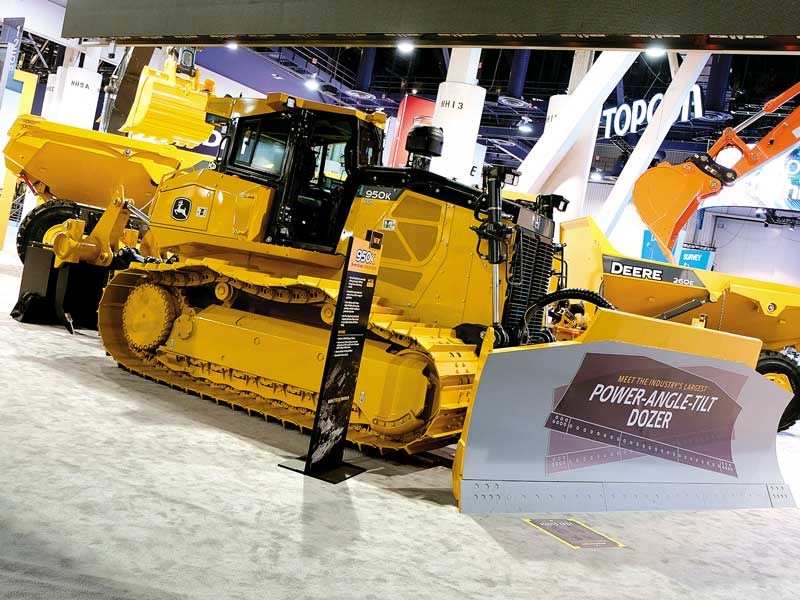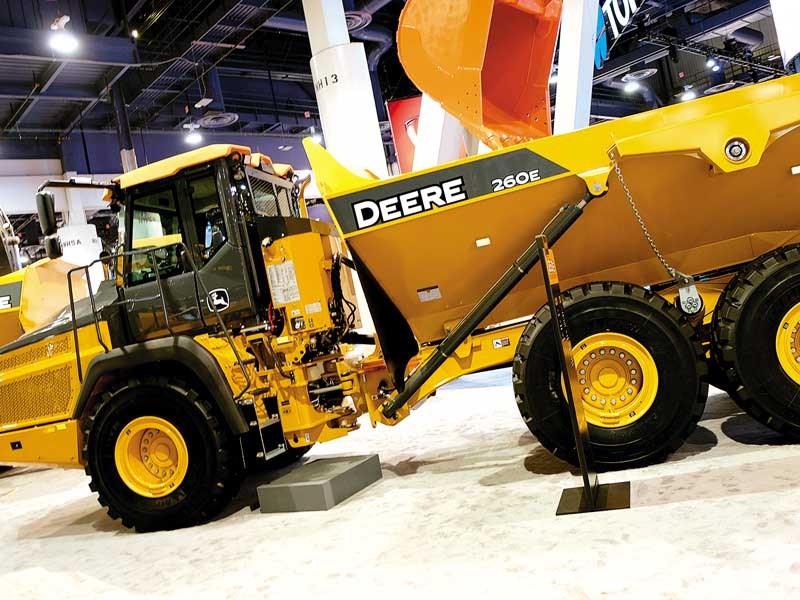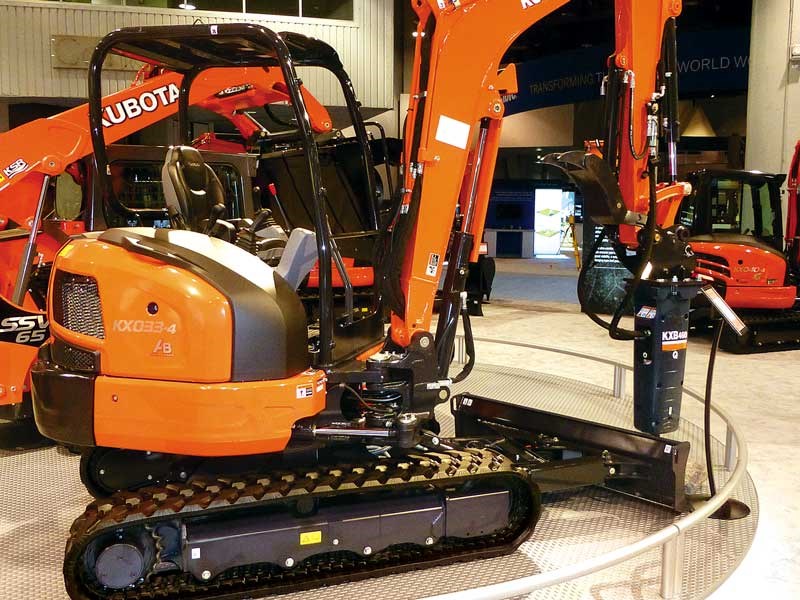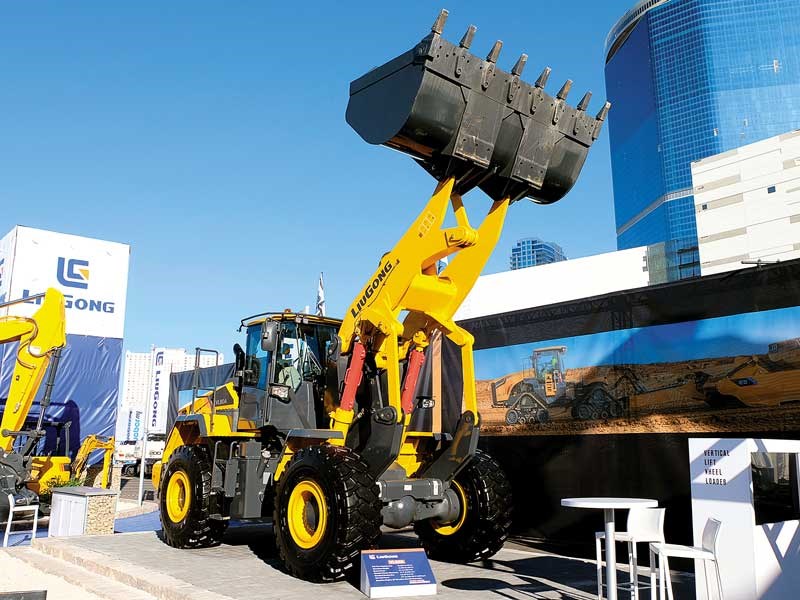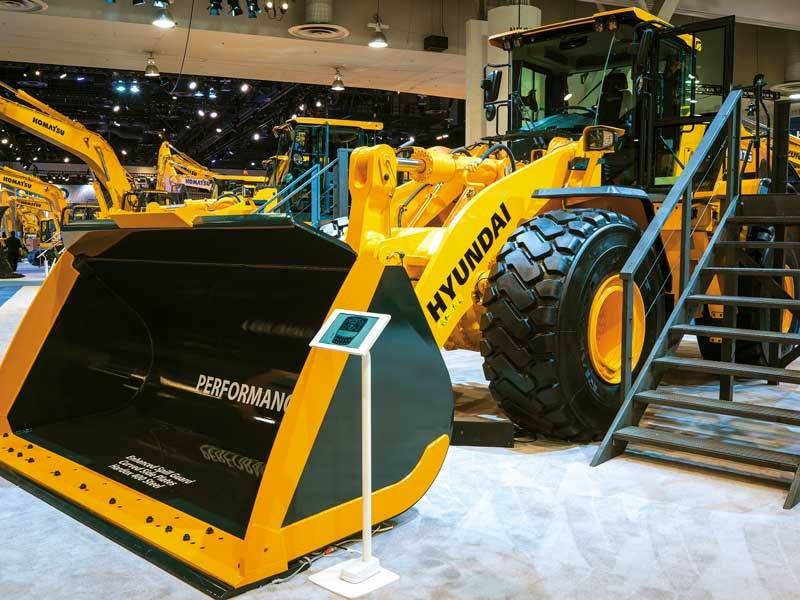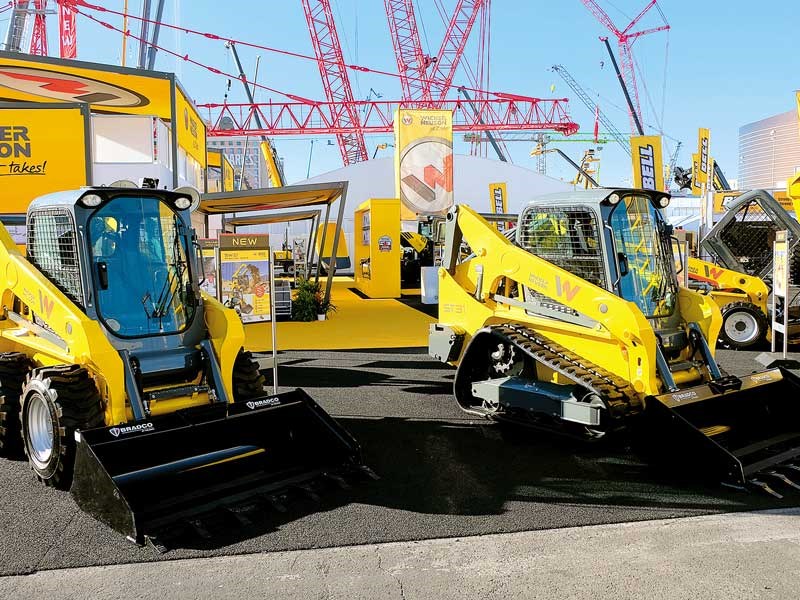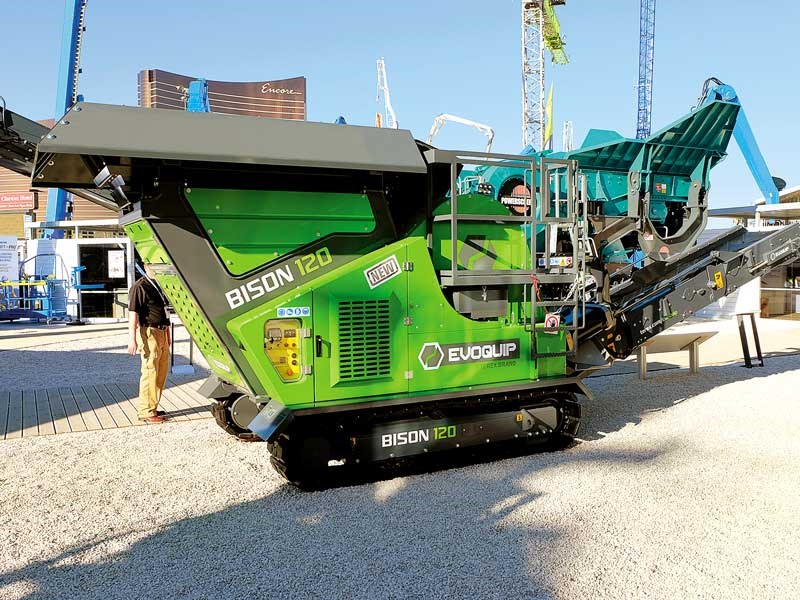 DOW checks out the Conexpo-Con/Agg exhibition in Las Vegas
Caterpillar
745 ADT
Caterpillar was among a number of ADT manufacturers to launch heavier models, with the introduction of the 745. This 41-tonne capacity truck is powered by a 496hp C18 ACERT diesel engine, and it drives through an eight-speed transmission.
The truck features a new cab with an external 'spine' ROPS structure. This uses bonded rear three-quarter glass to eliminate the structural pillar. The cab also has a 'wake-up' feature, activating the display screens as soon as the door is opened.
986K wheel loader
Caterpillar also updated its 986K wheeled loader with a completely new cab equipped with STIC steer and Cat's Production Management system. Weighing less and slightly shorter than the 988K, the 986K is said to be a match for Cat's 36–55 tonne ADTs and rigid trucks. It is now also available in an Aggregates Handler configuration, with an 8.3m3 bucket and additional counterweight.
Case
G Series wheel loaders
Central to the Case Construction Equipment stand was the launch of the G Series wheeled loader lineup. There are seven models, from the 521G to the 1121G, offering power outputs from 141hp through to 347hp.
All engines are Tier 4 Final compliant using Selective Catalytic Reduction (SCR) technology with an exhaust fluid. This means there is no requirement for a Diesel Particulate Filter (DPF). The most noticeable change is to the cab, which now features what has to be the largest curved windscreen of any wheeled loader in this class.
Inside the cab, there is also a new eight-inch colour monitor that provides the operator with control over many of the loader's functions. The screen also displays operating information such as levels and temperatures and can be used as a monitor for a rear-view camera.
CX750D excavator
At the heavier end of the scale, Case has replaced both its CX700B and the CX800B with a new CX750D, which is available in standard and Mass Excavation layouts.
The undercarriage, boom, and dipper are all more robust, and arm and bucket cylinders have been enlarged to improve performance.
CX245D excavator
Further down the range, the new CX245D SR replaces the firm's current 23-tonne reduced swing excavator. This 27-tonne machine is powered by a 160hp Tier 4
Final engine and offers improved digging and lifting capacities.
Volvo
L350H wheel loader
The big news from Volvo was the launch of the L350H wheeled loader. Powered by a 397kW Tier 4 Final D16J engine, the L350H promises a 10% improvement in fuel efficiency, compared to the L350F. With a higher capacity 7.3m3 rock bucket, the machine is intended for quarry production.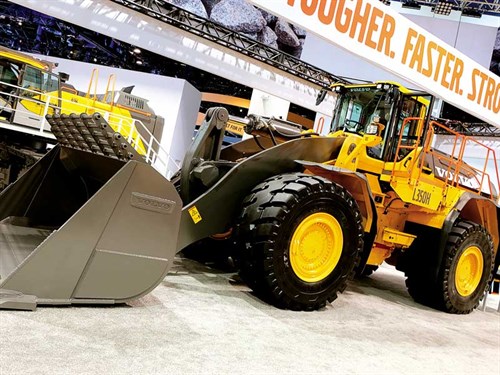 A new load sensing hydraulic system delivers improved response times and five percent faster cycle times, thanks to Volvo's Fully Automatic Power Shift transmission. This is complemented by an eco-pedal with push back that can be overridden if required.
The L350H tips the scales at 50–54 tonnes, depending on specification and boasts a breakout force of 472.8kN with a static tipping load at full turn of 34,780kg.
Komatsu
HB365LC-3 excavator
Technology was very much in evidence at Komatsu, where the company extended both its hybrid excavator line and its intelligent machine control range. The show was the first chance for many to see the HB365LC-3 Hybrid tracked excavator, while the PC210LCi-11 and PC490i excavators joined the machine control lineup.
D155AXi dozer
In the dozer market, intelligent machine control now runs from the 105hp D39i utility machine right up to the 354hp D155AXi
Bobcat
R-Series excavators
Wraps came off a new series of Bobcat excavators at Conexpo. Called R-series, the first two models include the E32 and E35 in the three- to four-tonne class.
Replacing the M-series, the new models are said to offer improved stability over the side by up to 15% over their predecessors, thanks to double-flanged rollers that extend the undercarriage closer to the edge of the rubber track.
A new design of integrated counterweight is said to further lower the excavator's centre of gravity. The cab features 15% more glass than its predecessor, and the blade offers a greater range of downward movement to help stability on steeper slopes. 
Kobelco
SK210HLC-10 excavator
Kobelco has pushed forward with lithium-ion battery technology in its latest 21-tonne excavator, the SK210HLC-10.
The Japanese firm launched its first hybrid, an eight tonner, in 2011 and has worked with capacitor technology and nickel hydride batteries before moving onto lithium-ion technology. The key advantage here is a much more dense energy source, as a result of recent advances in battery technology.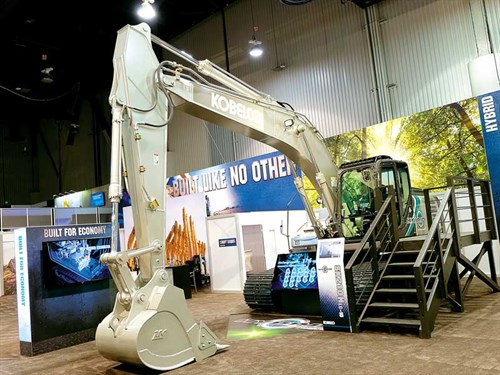 The SK210HLC-10 features a motor-generator and an electric slew motor—the latter is powered by electricity accumulated in the lithium-ion battery. During slew deceleration, the braking energy that is generated is converted into electricity, which is stored in the lithium-ion battery.
For high-load operation, the electricity accumulated in the lithium-ion battery allows the motor-generator to assist the 160hp Hino engine, leading to a reduction in fuel consumption. 
During low-load operation, engine power is also used to generate electricity through the motor-generator and this is stored in the lithium-ion battery. 
John Deere
950K dozer
The firm added a number of new and improved machines to the lineup, including the 950K dozer, powered by a 198kW Tier 4 Final John Deere engine that drives through a dual-path hydrostatic powertrain. This delivers a claimed 15% power to the ground improvement, compared to a conventional torque converter transmission.
Available in standard and low ground pressure configurations, the machine has electro-hydraulic controls and is grade-control ready. The dozer can work with plug-and-play systems from Trimble, Topcon, and Leica. Later this year, it will also be offered with integration for Topcon's 3D-MC2 grade control system installed at the factory.
E-Series ADTs
John Deere has also updated its 260E and 310E articulated trucks. The E-Series models have updated styling, new cabs, upgraded chassis, and more robust axles. The 260E boasts a 23.5-tonne payload, while the 310E offers a 28-tonne load carrying capability.
Both are powered by Deere nine-litre Tier 4 Final engines driving through ZF eight-speed transmissions. A revised automatic differential lock offers both cross-axle and inter-axle locking for maximum traction in difficult terrain.
The new cab promises a 50% reduction in noise levels, thanks to improved floor mats and soundproofing materials. Auto-shutdown is included to stop the engine after a preset period of inactivity. The trucks also feature auto dump, descent control, shuttle shifting, hill hold, and load assist functions.
Kubota
KX033-4 excavator
The latest mini excavator offering from the Japanese manufacturer is the KX033-4, which replaces the KX91-3. It gets many of
the firm's large machine features, including dash-controlled presets for auxiliary circuits, allowing the operator to dial flow rates up and down.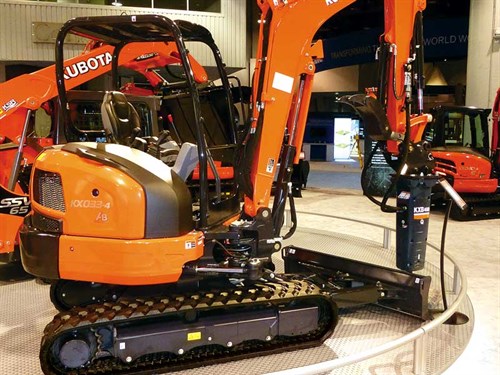 A hydraulic system delivers a flow rate of 60 litres/min, extending the machine's functionality with attachments.
Power comes from a 24.8hp Kubota direct injection engine, which achieves EU Stage IV emissions regulations without the need for a DOC or DPF.
An optional angle blade is available and it includes blade float, plus more blade height.
It also gets a reversible and replaceable cutting edge.
LiuGong
VL80A loader
The LiuGong business has developed a wheeled loader with a vertical lift arm configuration. The machine retains its articulated chassis and a mechanical self-levelling Z-bar bucket linkage. The VL80A is said to improve lift and carry operations by offering a heavier tipping load and a higher lift height and reach than a conventional loader.
The company claims that the loader configuration allows more material to be moved per horsepower, providing more tonnes per hour of productivity.
Hyundai
HL loaders
The Korean manufacturer revealed a host of improvements to its wheeled loader range, plus two models at the event. They are the HL965 and HL975 and fill gaps in the range between existing models.
The HL975 gets a Cummins QSG12 engine producing 331hp and is equipped with a 4.8m3 bucket. It weighs in at 26.5 tonnes and offers a rated tipping load of 20 tonnes.
The smaller HL965 also features Cummins power but a QSL9 with 269hp. Its bucket capacity of 3.6m3 matches the machine's operating weight of 20.1 tonnes and leads to a rated tipping load of 14.7 tonnes.
XT extended reach versions of both models are available.
Elsewhere in the range, the firm announced a longer boom on its HL940XT and introduced a heavy-duty axle configuration for the HL960, earning it the HL960HD moniker.
Wacker Neuson
SW mini loaders
This long-established manufacturer has added four skidsteer loaders and two compact tracked loaders to the lineup. The SW16 and SW17 are radial lift skidsteers, while the SW20 and SW21 boast vertical lift geometry. The ST28 and ST31 compact tracked machines have vertical lift and radial lift arms respectively.
All six machines are powered by Kohler engines, delivering 56hp in the SW16 and SW20, with 74hp for the other four models. Operating weights range from 2.8 tonnes to 3.7 tonnes.
EvoQuip
EvoQuip is a division of Terex Corporation that was launched in 2016 to provide a range of smaller crushers and screens to make crushing and screening more accessible to smaller contractors and to plant hire businesses that want to enter the recycling market.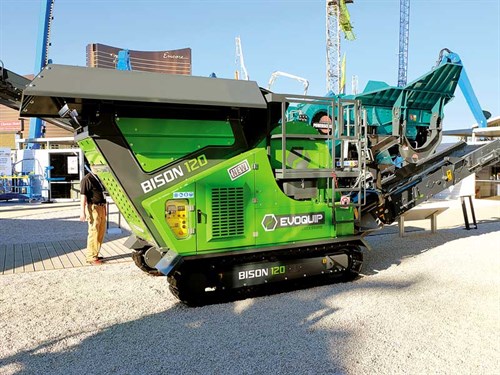 The company offers two Cobra impact crushers, four Bison jaw crushers, two Colt scalping screens, two Kestrel finishing screens, and two Harrier reclaimers, all sitting below the high production crushing and screening models offered by fellow Terex companies Powerscreen and Finlay. EvoQuip will launch a Cobra 230 impact crusher later this year to sit alongside the Cobra 260. The 24-tonne machine will offer a production capacity of 140–150 tonnes/hour in asphalt and construction recycling. The Cobra 230 is 11.3m long and 2.46m wide or 5.15m wide with a side conveyor. It features a quick setup time and the machine can be moved onsite without having to stop the crusher.
Keep up to date in the industry by signing up to Deals on Wheels' free newsletter or liking us on Facebook.